Are you looking for the very best cool yoga tops for yourself or your family's new hobby? Keep reading to discover our pick of the bunch to narrow it down.
Right now, there are about 300 million people in the US who actively practice some form of yoga – and young yogis makeup around 1.7 million of this number!
If, like me, you're lucky enough to be part of a family who practices yoga regularly, then finding the right clothes can be game-changing. Yoga is intrinsically connected to mindfulness. So, the perfect top shouldn't commit the sort of crimes – such as riding up, chafing, or fitting too tightly – that can distract our minds from the session.
What To Look For In The Best Cool Yoga Tops
This is a great question, and it'll be fundamentally affected by the type of yoga you practice. For example, if you love lower-impact Kundalini yoga, looser-fitting clothing could be best. However, if a fast-paced Aerial yoga workout is more your thing, then you're going to need a top that'll stay in place and can keep up with you!
So, to choose the best yoga top, consider your type of practice first. Other important considerations include comfort, preferred fit, the fabric's breathability and sweat-wicking capacity, and support.
Best Cool Yoga Tops for Men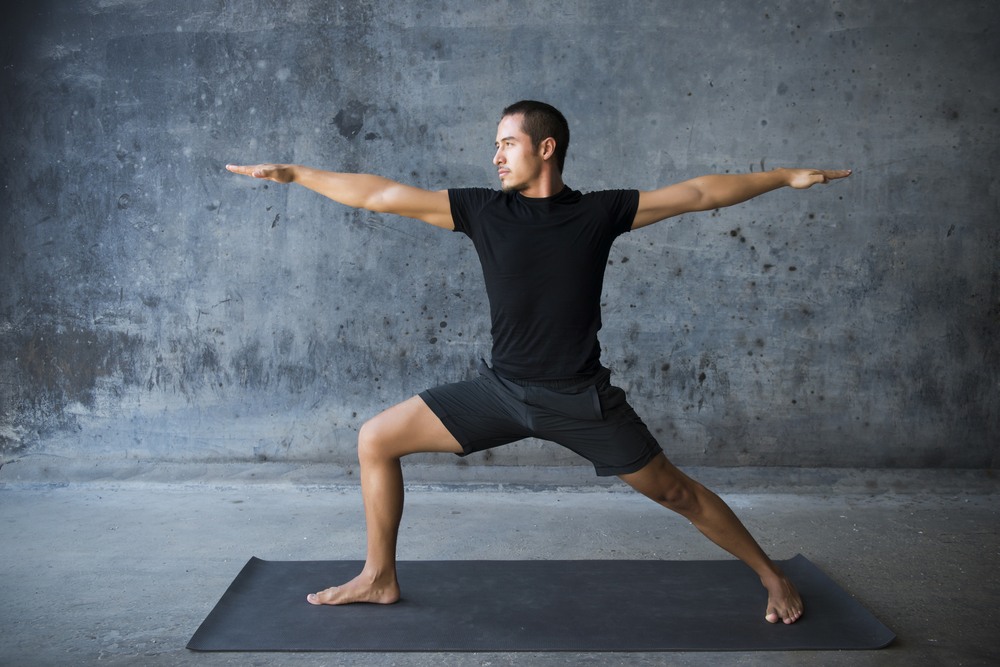 Lululemon Men's Metal Vent Tech Short Sleeve Shirt
With its sweat-wicking fabric that also incorporates four-way stretch, this men's short sleeve shirt from Lululemon offers you both the comfort and free range of movement that a yoga session demands. Plus, it features Silverescent technology to keep you smelling fresh, no matter how strenuous your asanas are!
Vuori Tradewind Performance Tank
When choosing a yoga top, stretchability is one of the most important things to look for. The last thing you want is to feel constricted by your clothes during your practice. This option from Vuori really shines here: its lightweight, four-way stretch fabric will allow your body to breathe so that you can concentrate on remaining mindful as you work through the session.
Alo Yoga Triumph Long Sleeve T-Shirt
All of Alo Yoga's clothes are designed to inspire mindful movement and wellness and to help yogis fit as much yoga into their lives as possible! As well as being created specifically for your yoga workout, this long sleeve t-shirt is also a stylish choice. It's great for layering, so it is perfect for throwing on during your session's warm-up and cool-down sections.
Nike Pro Dri-Fit Slim Fit Sleeveless Top
The stretchy fabric of this Nike top features vents at the hem, designed to help you move as naturally as possible during your yoga practice. If a relaxed fit isn't your thing, then this body-hugging workout tank could be perfect. Nike's signature dri-fit technology gets sweat away from your skin quickly so it can evaporate, meaning you stay dryer and more comfortable during your workout.
Kliegou Longline Crewneck T-Shirt
The best yoga clothes look as good as they feel, which is certainly the case with the Kliegou on-trend and urban-inspired long-sleeve top made from 100% cotton. The relatively loose fit means you can transition from Downward Dog to Warrior fluidly. Plus, it's available in forty colors, so whether you like to practice yoga wearing khaki or wine red, you'll find your perfect match.
DrSkin Muscle Mesh Tank Top
Looking for a muscle tank that'll have you both looking and feeling cool? The DrSkin multipack of racerback tank tops has made the list, as the fabric is sweat-wicking and breathable. It incorporates a mesh fabric for added airflow.
It's great value, too. As well as yoga, these tops can easily take you to the gym or running track and allow for plenty of easy movement.
The Naviskin rash guard shirt is a great option for those seeking workout tops that are loose enough to get the most from your yoga practice while being versatile enough to wear while running, hiking, or at the gym. If you enjoy yoga outside in the warmer months, then there's another major advantage: this shirt is made from fabric that offers up to 50 UPF+, while the crewneck cut provides additional protection from the sun.
Best Cool Yoga Tops For Women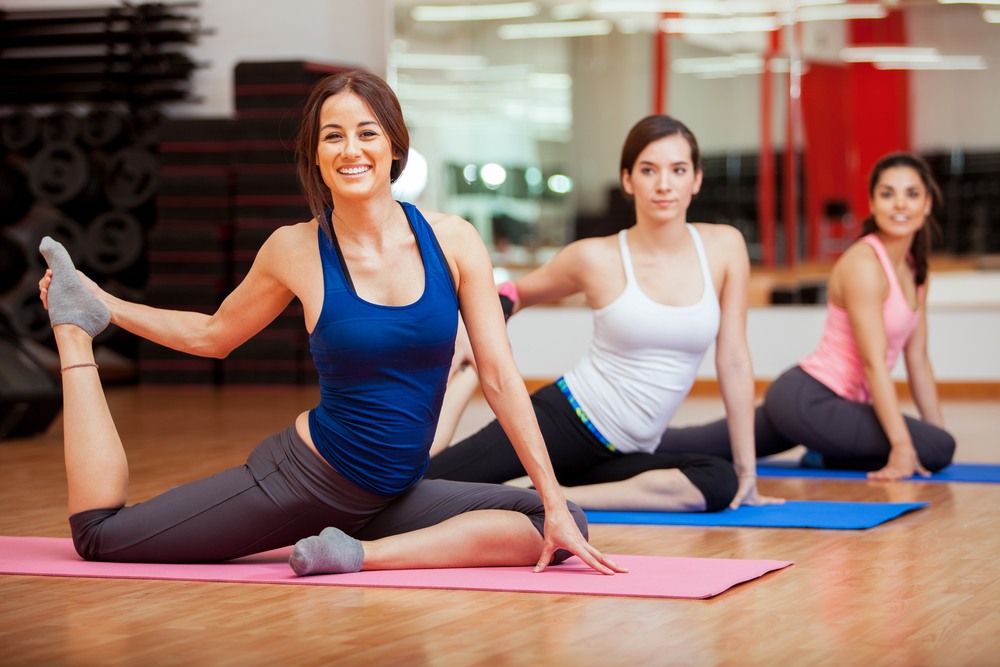 prAna Helani Top
I love the whole ethos of the prAna brand: the company designs sustainable clothing for yogis, travelers, and adventurers! Whether you're new to yoga or a seasoned practitioner, the right clothing can make all the difference in how well you can immerse yourself in your asanas. The Helani top is perfect in its simplicity: it's lightweight, sweat-wicking, and made of skin and planet-kind materials.
Athleta Speedlight Seamless Tank
If you're a fan of hot yoga, then you need a yoga top that's lightweight, anti-chafe, and breathable. This spandex-enriched tank from Athleta ticks all the boxes. Its incorporated odor-control technology means you can concentrate on your workout rather than worrying about how much sweat you're building up.
Even better? It's cut specifically to prevent riding up from being a problem.
Alo Yoga Cover Tank
This super comfortable cropped tank from Alo Yoga is perfect for yoga: it allows for unrestricted mobility and is made from soft jersey-stretch fabric. The raw edge finish and front wrap detail will also add some subtle style to the yoga studio. It's easy to care for and can be machine-washed and cool-tumble-dried for ultimate convenience.
OQQ Medium Support Tank Top
If Vinyasa yoga is your thing, then the best top for you is likely to be a fitted option with some support to prevent ride-up during inversions and allow you to embrace the dynamic flow of the practice fully. These tank tops from OOQ come in a value-for-money pack of three, featuring wide-set straps and a flattering scoop neckline.
They incorporate padded cups, but these are removable, and they look particularly fab paired with high-waisted leggings.
Nike Yoga Luxe Built-In Shelf Bra Tank
Looking for yoga tank tops that feature high-quality support but don't want to sacrifice style for comfort? This tank from Nike could be for you!
The material is extremely soft and stretchy: it's figure-hugging and designed to move with and support your body as you progress through your routine so that you can concentrate on your sun salutations without worrying that your top has ridden up.
Leneka Sports Bra
A cropped, supportive sports bra is a great choice, no matter which style of yoga you prefer. As well as keeping you cool, this garment from Leneka features a flattering criss-cross back (which also serves to add an additional element of support to the back) and is available in a wide range of bright, vibrant colors to add some personality to your yoga wardrobe!
Spacedye Slim Racerback Cami
For some yogis, the excess fabric can get in the way of performing inversions: if you find this to be the case, a slim-fitting cami could be the perfect solution. This Spacedye cami features a built-in bra providing medium-level support and offering a flattering yet practical fit.
This cami is extremely soft, too, thereby ticking all the boxes for a yoga workout top. For more choices, check out our round-up of the best yoga clothes for older ladies.
Best Cool Yoga Tops For Kids
Under Armour HeatGear Tank
Looking for the best yoga tops for kids? This tank from Under Armour could be a contender. Under Armour designs garments specifically for sport, meaning you get high-performance clothing that looks great, too.
The lightweight patented HeatGear fabric will keep your little one comfortable during a yoga class, from the opening asanas through to a final meditative cooldown. You might be interested in our explainer on why are yoga clothes so expensive.
Wholesome Tribe Sports Bra
No matter what type of yoga your daughter is into, she wants to feel comfortable and supported throughout the session. The Wholesome Tribe Sports Bra is a high-quality sports bra that can be worn on its own or as a base layer, and it's made from soft and stretch eco-friendly fabrics. The strappy back helps promote freer movement and adds a touch of street style she'll appreciate, too.
Dri-Equip Long-Sleeve Shirt
Choosing versatile activewear for your older kids is always a good idea, so they can head straight to the café with friends after their yoga class if they wish. This type of shirt is categorized as a performance loose fit: it's not baggy but doesn't offer a compression fit either. Some kids prefer this, as it makes them feel less restricted in their movements.
The Dri-Equip long-sleeve shirt has hundreds of five-star reviews on Amazon from satisfied parents.
Adidas Techfit Bra
With a high-performance sports bra from Adidas, your child can choose from four fashion-forward designs. The best thing about this top is that it's designed to move with your child: the wide straps and ribbed band equal not just comfort but mean it'll stretch, bend, and flex as required! It's made from 89% recycled materials, too, so it scores well in the eco stakes, too.
Soly Hux Hoodie Crop Top
Perfect to pop on during a cool-down or after the yoga session ends, the Soly Hux cute cartoon v-neck cropped sweatshirt is sure to become one of her go-to yoga garments. The long sleeve and drop-shouldered fit make it easy to pull over base layers, and it's more than stylish enough to go beyond yoga classes. The fabric is soft and non-stretch, so it won't lose its shape.
Hmiles Lightweight Hoodie
With its incorporated UPF 50+, long sleeves, and ultra-lightweight feel, the Hmiles Lightweight Hoodie is a great all-around yoga top for your child. The extra coverage provides additional sun protection if you have a young yogi who enjoys practicing their asanas outside.
It's the little things that make the difference. This top features a tag-free collar for optimal comfort, ergonomically designed seams to promote fluid and unrestricted movement, and the fabric is extra soft, too.
Testing Criteria
I considered the price, quality, and reviews when selecting yoga tops. I also found different styles and colors, so there's something for everyone.
Why You Can Trust Me
I've been practicing yoga for more than two decades, firstly solo and then with my family. As well as still enjoying my daily series of morning asanas, I've also written widely on the practice of yoga and why it's awesome for the last five years.
It quickly became apparent to me that if the clothing you wear for your yoga workout isn't right, this can have a profound effect on your ability to fully enjoy and engage in your session. When it comes to getting your child interested in yoga (and reaping all the benefits that come with regular practice), if they're not happy with what they're wearing, you're going to fall at the first hurdle.
Today, my eleven-year-old child regularly joins me for my morning yoga, and our whole crew attends a family yoga session every weekend. While getting out the door can be tricky, and I wish I could say the kids don't argue over who gets the green yoga mat, the one thing there's never a complaint about is their clothes.