Are you wondering how to wear running shoes with jeans? Take a look at some of our tips below!
If you are anything like me, you probably care about your style. Whether you wear Nike, Adidas, Converse, or retro shoes that you got from Amazon, you may want to pair your running shoes with slim fit skinny jeans and a t-shirt as you walk around town.
Even though this combo can be difficult to pull off, there are ways you can wear jeans with white sneakers. In this article, we explore how to wear running shoes with jeans in style!
How to Pair Your Running Shoes with Skinny Jeans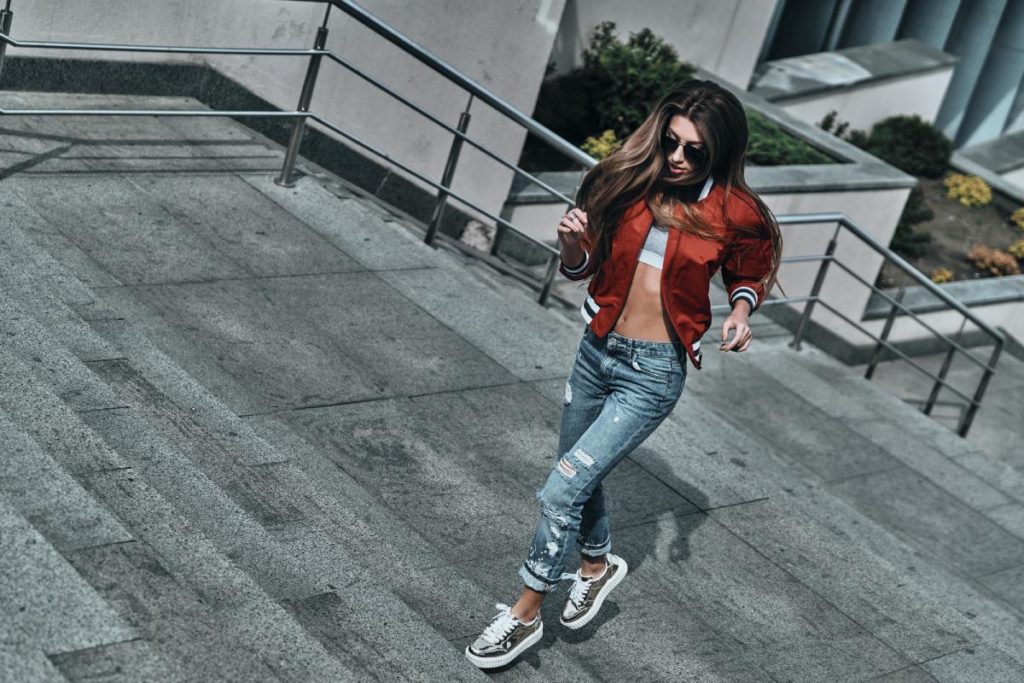 When you are styling your streetwear or athleisure, you may be looking at your skinny jeans, wondering how you are going to pull them off with your high top, low-top, or lace-up running shoes.
There are countless styles of jeans that could work well for you. Whether you are wearing white jeans, wide-leg jeans, or skinny jeans, you must make sure they conform to the shape of your body. Baggy jeans and tight jeans can work well with certain running shoes; however, select jeans that show off your best features.
You may be looking for white jeans that will pair well with just about any outfit. To ensure your jeans aligned perfectly to your body, make sure they fit. For example, if you are wearing wide leg jeans, and they appear a bit baggy, they are simply going to be uncomfortable when you walk on the street with running shoes.
On the other hand, if you choose jeans that are too tight for your body, they will become uncomfortable, and accentuate parts of your body you might be trying to conceal.
How can you find jeans that pair well with your running shoes? First, think about the color, fabric, style, and length of your jeans. Then, take a look at the running shoes you have in your closet and select them carefully.
You might also be interested in our explainer on why are running shoes so ugly.
Pick Your Running Shoes Carefully
If you are anything like me, you have probably been through your fair share of running shoes. You likely know that not all running shoes are created equal. Some running shoes are designed to be worn every day. Some are only designed to be worn for specific athletic activities.
Running shoes often have unusual designs with extra stitching, lacing, and cushioning. This is designed to provide you with a comfortable ride during your workout. On the other hand, they may not work well with your personal style when you walk around town. They may not match your fit jeans at all.
If you are looking for trending running shoes that will fit your style and fashion in and out of the gym, you have to be selective. For example, try to choose running shoes that contain vibrant colors that do not make your feet look too big.
Sometimes, the extra layers of cushioning and protection can make your feet look like flippers. If you can wear running shoes that are made using only a single solid color, you have probably found a good match.
Consider Cuffing the Bottom of Your Jeans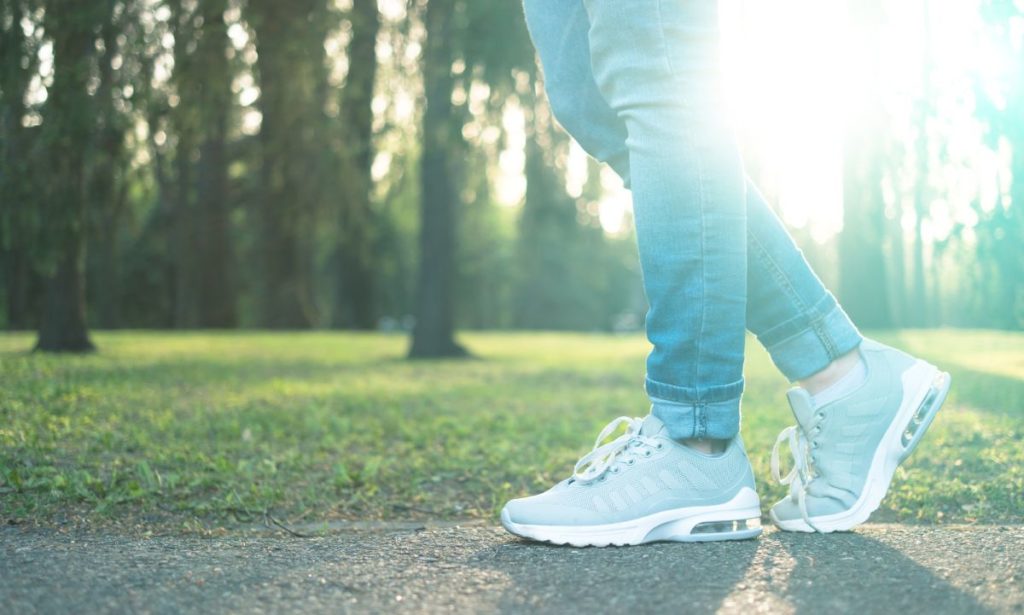 If you want to make a statement using your running shoes, consider stopping at the ankle. You do not want to have your pants cover up the style of your shoes. Furthermore, if your jeans overlap the tops of your shoes, you may trip on them when you walk.
To prevent this from happening, cuff the bottom of your jeans. That way, your ankle creates a break between your shoes and pants. Furthermore, this will also increase the contrast between your skinny jeans and running shoes, making a powerful fashion statement.
Finally, if you want to be dramatic, consider cutting the bottoms of your skinny jeans completely. Make sure you do not leave any threads hanging, as you may trip on these as well.
Think About the Socks
Finally, you should also think about what you are going to do with your socks. Your socks need to be comfortable, preventing blisters while also allowing your feet to breathe.
On the other hand, plain white socks are not going to work well with your skinny jeans and running shoes. They make you look like you don't have any sense of style at all. Try to wear socks that are completely concealed by your running shoes, such as low-cut or no-show socks.
If that is not possible, try to go with colorful, long socks that will compliment your shoes, skinny jeans, and blazer.
Final Word on How to Wear Running Shoes with Jeans
You may like the comfort of your suede jeans, so you might want to incorporate them in your street style. It is possible to wear running shoes with jeans. Make sure you only wear jeans that suit your size and body shape.
Furthermore, think carefully about the size, color, and comfort of your running shoes when you are trying to pair them with your slim-fit, wide-leg, baggy, or skinny jeans.
Finally, try to cuff the bottoms of your jeans, showing a bit of ankle. Make sure you avoid wearing plain white socks as well. Even though it does take some planning, you can pull off running shoes with jeans.
FAQs About How to Wear Running Shoes with Jeans
What running shoes go well with jeans? 
There are several running shoes that will go well with black jeans. Consider wearing trainers that have a casual, cool look. Trainers that have a single color are usually better. You can also wear loafers if you would like to create a laid-back but more formal appearance.
Can I wear running shoes to walk around town? 
If your shoes are comfortable when you run, they are probably going to be comfortable when you walk as well. On the other hand, not all running shoes have been designed with style in mind. Make sure your running shoes go well with the rest of your outfit. 
How can I prevent myself from tripping on my jeans when I walk around town? 
The most common reason why people trip on their leggings when they walk is that the cuffs of the jeans overlap with their shoes. Cuff your jeans above the ankle to prevent this from happening.