This article provides information about the best face masks for running in cold weather so you can stay healthy and get fit.
To protect yourself and reduce the spread of COVID-19, masks are recommended by the Centers for Disease Control and Prevention (CDC). Depending on where you live, you may even be required to wear a face covering while you're in public. If you do a lot of outdoor running — especially in crowded areas — this may even mean masking up before your run.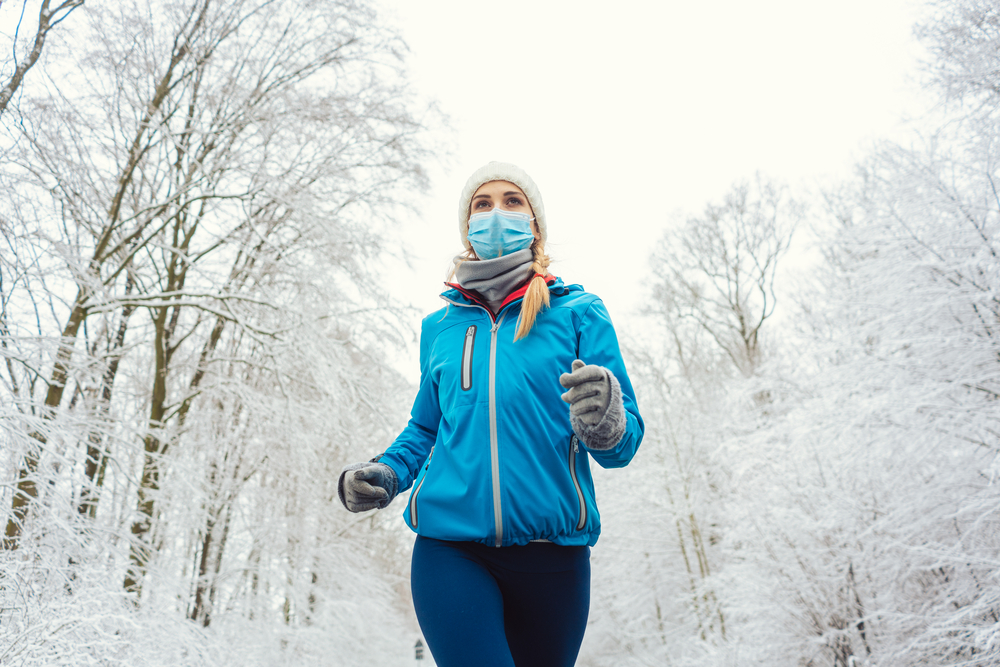 So, what are the best face masks for running in cold weather? You're probably looking for something that will keep your face warm while remaining breathable and providing you with the best protection. We've hand-picked some of the best masks for running in cold weather so you can explore a few options for yourself.
1. Under Armour Sports Mask
ASIN: B08HVX2WVR
Under Armour is already a brand known for its breathable and comfortable athletic wear, and these masks are no exception. It's no wonder you'll see so many professional athletes donning these lightweight and comfortable masks!
This mask is made from 100% polyester and is designed to be worn while you're working up a sweat. Featuring "Iso-Chill" fabric, this mask stays cool to the touch even when it's wet. And when needed, it can be easily machine washed.
2. Keen Together Cotton Face Mask
If you're looking for a more affordable option than the Under Armour mask but don't want to sacrifice quality or comfort, the Keen Together Cotton Face Mask is a sensible choice. Available in two sizes, this mask comes with an adjustable earloop so you can ensure the perfect fit for your needs.
Meanwhile, this mask is also made out of breathable, stretchy, and certified-organic cotton. The best part? Each package comes with two masks, so you can still have one available to wear while the other is in the washing machine.
Sale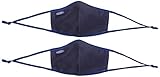 KEEN Unisex Together Cotton Face Mask Reusable, Navy, XS/S, 2 Pack
DISCLAIMER: This mask is not a replacement for medical grade protective equipment; Please remember using a mask does not replace other recommended measures; Please continue to practice social distancing, wash your hands, refrain from touching your face and follow your country guidelines
APPLICATION: Together we can help protect our communities; Made to last with two layers of non-medical grade lightweight BCI-certified cotton canvas and adjustable ear loops
SIZE & FIT: Large/Medium sizes measures 10 inches in length; Small/Extra Small sizes measure 8.5 inches in length; Adjustable ear loop strap for precise fit
MATERIAL & COMFORT: Anatomical design and stretch material provides all-day comfort; Made with dyed canvas and two layers of BCI Certified organic cotton; Sewn with blended polyester thread; Available in individual packs (2 masks) or 25 packs (50 masks)
WASHABLE CARE TIPS: For best results, wash before first wear; Wash colors separate; Do not bleach; To maintain the beauty of the mask, hand wash and air dry; Do not tumble dry; Medium warm iron
3. Mission Cooling Neck Gaiter
Neck gaiters are another popular option for runners, as they do tend to provide more of a breathable fit. Of course, you'll need to keep in mind that wearing a gaiter rather than a mask may not provide the same level of protection — so you'll need to decide if this is something you're comfortable with.
If you are looking for a neck gaiter to wear while running, the Mission Cooling Neck Gaiter is a great option. It can be worn in more than a dozen different ways to suit your needs, and its cooling fabric keeps you comfortable even when you're working up a sweat.
And because it is designed with a pull-on closure, there's no need to mess around with annoying ear loops or other adjustable straps. This reusable gaiter is easy to launder and also blocks up to 98% of the sun's UV rays, so you can keep your skin protected while running on sunnier days.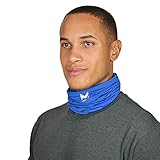 MISSION Cooling Neck Gaiter 12+ Ways to Wears, Face Mask, UPF 50, Cools When Wet- Blue
COOL MORE. DO MORE Enjoy staying active longer & doing what you love even when the temperature rises with the cooling & refreshing MISSION Cooling Neck Gaiter. Protect you from dust, debris & wind
COOLS INSTANTLY When activated with water it cools to 30 degrees below average body temperature in under 30 seconds! Activate quickly in 3 steps Wet it, Wring it out and Snap it. To reactivate, just re-wet and snap. It stays cool for up to 2 hours
MULTI FUNCTIONAL Mission Cooling Gaiter can be transformed into 12+ styles to protect from various outdoor elements. Wear as Neck Gaiter, Face Mask, Headband, Helmet Liner, Hood, Headwrap, Bandana, and more
GREAT FOR Tennis, Running, Hiking, Sports, Working Outside, Gardening, Yard Work, Fishing, Concerts, Festivals, BBQ, Tailgating, Motorcycling, Mountain Climbing, Vacation, the Beach, Lake, Pool, or anytime you want to feel instantly cooler.
CHEMICAL-FREE COOLING, UPF 50, & PROTECTION It is machine washable, and reusable with permanent chemical-free fabric technology that will never wash out. The Neck Gaiter protects vulnerable areas such as the back of the neck from the sun with UPF 50 blocking up to 98% of UV rays. The Gaiter also protects you from dust, debris, and wind when used as a face mask or hood.
4. Mask With a Mission
Looking to maximize your protection while running in busier areas? Check out the Mask With a Mission, a four-layer antimicrobial face mask featuring nanosilver and copper ion filtering technology for added protection. This mask is also marketed as being able to be worn up to 30 times between washes, so it's a great option if you have trouble remembering to launder your masks.
You can also feel good about buying this mask because for every 10 masks sold, this company will donate a mask to charity.
5. VOCALOL Covering With UV Protection
Another gaiter option to consider is the popular VOCALOL Covering With UV Protection, which is unique in its design that features an adjustable cord for a personalized fit. It is also made from polyester microfiber fabric, which is meant to be breathable and comfortable while wicking away moisture.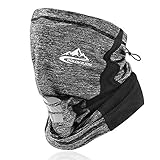 VOCALOL Summer UV Protection Elastic Balaclava Face Mask,Cooling Face Reusable Headwear Sports-Headbands Neck Gaiter (Gray)
VOCALOL Brand Is Already Registered,Multi-functional uses: besides as neck gaiter, make it as neck gaiter, face cover, beanie, bandana, headwarp, pirate cap or balaclava and protect yourself from the sun and wind
UV protection and breathable: the summer face cover are made of elastic soft and breathable fabric material, close to your skin and can draw sweat away from your face and dry quickly, UV-Proof, Sand-Proof, Windproof
Wide application: suitable for outdoor activities, such as fishing, cycling, hiking, camping, motorcycling, hunting, yoga,Travel, and other kinds of sports. Easy to breath and easy to carry
Adjustable neck gaiter to fit various head sizes
ONE SIZE FITS MOST:Our bandanas feature a super stretchy fabric that accommodates most head sizes.【High Quality】Made of moisture-wicking polyester microfiber Ice silk fabric, it is not only breathable, lightweight and feel comfortable.
Choosing the Right Mask for You
As you shop for the best face mask for running in cold weather, there are some important considerations to keep in mind. After all, the best mask for one runner may not be the best mask for you.
Make sure that the mask you choose is sized to fit your face comfortably. Typically, you won't be able to return a mask that doesn't fit once you've tried it on, so opting for an adjustable mask can protect you from wasting your money.
You'll also want to be sure that the mask you choose is easy to launder, especially if you work up a sweat while running and will need to wash it frequently. Ideally, you should purchase a few masks so that you always have a clean one ready to go for your runs.
The Final Word on Best Face Masks for Running in Cold Weather
Wearing a face mask while running may not be the most comfortable thing in the world, but it can keep you and others safe. Be sure to check out some of the options on this list to find the running mask that's right for you.