What are the best smelling essential oils for diffusers? Do you need to clear the air as you clear your mind?
Making the right choice can help you recreate a yoga studio experience right in the comfort of your own house. While you're at it, you can enjoy other benefits including boosted health and a cleaner home environment.
Personal taste is a big factor when choosing a great smelling and effective essential oil. Hate the scent of peppermint? Try citrus or clary sage oils, which offer similar benefits.
Before we get into that in detail, let's talk about what oil to buy and how to use it. So what counts as a high-quality essential oil? What kind of diffuser will you need?
What Should You Look For in High-quality Essential Oils?
Don't automatically buy an oil with the "Therapeutic Grade" label. That's an unregulated term that varies from one manufacturer to the next.
Instead, take a close look at the bottle and packaging. Keep an eye out for:
no synthetic compounds
100% pure, no dilution
certifications such as GMP or USDA Organic
purity testing including in-house batch tests or GC-MS testing
Do You Need a Specific Kind of Oil Diffuser?
There are four basic kinds of oil diffusers that you can get: heat, evaporative, nebulizers, and ultrasonic diffusers. All four break the oil down into tiny particles that are diffused through the air.
Do you need to invest in a certain kind of aromatherapy diffuser? Probably not. Most quality essential oils perform well in any style of diffuser.
Seven Essential Oils for Every Purpose
1. Lavender
Lavender is one of the most popular choices for an essential oil diffuser. This is due to a pleasantly herbal-floral scent and its long history in aromatherapy use.
The herb is best known as a sleep aid. It can help soothe nerves, release tight muscles, and clear the mind of stubborn worries. To get the greatest effects, diffuse for an hour before bedtime or while relaxing in the tub.
Lavender may also help repel moths. When paired with citronella oil (see below), this creates a powerful blend that keeps nighttime insects from ruining your backyard yoga session.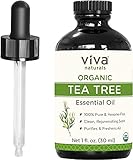 Organic Lavender Essential Oil for Diffuser (1 oz) - 100% Pure Natural Lavender Oil, Steam Distilled Lavendar Oil Perfect for DIY Soap Making, Home Cleaning Recipes, Body Oils and Lotions (30 mL)
USDA CERTIFIED ORGANIC - Introducing our all-organic essential oil line! Not only does our pure lavender essential oil come from organic Bulgarian lavender (so it's grown without pesticides), but it's steam-distilled from the fresh, flowering tops of the shrub (Lavandula angustifolia for those in the know). That means, it's processed without hexanes - just the lavender oil you love.
NON-GMO PROJECT VERIFIED - Look for the butterfly logo! For your peace of mind, we've gone a step further to have all of our organic essential oils verified by the Non-GMO Project, one of North America's most trusted 3rd-party verification programs for non-GMO products.
THIRD-PARTY TESTED FOR PURITY - Fillers or additives in your natural lavender oil? No thanks. That's why we put each batch through a solvent test and in-depth authenticity testing (that analyzes the oil's makeup). So you can diffuse or DIY, without worrying what's in it.
A SOOTHING SCENT WITH SO MANY USES - With its calming aroma, the lavender list is long. Use our lavender essential oil for diffuser or beauty blends, like a simple, homemade lavender massage oil or body oil (it's great with any of our carrier oils), lavender oil spray for pillows and bedding, or in a lotion.
UNIQUE BULB DROPPER STOPS SPILLS - When it comes to pure lavender oil, you don't want to lose any to leaks. Each bottle comes with a handy (and adorable) bulb dropper that lets you control each drop.
2. Citronella
Did you know that citronella oil doesn't come from a citrus tree? Despite the name and lemony aroma, it is actually extracted from an Asiatic grass.
This essential oil is a staple in candles. It clears the air of insects so people can enjoy summer nights on their patio. However, the oil also works in a diffuser.
Along with being an insect repellent, citronella essential oil:
is mildly antifungal, good for humid areas of the home
can fight fatigue, similar to other citrus-inspired scents
may reduce appetite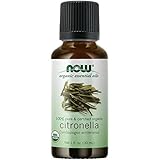 NOW Essential Oils, Organic Citronella Oil, Purifying Aromatherapy Scent, 100% Pure, Steam Distilled, Vegan, Child Resistant Cap, 1-Ounce
ESSENTIAL AROMATHERAPY - Organic Citronella is clarifying and freshening with a pungent, musky, citrus-like scent that is associated with purifying and cleansing. Reduce negative energy and enhance your mood and energy levels with premium oils.
ORGANIC/NATURALLY SOURCED/RESPONSIBLY MADE - This oil is extracted through steam distillation of dried citronella grass.Made in state-of-the-art laboratories, naturally derived, subject to purity testing in-house, vegan and never tested on animals.
100% PURE/UNDILUTED - Our essential oils are highly concentrated and 100% pure and free of synthetic ingredients, delivering the very best benefit of the source of the plants, fruits, seeds, flowers, bark, stems, roots or leaves from which they come.
MULTI-USE/BENEFITS - Aromatherapy is an ancient and time-honored tradition. Can be used in diffusers to breathe fresh air into a room or to enjoy aromas that relax or stimulate your mind. Melt away stress and tension in an instant with a simple drop.
CLEAN/SAFE ALTERNATIVE - Presents a safe, natural alternative to toxic, artificial aerosal sprays or messy candles. If you're concerned about keeping your home both clean and fire-safe, we'd highly suggest throwing some essential oils in the mix!
3. Peppermint
Do you need an extra kick of energy in the mornings? Peppermint oil is to the rescue.
This hybrid mint is rich in menthol compounds. These give it a distinctively bright, cool scent. When used in an essential oils diffuser, peppermint can:
Studies suggest that peppermint essential oil can also enhance memory and learning. You may want to diffuse some while studying or practicing a new skill.
Finally, peppermint leaves help settle the stomach and can improve the symptoms of irritable bowel syndrome. However, not everyone likes or can tolerate peppermint tea. The diffused essential oil offers similar effects for people with sensitive tastebuds and stomachs.
Sale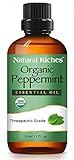 Natural Riches Organic Peppermint Oil Essential Oil for Aromatherapy with Diffuser Therapeutic Grade - Cooling Smell Fresh Mint Oil & Menthol 1fl oz.
Certified, Pure, Natural and Therapeutic Grade; Non-toxic, No additives, Unfiltered and Undiluted with No fillers; Package in the USA.
Therapeutic for muscle soreness, general relief and may help you focus.
Organic Peppermint oil has an energizing and cooling minty smell that promotes calmness; It may help increasing energy level sensation naturally, a great way to uplift your spirit, Dilute with any carrier oil and apply to temples and to back of the neck
Safety Warning: For external use only. POTENT OIL Extremely Concentrated. Other than Aromatherapy, dilute with a carrier oil. Avoid contact with eyes, keep out of the reach of children. If pregnant, consult with your health care provider before use.
Our oil blend is the best in the market. Purchase with confidence. Hassle-free money back guarantee. Just contact us and we'll refund you your order if you are not satisfied with the purchase.
4. Citrus Oils
Lemons, oranges, and grapefruits are closely related in the plant family. Their essential oils offer basically the same benefits. Just choose whichever scent you prefer.
Citrus oils both invigorate and relax. They can:
balance the mood
lower blood pressure and stress hormone levels
increase energy in the morning
freshen the air in the room
Note that citrus essential oils are fragile and degrade relatively quickly. This is true even with quality oils that are carefully stored. You may want to consider purchasing smaller bottles of citrus essential oils and replacing them when the scent weakens.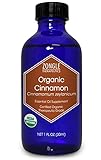 Zongle USDA Certified Organic Lemon Essential Oil, Italian, Safe to Ingest, Citrus Limon, 1 OZ
100% NATURAL
COLD PRESSED. For Face, Skin, Hair, Diffuser, Massage, Aromatherapy, Topical or Internal Use. USE in Acne Treatments, Candles, Capsules, Drinks, Food, Lotion, Spray, Sun Burns, Vitality Packs
5. Chamomile
This herb has been used since the time of the ancient Romans. Chamomile essential oils have a lightly floral and grassy scent. It's mild and a good choice for households where not everyone enjoys the smell of essential oils.
Although it smells mild, chamomile is a potent sleep aid that soothes the body and mind. It can:
make it easier for you to fall asleep
deepens the rest cycle
relieve mood disorders
lower your blood pressure
Keep in mind that people with ragweed allergies may react to chamomile oil. Test it in small doses first.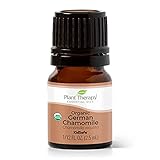 Plant Therapy Organic German Chamomile Essential Oil 2.5 mL (1/12 oz) 100% Pure, Undiluted, Therapeutic Grade
100% PURE USDA ORGANIC CHAMOMILE GERMAN ESSENTIAL OIL: Chamomile German Organic is steam distilled from the flowers of the Chamomile plant to produce a high-quality essential oil with absolutely no additives or fillers. Stored in an amber glass bottle to protect the oils from sunlight. Also includes a top sticker and European dropper cap.
EASE ACHY MUSCLES FROM OVER-EXERTION AND SORE JOINTS DUE TO THE NATURAL AGING PROCESS: To ease achy muscles and joints associated with aging or normal wear and tear, add 2 drops of Chamomile German Organic, Chamomile Roman Organic, and Peppermint Organic to 1 tablespoon of your favorite Plant Therapy carrier oil and gently massage on the problem areas.
HIGH QUALITY AT AN AFFORDABLE PRICE: Plant Therapy is renowned in the essential oil industry for our strict standards of quality and use the finest sources and processes in creating our top-quality essential oils.
HAVE QUESTIONS?: Plant Therapy's Certified Aromatherapists are happy to help you with your Chamomile German Organic questions. We welcome your questions and input!
6. Clary Sage
Here's another herb with a long history as a folk remedy. In the time of the ancient Greeks, various tinctures of Clary Sage were used to relieve so-called 'women's issues.' This included regulating menstrual cycles and inducing labor contractions.
In modern times, people have used clary sage oil to:
relieve menstrual cramps
steady the breath
As a bonus, clary sage may improve concentration and memory.
Sale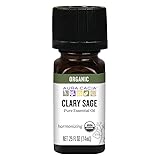 Aura Cacia 100% Pure Clary Sage Essential Oil | Certified Organic, GC/MS Tested for Purity | 7.4 ml (0.25 fl. oz.) | Salvia sclarea
UPLIFTING AND EUPHORIC - Clary sage (Salvia sclarea) essential oil is known for its balancing, uplifting, euphoric capacities and gentle nature. It is used for a wide variety of applications, from body and massage oils to room diffusions. It's uplifting but not overly invigorating, making it ideal for relaxing and resetting.
ORIGIN AND SOURCING - We believe the highest quality essential oils and skincare oils come from plants that are grown where they thrive. Clary sage is a biennial, meaning it grows, flowers and dies in two years. It's easy to cultivate, however, and produces a large volume of herb material each year. Aura Cacia Organic Clary Sage Essential Oil comes from France.
ORGANIC OIL - Organic essential oils differ from conventional oils in that the botanicals from which they are derived are grown according to the USDA's Organic Standards. Our manufacturing facility and all of our organic essential oils have also been certified organic by the established third-party certifier, Quality Assurance International (QAI).
PURITY TESTING AND RECOMMENDED USES - Gas chromatography mass spectrometry (GC/MS) testing is the primary way to ensure an essential oil is an unadulterated, true botanical. Every batch of Aura Cacia essential oils is GC/MS tested. This product is vegan and cruelty-free.
ABOUT US - Aura Cacia was founded over 40 years ago on pure essential oils and true aromatherapy benefits. We partner with suppliers to source high quality botanicals and rigorously test every batch to ensure purity. We then provide premium products with consumer safety at the forefront. And importantly, Aura Cacia is part of a member owned co-op that puts people and planet ahead of profits.
7. Eucalyptus
Did you know that three-quarters of the forests in Australia are mostly eucalyptus? Australia used to be the world's leading exporter of eucalyptus oil.
When enjoyed in moderation, the potent essential oil offers a number of health benefits. Diffused eucalyptus oils can:
ease sore throats and nasal passages
temporarily relieve congestion and runny noses
alleviate headaches and sinus pain
ease lingering aches after exercise
Eucalyptus may also improve your home's environment. This essential oil can freshen the air and eliminate mildew. That makes it a great choice for humid areas like the bathroom.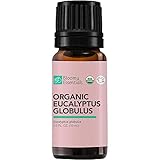 Bloomy Essentials Organic Eucalyptus Globulus Essential Oil 10 mL - USDA Certified Organic - Aromatherapy for Clear Breathing, Mucus Relief, Nausea Relief, Stress Relief - 100% Pure, Therapeutic Grade
✅ORGANIC EUCALYPTUS GLOBULUS ESSENTIAL OIL - Steam distilled from the leaves of the Eucalyptus tree to produce USDA Certified Organic essential oil that is with absolutely no additives or fillers. All of our products are Leaping Bunny certified as cruelty free and not tested on animals.
✅SUPPORT RESPIRATORY HEALTH - Diffuse Organic Eucalyptus Globulus and Organic Frankincense into the air to help support clear breathing. To ease muscle tenderness, add a few drops of Organic Eucalyptus Globulus to your favorite carrier oil and massage in a circular motion on the areas of concern.
✅GC-MS TESTING ON EVERY OIL - Bloomy Essentials puts every bottle to the test. We go through multiple rounds of testing before we release our essential oils for sale. GC-MS is the gold standard for essential oil testing.
✅AFFORDABLE PRICE AND VALUE: Bloomy Essentials brings you the absolute best oils at a reasonable price. We pass on our cost savings to the customer by purchasing as much as we can at any one time.
✅HAVE QUESTIONS? We are happy to help you with your Eucalyptus Globulus Organic Essential Oil questions. We welcome your questions and input! If you are not amazed by our oils, you will receive a replacement or a full refund from Bloomy Essentials, no questions asked!
The Final Word on the Best Smelling Essential Oils for Diffusers
The right essential oil will give you the benefits you need and a scent you love. Once you get a handle on single oils, you can branch out to experimenting with oil blends. These let you create signature scents that offer all the right things, from mellowing your mood to relieving post-yoga soreness.