Whether you've recently taken up running or consider yourself a seasoned runner, you should always look for ways to improve your performance and results. These days, there are all kinds of different gear and accessories that promise to optimize your workouts; it can be difficult to weed out the "hype" from the legitimate products.
Still, when it comes to performance-enhancing running gear, you can't go wrong with a pair of simple compression socks. If you're not already slipping on a pair of compression socks before you head out on a run, now is the time to start. Consider some of the many benefits of compression socks when running, as well as what to look for when shopping for your first pair.
What Are the Benefits of Compression Socks When Running?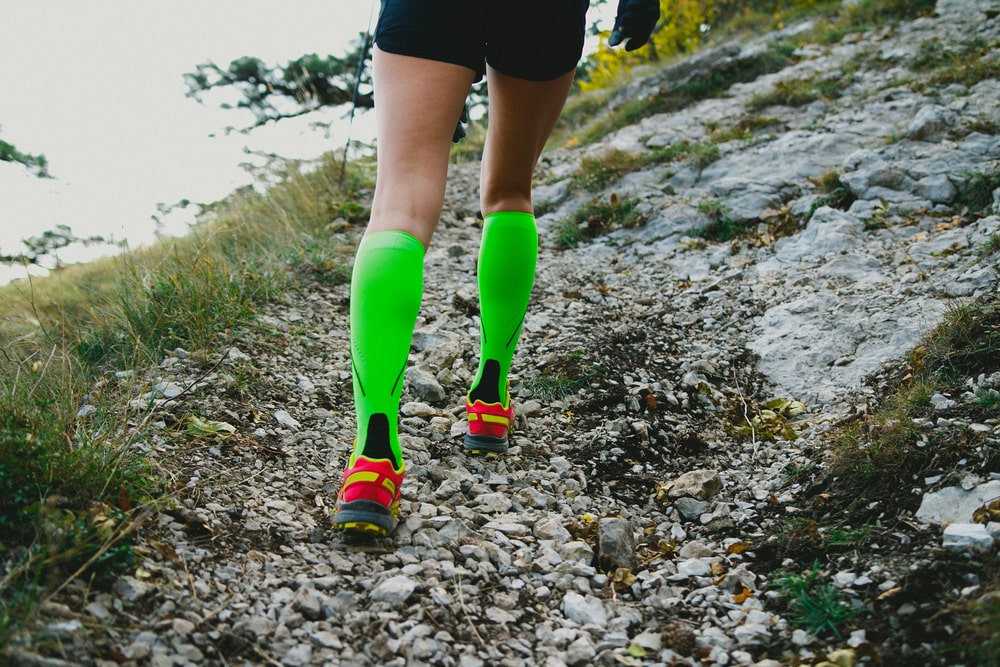 Why wear compression socks when running, anyway? There are numerous benefits to consider, ranging from comfort to performance factors.
Protect Your Legs
If you tend to wear shorts while running, your legs can be exposed to all kinds of dangers. Scratches from twigs and branches on your running trail, rashes from poison ivy, and even insect bites are all potential problems to be aware of as a runner. 
By wearing compression socks, however, you can enjoy some added protection against the elements — even while running in shorts. This is because compression socks are designed to cover your calves and come all the way up to your knees. While they won't protect you from every possible scratch or injury, compression socks do give you some added peace of mind.
Reduce or Prevent Swelling
Swelling is a common problem for runners because while running, vein valves can move from their optimal positions and pool with blood. This, in turn, can cause swelling and pain that not only affects your run but may leave you sore and uncomfortable for hours after your workout as well.
Compression socks have been proven to help reduce and even prevent swelling by helping to keep vein valves in their proper place. This, in turn, can make your running routine more enjoyable and save you from the discomfort of swollen legs after your workout.
Enhance Your Performance
One of the most notable benefits of compression socks is the fact that they improve blood and oxygen circulation throughout the body. This can help runners enhance their overall performance and possibly even their stamina.
When you wear compression socks during a run, increased circulation allows the muscles in your legs to receive oxygen more efficiently. As a result your muscles are less likely to tense up and spasm. Meanwhile, blood circulates more efficiently throughout the body, which can help to keep your pulse under control and allow you to run faster or farther than you would without compression socks.
Keep Your Legs Warm
Last but not least, compression socks can help to keep your legs warmer, even on cooler days of the year. Because many runners prefer wearing shorts over running tights or pants, the added warmth offered by compression socks may help you continue wearing shorts for longer — even as temperatures drop.
What Should I Look For in Compression Socks for Running?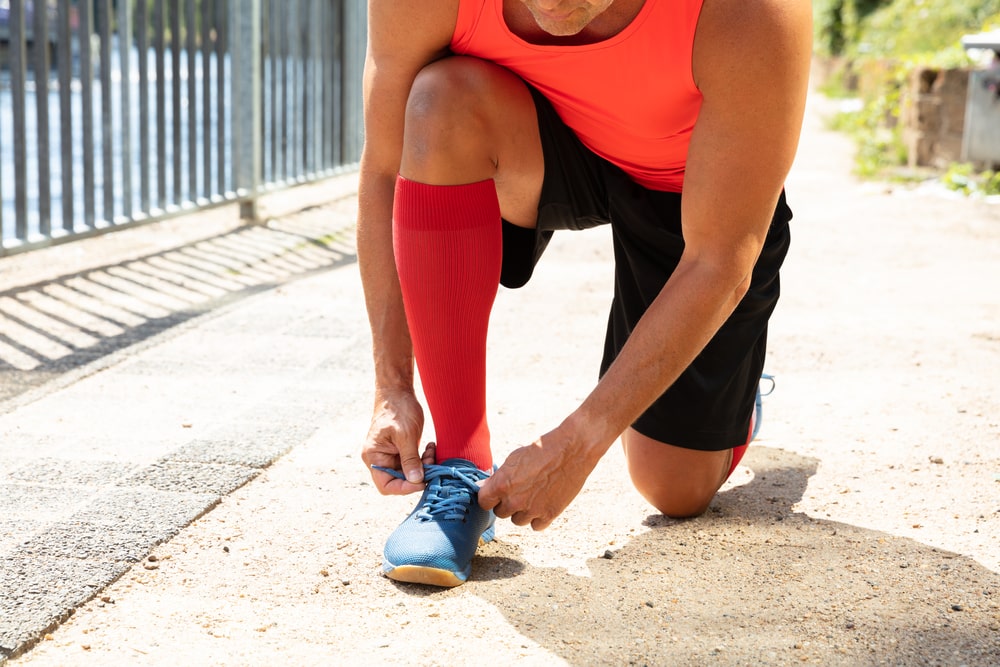 Ready to shop for your first pair of compression socks? There are a few important things to look for before you buy.
The Right Size/Fit
Sizing and fit are the most important factors when buying compression socks. After all, socks that are too tight will be uncomfortable to wear, and socks that are too large will not provide proper compression and may slide down while you run.
As you shop, look specifically at the recommended shoe sizes and calf measurements for each pair. You probably already know your shoe size, but you may need to use a fabric ruler to get your calf measurements.
A Breathable Material
Compression socks are available in a wide range of materials, but it's best to stick with breathable fabric options for the greatest comfort. This may mean shying away from thick cotton varieties and stick with cooling and moisture-wicking polyester fabrics instead.
A Style You Love
Finally, don't overlook style when selecting compression socks — especially if you'll be wearing them with shorts. If you do a lot of running on trails, you may also want to consider color carefully. White and other light-colored socks will be hard to keep clean, so darker colors or socks with patterns may be a more suitable option.
Three Examples of Compression Socks You May Want to Try
We have chosen 3 different examples of compression socks that we think are worth looking at for your running routine. All three are suitable for men or women.
1. Physix Gear Sport Compression Socks for Men & Women
These compression socks are a mix of Nylon and Spandex providing you with a great moisture-wicking product however, they have many other benefits too. They also come in 8 different colors and patterns.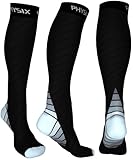 Physix Gear Compression Socks for Men & Women 20-30 mmhg Graduated Athletic for Running Nurses Shin Splints Flight Travel & Maternity Pregnancy - Boost Stamina Circulation & Recovery GRY S/M (1 Pair)
STYLE AND CONFIDENCE ON YOUR LEGS Finally! A Durable Compression Sock designed to last, without compromising quality or Comfort. Double stitched Fabric your legs will thank you. Feel the immediate Comfort and remarkable design of your new Stamina Long Sock Tights. The Perfect Work, Cycling, or Ski Socks. Quality stitched & Easy to get on even though they are a compression sock! They Wash well without losing compression keeping all the Excellent vascular toning benefits.
BECAUSE PUSHING YOURSELF THAT EXTRA MILE MATTERS! Get your legs properly geared up for work, play, and everything in between! Great for day and night use, and perfect for those who are on their feet most of the time. With our socks, the compression and support are perfectly located on the heel foot calves so the toe area wont squeeze your toe joints. Provides instant comfort support, with moisture wicking properties that rapidly air dry in a few hours.
TAKE YOUR GAME TO THE NEXT LEVEL Comfortable material and careful construction. No stitches in places where they'll rub or rip together. Stay put Cuffs Soothing feeling at the bottom and sides of foot with no pinching seen with lesser quality socks without ankle support. Fall in love with your new Stamina socks easy to pull on. and they breath! Use in extremely hot weather crossfit through mud water wall/crawl/rope climbs and half marathons. Perfect for extreme races and long runs!
GRAB CONTROL OF YOUR WELLBEING IN STYLE An Excellent compression hose very durable with a fashionable look and variety colors available. Washable designed with Quality Lycra Fabric built for durability. Customers agree the comfort is amazing. Use them on a plane during that 9 hr flights or during that 6 mile walk Your durable 20 - 30 mmHg sleeves work with your routine. Feel the shock absorption effect instantly that really helps reduce fatigue and swelling in your lower leg.
GET READY. TO BECOME A RAVING FAN! We cut no corners in our product and will cut no corners in our support of you! You are making a very intelligent decision doing business with our company. We know you're a big deal and we'll only provide you with the finest product and service around or your MONEY BACK! Purchase the Stamina Compression Socks now and experience the Physix Gear Sport customer experience phenomenon!
2. Calf Compression Sleeves – Leg Compression Socks for Runners
Our second choice is a leg sleeve rather than a full sock so the feet are completely omitted which may be your preference. They are another Nylon and Spandex mix and are available in 14 different colors and patterns.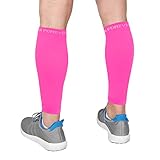 Calf Compression Sleeves For Men And Women - Leg Compression Sleeve - Footless Compression Socks for Runners, Shin Splints, Varicose Vein & Calf Pain Relief - Calf Brace For Running, Cycling, Travel
Calf sleeve for lower leg support: The compression calf sleeve for women & men supports your calf muscle, give pain relief and relieves cramps & fatigue. The calf brace helps avoid varicose veins, shin splint, muscle pulls & torn calf muscle
Professional medical compression stockings: The leg wraps have true graduated compression strength of 15-20 mmhg, improving performance while alleviating leg pain, swelling and allowing for faster injury recovery
High quality: The leg compression sleeve is made of premium fabric with a combination of 70% nylon & 30% spandex making it durable, machine washable, breathable & comfortable
Multi-purpose: Our compression leg sleeves are ideal for daily use in running, traveling, volleyball, basketball, cycling, exercise, football, and are preferred by doctors, nurses and pregnant women
Multiple designs, colors & sizes: Run Forever Sports calf compression sleeve for men & women has many engaging colors and caters to all sizes, from small, to xl, to plus size!
3. CHARMKING Compression Socks for Women & Men
The last selection we have made is for those of you that want to brighten your day with something functional but a little more fun while you run. They have a moderate level of compression, 15-20 mmHg, and as such are not considered medical class, however, they may still meet all of your needs. You can learn more about the levels of compression for socks, sleeves and stockings here.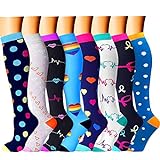 CHARMKING Compression Socks for Women & Men (8 Pairs) 15-20 mmHg Graduated Copper Support Socks are Best for Pregnant, Nurses - Boost Performance, Circulation, Knee High & Wide Calf (S/M, Multi 06)
MULTICOLOR COMBO - You get a color combination of your choice. Perfect for a whole week without daily wash. You are getting an amazing offer to keep your feet stay with optimal compression all the time (See the 7th image for the Size Chart)! High quality stitched & Easy to get on even though they are compression socks!
COMPRESSION IS PROVEN to allow you to move faster, react quicker and use less energy. Targeted compression zones provide varying levels of support from moderate to extra firm. Unique color design, add a touch of color to your ordinary life.
COMFORTABLE MATERIAL AND CAREFUL CONSTRUCTION - CHARMKING knee high compression socks' material are upgraded with nylon percentage from 40% to 85%, Delivers 360-degree stretch for greater flexibility and durability. Breathable high performance fabric keeps an optimal temperature. We are confident that you will choose it!
GREAT GIFT IDEA - If you are struggling with a gift idea to a loved one or a casual friend, this is will reduce your anxiety without even you wearing them. Great gift choice for joggers, athletes, workout fanatics, office workers, ok...can we just say whoever use their leg extensively.
SHOP WITH CONFIDENCE - Finest product and service around, or your MONEY BACK! A veritable necessity for anyone working long-hours standing on their feet, or those heavily invested in athletics and a fitness lifestyle. Feel safe to put this item into your Cart! Feel free to enjoy your fascinating life with it!
The Final Word on Compression Socks When Running
The right pair of compression socks can go a long way in keeping you comfortable and even enhancing your performance as a runner. From improving circulation to providing added protection for your legs, it's amazing what a simple pair of socks can do. And with a little shopping around, you can find the perfect pair of compression socks to suit your needs!