Are you looking for the best yoga clothing for men?
There seem to be limitless women's options when shopping for yoga clothes, whether online at Amazon or a brick and mortar shop that carries popular brands like Adidas, Lululemon, prAna, and Manduka. But what about men who do yoga? Should you wear short sleeve t-shirts, basketball shorts, or sweats?
We share everything you need to know about activewear and yoga clothing for men. Whether you're taking your first yoga class or you want to break out your own yoga mat at home, there are plenty of options for you.
This article contains some Amazon affiliate links meaning we earn a small commission if you purchase.
What Do Men Wear for Yoga?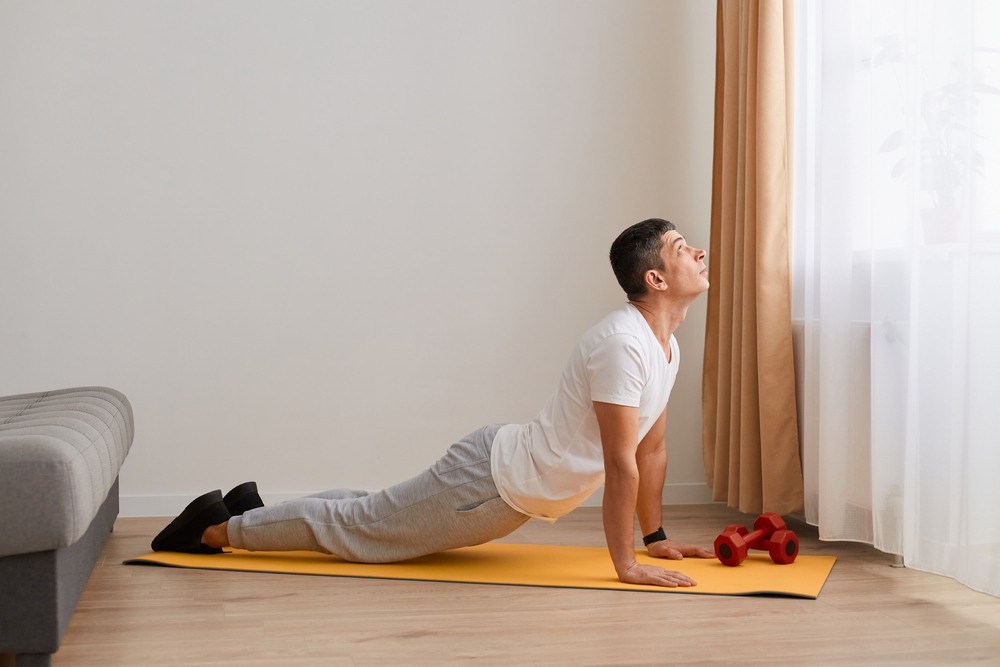 One question that might be on your mind is whether or not you need to wear clothes that are specifically designed for yoga. While yoga is more about the techniques than the clothing, having the right clothes can help make your practice a little easier.
Buying yoga gear as a man shouldn't feel intimidating or confusing. You're essentially shopping for typical workout clothes, except you want to find items that have increased flexibility.
Yoga requires more stretching and fluid motions than other forms of exercise, so you need clothing that will adapt to your body as you move while also keeping you cool and comfortable.
When choosing the right clothes for your yoga practice, it's essential to consider the material. After all, it wouldn't make sense to do dhanurasana in materials that don't breathe or are too tight. You need fabrics that allow air to flow, so you don't overheat or wind up drenched in sweat.
You might also be interested in our explainer on how to master your yoga ball.
The Best Yoga Clothing for Men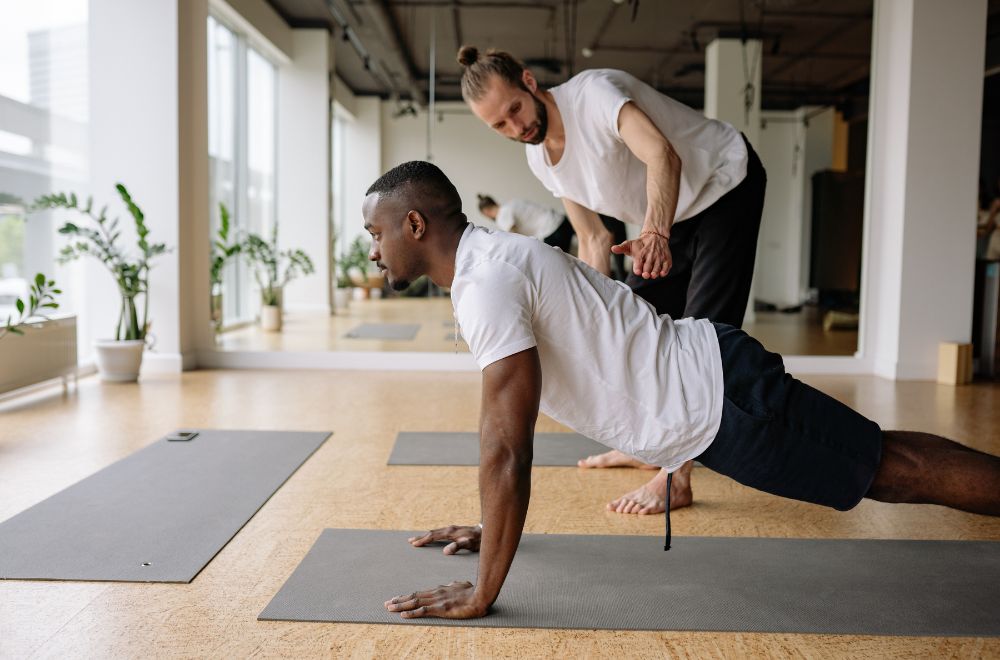 To help you with your search for men's yoga clothes, we're sharing our top picks. We have everything from comfortable pants and shorts to tops and headbands.
Key Features:
Double seamed waistband
Drawstring closure and adjustable waist
Pocket
Brokig Men's Zip Jogger Pants are an excellent choice for a men's yoga pant. They're the perfect balance between slim fit and relaxed, so you can get the support you need without feeling claustrophobic. They're also tapered at the leg so they won't slide up and down your leg as you transition from pose to pose.
The ankle zippers provide even more security, and the double-seamed waistband will resist sliding and stretching. The only problem we found is that these pants shrank slightly after the first wash, so getting a size up would be best when ordering.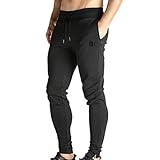 Key Features:
Soft elastic waistband
Ninety-five percent and five percent spandex blend
Lightweight and easy to move in
Some men prefer looser fitting pants when practicing yoga, and these Avacostume Men's Lightweight Yoga Pants are the best ones we've found. The pants are made of soft modal cotton, blended with spandex, which gives it a lightweight feel that is perfect for stretching and movement.
Depending on your height, they may be a little long, but this isn't very important when you notice how comfortable you feel. These pants are so soft it will feel like you're wearing a second skin! These are a must-have for any male yogi.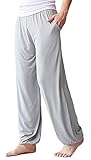 Key Features:
Deep pockets with zipper closure
Fray resistant drawstring
High-impact flatlock stitching
Modern, athletic fit
Yoga shorts have quickly become the go-to for many male yogis because they aren't restrictive and allow for easy movement. It was hard to pick a favorite with so many options to choose from, but these Anthem Athletics Hyperflex shorts outperform the competition.
They're made of soft stretch-resistant fabric that helps you stay cool and dry during your workout. One of our favorite features is the deep pockets with zipper closure. These will keep your phone or keys secure while you're moving around.
Sale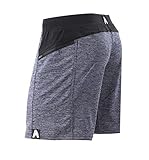 Anthem Athletics Hyperflex Gym Shorts for Men Zippered Pocket 7 Inch Inseam – Workout Shorts, Running Shorts, Athletic Shorts Cross Training Shorts Yoga Shorts - Iron Rhino Grey G2 - Large
ULTIMATE GYM SHORTS FOR MEN. We set out to create the ultimate gym shorts for men. With stretch performance fabric, zipper phone pocket, modern athletic fit, full range of American sizing, available in 5 inch inseam, 7 inch inseam and 9 inch inseam, we believe we did
CONSTRUCTION. Hyperflex mens workout shorts are made from a polyester / spandex blend for maximum mobility, moisture wicking and performance. Flat-lock stitching. Elastic waistband with drawstring
HYPERFLEX GYM SHORTS FOR MEN 7 INCH INSEAM. Modern athletic fit. 7 inch inseam will typically fall 1-2" above the knee. Also available in 5 inch inseam and 9 inch inseam – see separate listings
ANGLE CUT ZIPPER POCKETS. Athletic shorts for men made with zippers from YKK – the best that money can buy. Our Hyperflex gym shorts feature large zipper pockets, cut at an angle. Keeps items secure and out of the way during workouts
OPTIMIZED FOR TRAINING. Mens athletic shorts optimized for gym, running, lifting, WOD and yoga workouts
Key Features:
100 percent polyester mesh fabric
Available in multiple colors
Moisture-wicking material
Racerback design allows for more movement
You can't go wrong with a slim fit tank top for yoga, and the Neleus Men's Workout Tank Top is one of the best activewear options out there. It's made of 100 percent dri-fit polyester so you can stay cool and moisture-free during your routine.
For the fabric's quality, the price is incredibly affordable, and each order comes with three tank tops. If you're looking for something with a snugger fit, then this might not be the best choice. We found that these are looser than some male yogis prefer.
Key Features:
Stretchy material that won't slip
Moves moisture away from skin
Quick-drying
Yoga is relaxing, but that doesn't mean it doesn't get sweaty, especially with hot yoga, which is why a good sweat absorbing headband is a must-have.
These Poshei Men's Headbands are our favorite because they're stretchy enough to fit anyone and snug enough not to move while you're practicing. The headbands absorb sweat and keep it away from your eyes, and can easily be wrung out if they get too saturated.
One order comes with four headbands so you can switch out colors and wash them, which is recommended because they can lose some of their elasticity and shape over time.
Sale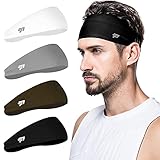 poshei Mens Headband (4 Pack), Mens Sweatband & Sports Headband for Running, Cycling, Yoga, Basketball - Stretchy Moisture Wicking Hairband
Transports moisture away from skin (4 packs): Poshei mens headband is made of 95% polyester, 5% spandex,strechable, breathable,soft and sweat wicking; Keep your eyes away from sweat,wick away moisture and dry quickly.
Easy to wear and Multifunctional: The headbands for men sewn into the back of the bandana headband allows you to put the mens headband on without the need for tying any knots;Very convenience to carry on.
Lightweight and Practical: Lightweight sweat headbands with perfect one-size-fits-all technology, soft and elastic, poshei mens headbands can be stay in place and fit well.
Versatile and All season item: Boosts yourself confidence and performance; Poshei headbands for men is suitable for walking, running, hiking,basketball, volleyball,biking, fishing,yoga, gym.
Using instruction: When you sweat a lot during exercise,please remove the headband for every 45 minutes, wring it out and wear it again.
Key Features:
A good amount of stretch
Well ventilated fabric
Fitted style
Quick-dry and sweat-wicking
The Zengjo Quick-Dry Athletic Shirt is the perfect basic addition to your yoga wardrobe. The best part is that it's a lot more affordable than shirts of similar quality.
When it comes to the downsides, there aren't many, but we will say this shirt probably isn't the best option for guys over six feet tall.
It is also a slim fit style, but we found that it fits looser, although we didn't have trouble putting a hoodie over it. Besides these points, it's a worthwhile investment for any man interested in yoga.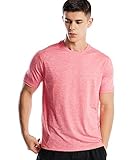 Athletic Shirts for Men Dry Fit Workout Running Gym Shirt Moisture Wicking Sport Performance Tee(Marled Coral, M)
★Workout Shirts for Men:Mid-weight stretch jersey,soft/elastic/good ventilation. Machine wash cold,separately or with like colors only.For dark colorways,strongly suggest washing before wear.
★Moisture-Wicking:wick sweat quickly and keep you cool dry in fitness and exercises. Ergonomic 4 needle flat-lock seams allow greater range of motion. Tag-less design to reduce chafing in movements.
★Relaxed fit athletic shirt:If you want a tight fit or muscle effect, we recommend you choose ONE SIZE DOWN.Ignore the "Size Chart" provided by amazon, check last picture for appropriate size. Reference: Model 1 in SOLID color: 6'2 ft.(Chest 44.1"- Waist 31.9"-Hip 39") wear size M. Model 2 in HEATHER color: 5'9 ft.(Chest 42.5"- Waist 31.5"-Hip 37.5") wears size L.
★Suits for Multi Sports:Running,jogging,power walking,cycling,hiking, gym training or yoga exercise etc.
★Please kindly understand,colors may look differently on individual monitor due to the color setting and lighting. Anything not clear,please don't hesitate to contact us. : )
Key Features:
Designed for all seasons
UPF 50+ sun protection
Side pocket
Made of non-abrasive spandex
When it comes to yoga, flexibility in clothing is critical. It doesn't get much more flexible than a quality pair of athletic leggings, and these DEVOPS tights fit the bill.
They are made of comfortable, breathable anti-bacterial fabric that is great at wicking sweat. The waistband sits where a man needs it to without movement, and the ankles are tapered to stay in place.
There are a couple of things to keep in mind when ordering, though. These do run a little small, so we recommend ordering a size up. They're also not the best for compression, so if you need compression in addition to flexibility, the DEVOPS men's athletic leggings aren't your best bet.
Sale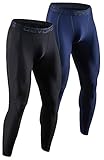 DEVOPS 2 Pack Men's Compression Pants Athletic Leggings (Large, Black/Navy)
【Designed for All-Season】Great Performance in warm or cool weather. Sweat and Moisture can be pulled away from skin very quickly; Enable sweat easy for air-dry to prevent clothes sticking to the body.
【UV Sun Protection】 Rating UPF 50+ protects your skin from the sun's harmful UV rays.
【Comfortable】 Non abrasion spandex fabric with excellent elasticity and durability for maximum mobility.
【Choose Pocket or Non Pocket Style】 Positioned well for hand placement are great fit and comfort for walking and running. Side pocket to stash your keys, cell phone or any essentials.
【Multi-Versatile】 Perfect for daily gym, fitness, jogging, running, football, soccer, yoga, cycle, bjj and other active workouts.
Key Features:
Anti-skid frictions on the bottom
Made of combed cotton
100% silica grips
Most men do yoga barefoot, but that comes with its own set of problems. From potential slips and falls to hygiene, barefoot yoga might not be best, especially if you're taking a class. That's why a reliable pair of non-slip yoga socks is something every guy should have.
These Muezna Men's Yoga Socks are our favorite because they come with non-slip grips on the bottom, making it easier to transition and hold poses without slipping. The socks are good for on or off a yoga mat.
The one downside is the limited range of sizes. They can fit men with shoe sizes between 5 and 10, so a larger man wouldn't benefit from these.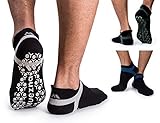 Muezna Men's Non-Slip Yoga Socks, Anti-Skid Pilates, Barre, Bikram Fitness Hospital Slipper Socks with Grips
Newest Design: Stylish design on the instep and anti-skid firctions on the bottom, provideing an absolutely effective anti-skid effect, perfect for Yoga, Pilates, Barre, Bikram, Ballet, Fitness, etc.
Better Material: The Combed Cotton and 100% Silica Grips have better effect in sweat absorption and providing absolutely anti- skid, non-slip surface of the sock bottom.
Protect Anyone from Nasty Falls: These Anti-skid socks are also perfect for pregnant women, hospital patients, the aged people, etc.
Gift Bag is Free: Packed in a nice bag for usually storage, also helping to keep clean.
Size: Men's Shoe Size US 5-10. 100% Satisfaction Guarantee: If you're not satisfied with our socks within 60 days of your purchase, we'll refund your order without any question asked.
Final Word on Yoga Buying the Best Yoga Clothing for Men
Having the right clothing that will work fluidly with your body instead of inhibiting it during your yoga practice is the first step to having a successful routine. Now that you know the best options for your workout gear, it's time to start building your wardrobe today!