These five best yoga email ideas will convert lookers into bookers. Read more to find out.
Email marketing is the icing on the cake if you own a yoga studio. Building a well-structured website with easy navigation and a killer call to action is a must – but that's not enough.
Think about ways marketing can benefit your yoga business in the long run. Social media, Instagram posts, influences, and advertising may consume a large portion of your budget. That's when email marketing comes into play.
In this article, I will share the five most helpful and practical yoga email newsletter ideas to boost your client list in no time.
1. Create An Educational Roll Call Of Different Yoga Styles
One of the easiest ways to grow your fans and win trust is to contribute value. You don't want your readers to feel like they are talking to a salesperson. Avoid sales copy and invest more time educating your clients.
You can start a weekly or monthly series discussing different styles of yoga and explaining which style works best for each type of yogi. Incorporate a question headline to get them interested. Your audience loves to know what's in store for them.
On top of that, if you can curate a personalized newsletter, it will speak straight to your students' hearts. Your precious emails will help them distinguish what's relevant through high-quality content. At the end of the email, list down several ways your students or clients can reach out to you if they have any questions.
2. Keep Them Updated On The Latest Trends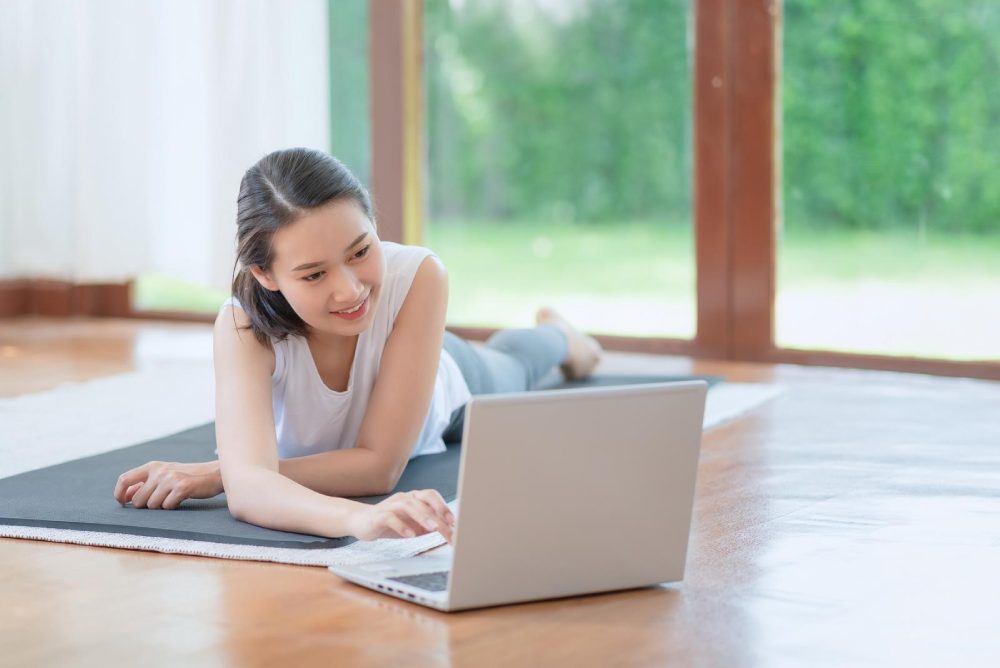 It doesn't always have to be about how to pose or what to eat before the class. Incorporate a relevant topic that isn't directly related to the practice but that your audience still finds helpful.
For example, you can ring in their inbox with a list of the coolest yoga outfit ideas they can wear to class or on the streets. Try to incorporate pictures of yourself wearing that outfit for a better visual effect.
If the International Day of Yoga is around the corner, drop them an email with a brief and engaging history behind the day. What if your students have other habits on the plate other than just yoga? Show them you care with a newsletter about SUP yoga, aerial yoga, or yoga for runners to promote yourself as a reputable source of information and increase the trustworthiness of your brand.
Link back to your services and a call to action directing people to your social media pages or landing pages, especially if you're offering a brand new class dedicated to a particular type of student.
3. Inspire Your Current Students With Successful Stories Of Former Yogis
Do you know why those before-and-after pictures can get in the way of your health goal? Those pictures can be discouraging if they are completely photoshopped and fake. But if you have some real-life photos with encouraging back stories to share from your previous students or even yourself, it will provide a massive result.
People love stories, and you can make them more engaging if the stories and pictures come from your own experience and your previous students. Mention exactly how long it took them to achieve the desired result, what challenges they faced along the way, and what they would share with beginners.
Not only will these stories and pictures motivate your current students, but they will also become the best reviews for your yoga business. You can also set up a get-together between the alumni and the new faces after a couple of weeks or months to establish a sense of community and encourage brand loyalty.
Check out our yoga studio business model guide.
4. Answer Frequently Asked Questions
There's no better way to keep your students or clients engaged than an answer to their questions via email.
Put their questions in one place and encourage them to share more about what's on their mind. If they are new to the class and can be a little shy or unsure what to ask, explain what they might find the most difficult in the class and what they can do to get the most out of their yoga practice.
Ultimately, they feel that you care about them, which will slowly contribute to your brand and personal image in the long run.
5. Give Them A Discount Or Freebies
Everyone loves freebies; consider a free consultation or a discount rate for a few classes.
Not only does this show students they are valued, but you're also indirectly encouraging them to tell their friends and families.
What is the best deal you're willing to give away in this campaign? If you want to grow your class size and gain more potential customers, a free T-shirt with your brand on it for each student who successfully brings a friend to one of your classes will do the trick. Or include a significant discount for a private consultation or private training for a class under five people.
If you liked this post, you'll love our tips for owning a yoga studio.