These seven yoga storage ideas are the best solutions for a decluttered and organized training space.
Depending on how much yoga equipment and accessories you have at home, you can store them in a tiny living quarter under the bed or set up a proper gym rack to keep them in place. I have found seven yoga storage ideas, so you don't have to.
Some items can be mounted on the walls, while others are portable. Let's take a look.
1. A Traditional Gym Rack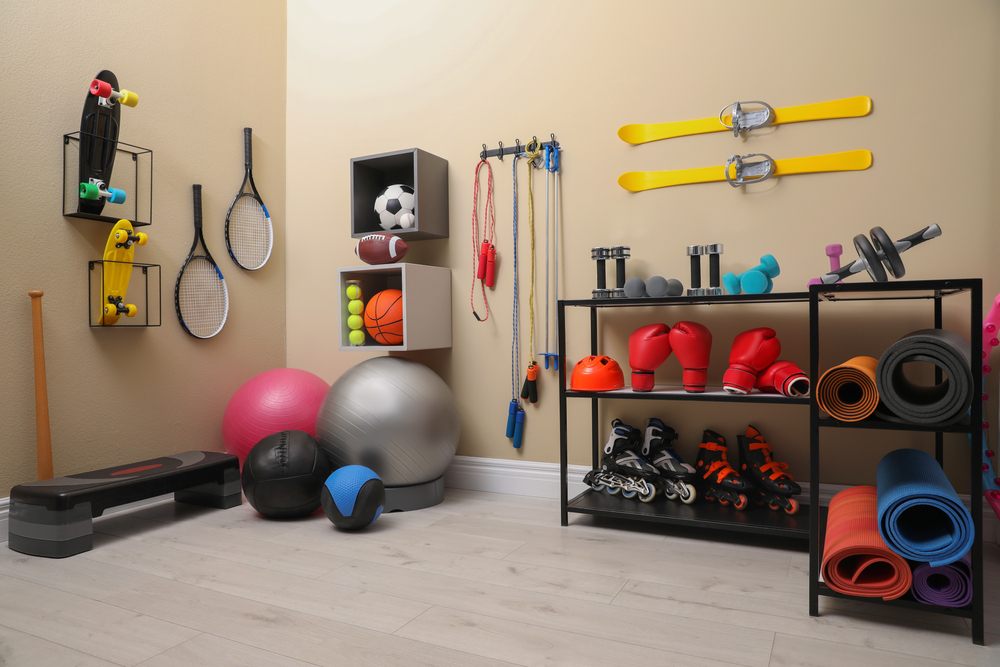 A gym rack is one of the most versatile storage ideas to spruce up your home yoga space. It comes in all shapes and sizes with various holders, hooks, and storage so you can store all your yoga equipment without wasting much space.
A good yoga rack should have more than two shelves with various surface widths ranging from smaller to bigger to accommodate different item sizes. With smaller pieces such as resistance bands, belts, or fascia balls, I recommend storing them on the top shelf.
Bigger mats can be folded and sit on the bottom rack. Meanwhile, you can hang your training bags and sweatbands on top of the hooks, usually mounted on the edges of the rack.
2. A Utility Yoga Cart
The best thing about a utility cart is the lockable wheels. It comes in handy if you're looking for versatile storage for your yoga studio, as it keeps all items in one place without a need to be mounted to a certain location.
A yoga cart is usually an open cart made of metal with multiple racks or shelves mounted into two handles with rolling wheels underneath. You can hide it in the corner of your home or studio or use it to store your yoga items with other training goods.
A mobile cart allows you to move all equipment from place to place without fretting over the weight. Even if you're not going to use it as yoga storage, it can also be converted into a clutter-free storage space for your kitchen or garden utensils.
Sale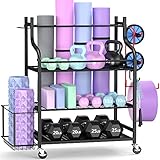 Mythinglogic Yoga Mat Storage Racks,Home Gym Storage Rack for Dumbbells Kettlebells Foam Roller, Yoga Strap and Resistance Bands, Workout Equipment Storage Organizer With Hooks and Wheels
【STORAGE VARIOUS ITEMS】: This workout storage organizer can help to store your yoga mat, dumbbells, kettlebells, yoga brick, resistance band,roller wheel, foam roller etc.. Perfect for fan of yoga.
【WELL-MADE QUALITY STORAGE RACK】: The yoga mat rack is made with high quality powder coated finish steel, the whole construction is sturdy and durable which can be use for years. And it is suitable for many occasions, such as gym, personal home gym, fitness club and garage.
【HEAVY DUTY CASTERS】: The home gym storage rack comes with 4 strong 360-degree wheels (2 lockable) and can easy to move indoor and outdoor as well as any places you want to use.
【LARGE CAPACITY STORAGE ORGANIZER】: The storage rack is quipped with 3 layers of metal mesh, a side basket, 3-sectional iron holder and several hanging hooks which can store for various yoga gear and exercise equipment.
【EASY TO ASSEMBLE】: The dimension of this gym organizer is 40.4"(L) x 15.7"(W) x 34.3"(H). With the help of instruction, you can easy install the whole unit.
3. A Foam Roller Rack For Yoga Mats
A foam roller rack is specifically designed to deal with the hard-bitten yoga mats that keep rolling all over the place. A traditional roller rack is usually mounted onto the wall with different holders from top to bottom. Other than yoga mats, it can also hold foam rollers, jump ropes, straps, and many more.
If you don't like to work with studs, drills, and holes, opt for one that can stand on the floor and move around. With this second option, you can keep your rolled mats vertically next to one another for a tidy look.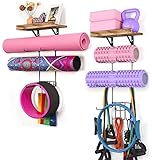 2 PACK Yoga Mat Holder Wall Mount Yoga Mat Storage Shelf Rack Home Gym Accessories with Wood Floating Shelves and 4 Hooks for Hanging Foam Roller and Resistance Bands Home Gym Carbonized Black
2 Pack Unique Yoga Mat Hanger: This yoga mat rack comes with floating shelves and 4 hooks, larger capacity. It can save floor space, stylish and simple design is the first choice for home gym decor.
High Load Secure Yoga Mat Holder: The reinforced yoga mat holder wall mount is not easy to be deformed. The yoga mat holder is fixed to the wall through the lock between the brackets, and it will not easily fall off the wall, making it safer and stronger. The installation of the yoga mat rack only requires 5 holes in the wall, which will cause less damage to the wall.
Paint Will Not Peel Off: The paint of the yoga mats holder is treated with a special process, so it will not peel off easily and will not affect the appearance and use, offers you a safe storage space for your thin and thick yoga mat.You can use bottom hooks to hang your hand towels, exercise bands, yoga mat bag and more!
Home Gym Accessories: This yoga mat holder can store your yoga mats, foam rollers, exercise bands very well and more at your fingertips. It is a nifty display rack, not only display your gym equipment, but also display your bathrobes and blankets. The wooden floating shelves can also display small objects such as yoga block, picture frames, water cups, etc., to add color to your room.
Easy Installation & Ideal Gifts: The yoga mat storage comes with required hardwares and clear instruction for quick installation. Exquisite packaged, it can be used as a holiday gifts for friends and family. If you have any questions, please email us and we will reply within 24 hours.
4. A Storage Bench That Can Turn Into Stylish Furniture
A storage bench can turn into a stylish piece of furniture where you can place your ornamental items on top and put it in the living room. It works like a charm if you have a headache dealing with tiny yoga accessories such as straps, belts, outfits, and towels.
Storage benches usually come in different shapes and colors, so they match any interior. Go ahead and put your favorite yoga items inside, close the compartments, and turn them into a comfortable seat in the living room or at the foot of your bed.
5. An Under-Bed Storage Drawer 
An under-bed storage drawer is suited for shallow areas while maximizing hidden space. If you live in a dorm or a tiny apartment, a storage drawer will keep all your yoga outfits and personal equipment in one place.
Material is the key player that decides the price spectrum. Sturdier material such as wood costs more than fabric or cardboard versions.
One thing you need to know before buying an under-bed yoga storage drawer: your bed or couch must be high enough to accommodate the drawers.
You might also be interested in our round-up of the best yoga clothes for older ladies.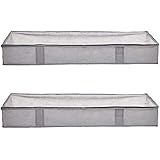 6. A Palm Leaf Basket
Sometimes, a closet or a drawer can't do the trick since they are too large or expensive. That is when a palm leaf basket comes into place.
Eco-friendly and easy on the eye, palm leaf baskets aren't too expensive and can be stacked on a shelf for discreet storage. You can find these baskets in most home furniture stores or online with plenty of sizes to choose from.
Some smaller baskets can hold little yoga equipment like blocks, bolsters, belts, and socks. Meanwhile, a bigger basket is an ideal option to keep your folded yoga outfits, yoga blankets, or even a yoga mat sling.
7. A Large Seagrass Woven Wastebasket 
If a palm leaf basket is unavailable, a seagrass-woven wastebasket will do the trick. Those wastebaskets are usually larger, so you can store bigger or longer pieces of equipment like yoga mats and foam rollers.
The only downside is that most seagrass woven wastebaskets don't come with hangers, so you have to place them standing still on top of a surface or at a floor corner. Don't forget to check if the material is sturdy. You don't want them to lose their shape or tip under pressure over time.