Swimming is great exercise, but it can get boring after a while, which is why a lot of swimmers search for the best music devices for swimming to stay focused.
Swimming is an excellent form of exercise, and the experience can be enhanced by listening to your favorite tunes, but very few music devices are waterproof. In this article, we will explore the best music devices available for swimmers, specifically designed to withstand water exposure while providing excellent sound quality and convenience.
From waterproof MP3 players to water-resistant smartwatches, there is a range of options to suit every swimmer's preferences and budget. We will discuss the key features and benefits of each device, as well as any potential drawbacks and compatibility considerations.
What To Look For In The Best Music Devices For Swimming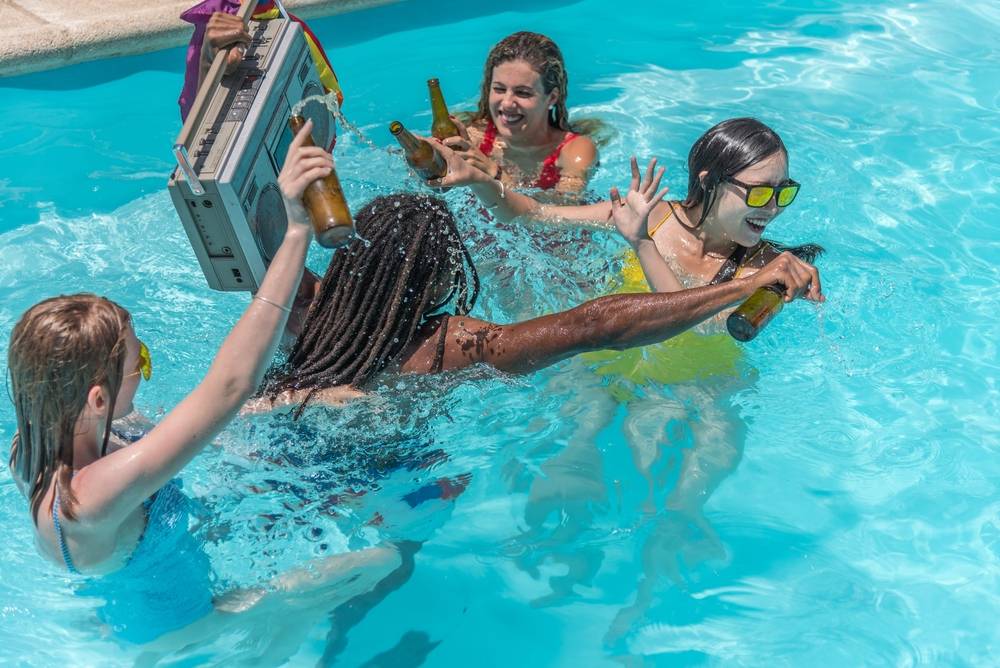 When choosing the best music device for swimming, it is essential to consider several factors to ensure a seamless and enjoyable listening experience underwater. In this section, we'll explore some key aspects to consider before purchasing.
Firstly, prioritize waterproof capabilities since your device will be submerged during use. Look for products with an IPX8 rating or higher, as these are designed to withstand continuous immersion in water.
Secondly, consider the audio quality of the device. For swimmers, selecting music devices that support different audio formats and offer adjustable EQ settings is essential. A clear and balanced sound output will enhance your swimming experience.
Comfort and fit are also crucial factors to consider. Look for devices with:
Multiple ear tip sizes
Secure and adjustable ear hooks or bands
Comfortable materials that don't cause irritation
Moreover, it's important to evaluate the device's battery life. Aim for products with sufficient playtime to last your entire swimming session or multiple sessions before needing a recharge. Most quality devices offer at least five to seven hours of playback per charge.
Lastly, evaluate the usability and controls of the device. Opt for one with easy-to-use buttons or a touch interface that can be smoothly operated underwater, and make sure it has an intuitive file management system for seamless music organization.
How To Pick The Best Music Device For Swimming
You will have to consider your budget and how often you go swimming. There's no point in splurging on a high-end product if you only use it a handful of times a year. You will also need to pick something with a battery life that corresponds with how long your swim sessions typically are.
You should also pick something that works with your swimwear, whether it clips onto your swimming hat, goggles, or swimsuit itself. Then, when all that's done, you can focus on aesthetics.
Finis Duo
Waterproof MP3 players are designed specifically for swimmers, providing high-quality audio playback while swimming. They come in various shapes and sizes, allowing users to choose the best fit for their swimming activities.
The FINIS Duo offers a unique bone conduction technology, allowing swimmers to hear audio through their cheekbones rather than their ears. This improves sound quality and prevents water from entering the ear canal, making it ideal for swimming.
With its IPX8 waterproof rating, it's suitable for use at depths of up to three meters. It also includes four GB of storage and offers seven hours of battery life.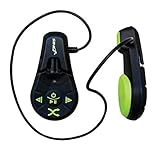 FINIS Duo Underwater Music MP3 Player with Bone Conduction Audio
BONE CONDUCTION AUDIO TRANSMISSION: Amazingly clear sound in the water without the use of ear buds
SUPPORTS MP3 AND WMA AUDIO FORMATS: Compatible with iTunes; listen to music, audiobooks, podcasts, and more
4GB OF STORAGE: Stores approximately up to 1000 songs or 60 hours of playback; Mac OS Users: Please empty the Trash on your computer before connecting the Duo to the USB
INTEGRATED CLIP DESIGN: Secures the device to goggle straps to rest on the cheekbones for a comfortable and streamlined fit
WATERPROOF IPX8: Up to 3 meters and 30 minutes; sound is clearest when submerged in water
Swimbuds Syryn
The Swimbuds Syryn is an affordable, waterproof MP3 player with a capacity of eight GB. It comes with a simple button interface, making it easy to navigate through tracks while in the water. The Syryn is compatible with various features such as shuffle mode, FM radio, and audiobooks.
You can easily transfer MP3, AAC, and WMA files to your device. It's also ideal for swimmers who love a challenge, as it can withstand sustained pressure for up to ten feet underwater.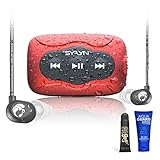 Waterproof 8 GB SYRYN Swimbuds Flip Bundle for Swimming with Music | Drag and Drop MP3, AAC, M4a, FLAC Using PC or Mac (No Apple Music, Spotify, or Other Streaming Services)
Stay Active & Be Safe - We are excited that pools have begun to reopen around the country. Swimming with music is a great way to shake off the quarantine blues!
Easy to Use Shuffle Mode - Three large, tactile buttons enable you to easily operate the SYRYN mid stroke. Engage the onboard shuffle feature while you swim to instantly refresh your favorite playlists on the fly
Timeless Design and Functionality - Not everyone wants another complicated gizmo or tethered smartwatch. The SYRYN draws from the compact form and function of players' past, without tying you to a smart phone like other compact devices today.
100% Waterproof (IPX8) - The SYRYN is built for swimmers and protected by a 1-year warranty against manufacturer defects! It is fully submersible and can withstand sustained pressure up to 10 feet below the surface.
Superb battery life & plenty of storage - Get 10 hours of real playback time from a single charge + 8Gb of storage is enough for up to 2,000 of your favorite songs. Universal compatibility - Uploading music to your SYRYN is drag & drop simple. SYRYN supports all popular formats, including MP3, AAC, and WMA files. (Protected iTunes AAC files purchased before April 2009 are protected and not playable due to DRM). Connects seamlessly to Mac & PC.
Delphin Waterproof Micro Tablet
For a more advanced option, the Delphin Waterproof Micro Tablet provides swimmers with access to streaming services, audiobooks, podcasts, and more. It comes with a touchscreen interface and supports Bluetooth connectivity, allowing users to connect to their favorite waterproof headphones or wireless swimming trackers.
Underwater Audio iPod Shuffle
The Underwater Audio iPod Shuffle offers a familiar Apple interface in a waterproof design, making it a popular choice for swimmers who prefer the familiar Apple ecosystem. It's compatible with iTunes and offers two GB of storage for a wide range of media files.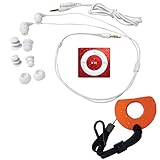 Underwater Audio Waterproof iPod Swimbuds Bundle (Red)
Bundle includes: player waterproofed by Underwater Audio, Swimbuds original extra-short cord waterproof earbuds, 1 oz AquaGuard Pre-Swim Hair Defense, 0.5 oz Fitgoo to help you get a safe, watertight fit for your waterproof earbuds, and the iFloatie open w
15 hours of battery life, 500 songs playable with 2 GB of built-in memory, support for multiple playlists, and a dedicated button for announcing the name of the track currently playing; Mac and PC compatible
Listen without interruption: Swimbuds hassle-free extra-short cord doesn't get caught or snagged.
Endorsed by Rebecca Soni, National Champion, Olympic Gold Medalist (2008, 2012). Includes FREE download of 30-minute audio swim workout by Rebecca Soni.
Jabra Elite Active 75t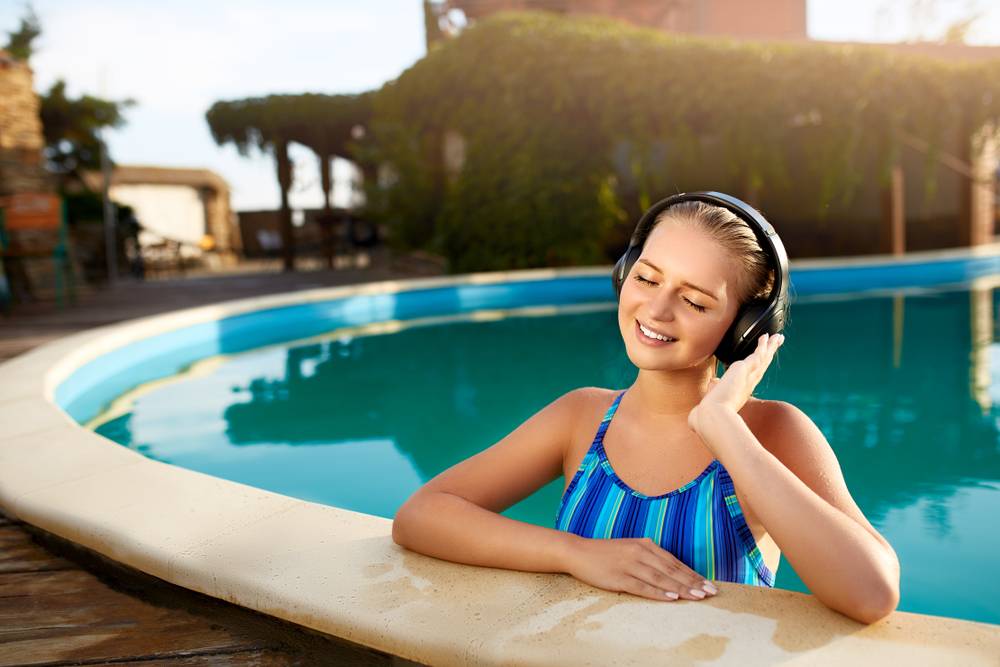 Swimmers who want to enjoy music while doing laps need a reliable set of waterproof Bluetooth headphones. These headphones are specifically designed to withstand water and provide a secure fit during vigorous swimming sessions.
They can act as noise-canceling headphones so you can enjoy your swim uninterrupted. They also have a HearThrough setting for those who prefer to be more aware of their surroundings.
Garmin Swim 2
Swimming smartwatches with music capabilities are a perfect companion for swimmers who want to enjoy their favorite tunes while taking a dip. These smartwatches are built specifically for underwater use.
The Garmin Swim 2 has downloadable workout plans so you can get the best out of your sessions. It even tracks your heart rate. You control your music on your smartphone and get swimming.
Fitbit Sense Advanced Smartwatch
The Fitbit Sense Advanced Smartwatch is great for deep divers as it's water-resistant up to 50 meters. The heart rate tracing technology and guided workouts from Fitbit Coach help swimmers make the most of their workout. It also tracks sleep and body temperature.
AfterShokz Xtrainerz
One of the advantages of using bone conduction devices while swimming is the elimination of water interference. They allow users to maintain situational awareness since the ear canal remains open.
The AfterShokz Xtrainerz is a popular choice among swimmers for its IP68 waterproof rating, which means it's suitable for submersion in water up to two meters deep. It also features four GB of built-in storage for audio files and has a battery life of up to eight hours.
If you find earbuds uncomfortable, this device is for you. It is compatible with earplugs as well as swim goggles and caps. It supports MP3 files as well as WAV, AAC, and WMA.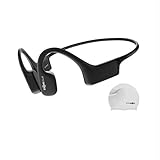 Aftershokz Xtrainerz Bone Conduction MP3 Swimming Headphones with Swim Cap, Black Diamond
Open-Ear Design - Patented bone conduction technology delivers audio through the cheekbone, for a comfortable and secure fit. Bud-free listening and headphones that stay in place for every stroke.
Internal Music Storage - Load your favorite audio and dive into your workout with 4GB of built-in MP3 storage, holding up to 1,200 songs. Not compatible with Bluetooth or audio streaming services.
8-Hour Battery Life - Enjoy 8 continuous hours of premium audio while you're cross-training.
IP68 Waterproof Rating - Fully waterproof, Xtrainerz headphones perform in and out of the water. Submersible in depths up to 2 meters for 2 hours.
Exclusive Swim Pack - Includes Xtrainerz bone conduction headphones and AfterShokz branded swim cap.
H2O Audio Stream 3
This device is compatible with both wired bone-conduction headphones and Bluetooth-enabled options. It boasts an IPX8 waterproof rating and has eight GB of storage for audio files. The H2O Audio Stream 3 also features a unique hydrodynamic design for minimal drag in the water.
This device supports iTunes, but it is also compatible with MP3, M4A, WMA, FLAC, and APE files. You might also be wondering, can you use a sauna before or after swimming?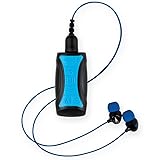 H2O Audio Stream 3 and Surge S+ Earbuds - Waterproof MP3 Player for Swimming with Bluetooth and Short Cord Underwater Swimming Headphones - Superior Sound Quality and Hydrodynamic in-Ear Design
PAIRED WITH H2O AUDIO'S SURGE S+ (SHORT CORD) UNDERWATER HEADPHONES: Precision engineered and individually tested to deliver high quality fit, function, and durability for long-lasting performance. The cord is only approx. 1ft/30cm long. Minimal cord hassle and optimized for head mounted players. Includes five ear tip sizes and a 'tree tip' to provide a customizable fit that keeps headphones in place during even the most rigorous of activities.
IPX8 WATERPROOF RATING: 100% waterproof, sweatproof, dustproof and weatherproof. Our H2O Audio is the ideal headphones for Athletes or active individuals who enjoy swimming, skiing, running, walking and a lot more. Totally waterproof even when submerged to 12ft (3m) of water.
WIRELESS CONNECTION: STREAM DM has an improved antenna and can receive music from your smart phone over a wireless Bluetooth connection. Just pair your smartphone with the STREAM DM and receive Spotify, Pandora music from your phone. Compatible with iPhone & Android Smartphones, iPads, Macs, tablets and PCs.*NOTE: Bluetooth does NOT work underwater. Wireless range 30ft/10m.
iTunes Format Support: The STREAM DM supports Apple iTunes music format (.m4a). You can simply copy/paste or drag&drop music you own from your computer to the memory without the need to converting to .mp3. Note that Apple Music subscription does not allow you to download the files. For Apple Music or Spotify - use Bluetooth from your phone, or check out the Interval product!
MUSIC TO LAST ALL YOUR WORKOUTS: 8 hours of play time and memory capacity of over 2,000 songs (8Gb). Download all your favorite music from your computer (supports M4A, MP3, WMA, FLAC, APE formats). Includes a Shuffle function to play all your songs in random order.
Testing Criteria
We evaluated different types of devices, from MP3 players, watches, and bone conduction devices, so there's something for everyone. We considered reviews, features, and prices to find the best options.
Why You Can Trust Me
We trawled the internet to find a good variety of music devices for swimming but provided enough variety that the final decision is up to you. If you liked this post, you might also be interested in our round-up of the best men's swim shorts.
This article was researched with the help of OpenAI and fact-checked and edited by our human editor.