We've put a large range of hybrid shorts through their paces to discover the very best swim run shorts for your whole family. Let's explore all the choices.
There are lots of reasons that hybrid shorts are a wonderful thing. Not least of these is that if you've got a vacation or trip to the beach planned, they cut down on packing! The point of hybrid shorts is versatility.
There's been an upsurge of interest in triathlete events recently, largely driven by high-profile events such as the Olympics and Ironman. This has resulted in more people than ever before looking for activewear that knows no boundaries when it comes to supporting their fitness endeavors.
What To Look For In The Best Swim Run Shorts
You need to pay attention to the brand and reputation. Although we love taking a chance on underdogs, the big brands have a good name for a reason.
It should go without saying, but you should check the reviews to ensure the swim run shorts are actually fit for purpose. You might also be interested in our round-up of the best yoga outfit ideas.
How To Pick The Best Swim Run Shorts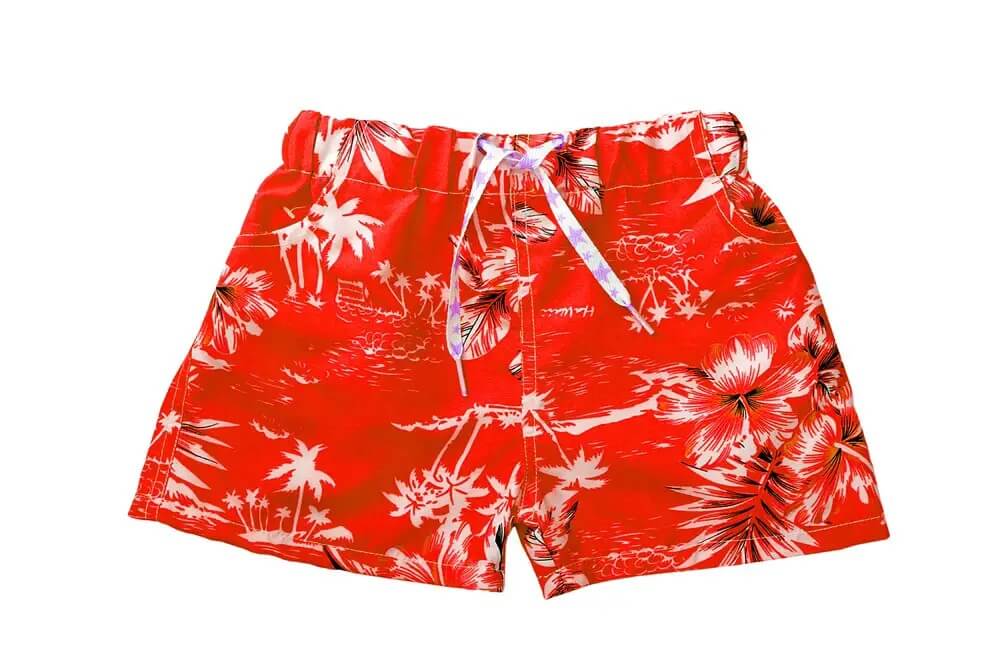 The main things to consider when choosing a pair of hybrid shorts are performance, versatility, comfort, durability, and your budget. Think about your lifestyle and fitness habits. If, for example, you simply want a well-fitting pair of shorts that'll easily transition from swimwear to running gear, then you won't need to worry about choosing shorts with embedded padding designed to provide additional comfort to cyclists.
Then there's style: are you in the market for shorts that'll look great while exploring or hiking while on vacation, or is it all about versatility in the sports department? Carefully weighing up exactly what you want from a pair of hybrid shorts is important in choosing the perfect pair for your needs and lifestyle. You might also be wondering can you swim in running shorts.
Best Swim Run Shorts For Men
Speedo Jammer Endurance+
If you're looking for hybrid shorts that can easily take you from the poolside to the track, this Speedo option could be perfect. The material features four-way stretch and is chlorine resistant, and has been designed to retain its shape, so there's no need to worry about the shorts sagging or losing their shape.
If you're in the mood for some hiking? Simply add a t-shirt, and you're set.
The additional coverage is a plus for many reviewers, as is the overall level of comfort and practicality the Jammer Endurance+ offers. They're quick-drying and lightweight, too, thereby ticking all the boxes for what you want from a pair of hybrid shorts.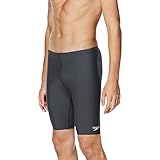 Speedo Men's Swimsuit Jammer Endurance+ Solid, Charcoal, 30
Drawstring closure
Four-way stretch technology providing a body-hugging fit, great shape retention and soft comfort
Lightweight and quick drying - resists sagging, bagging, fading and snagging
Jammer styling offers more coverage to the legs
Billabong Quick-Dry Hybrid Shorts
Billabong has created these stylish shorts as part of their amphibious menswear range, designed to perform as well on land as they do in the water. What earns this garment a place on the list is its high-quality stretch fabric, designed to move with you, and its incorporated micro-repel technology. The latter swiftly wicks away moisture to keep you comfortable and dry when you're out of the pool.
The shorts feature mesh-lined pockets and a zippered back pocket for added practicality. Plus, the textured nature of the fabric means they can be worn with your favorite casual wear as well as for running and swimming – making them a perfect addition to your holiday capsule wardrobe!
Sale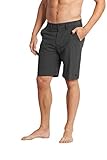 Billabong Men's Classic 4-Way Stretch Quick Dry Hybrid Short, 21 Inch Outseam, Asphalt, 28
MADE FOR LAND OR WATER: The Billabong men's classic stretch submersible hybrid short can be worn as a staple chino short or can be worn in the water as your favorite pair of boardshorts
PERFORMANCE STRETCH FABRIC: High performance, four way stretch, micro repel fabric provides both performance and comfort whether you're on land or in the water
CLASSIC STYLING: This stretch hybrid walk short is constructed with four way stretch micro-repel fabric, featuring a fixed waistband, mesh-lined pockets, and a hidden back right zipper
REGULAR FIT: This stretch hybrid walk short comes in a Regular Fit with a 21 inch Outseam, hitting at the wearer's knee
BILLABONG: Shop our collection of boardshorts, shorts, sandals, flip flops, tees, hoodies, shirts, flannels, kids wear, jeans, pants, and sun protection hats
Brickline Hybrid Shorts
If you're in the market for a versatile pair of men's swim trunks that'll support your performance in the pool or while running, then this pick from Brickline could have your name all over them! They feature spandex for extra stretch and are ultra soft, so they function well as general all-around workout shorts.
Amphibious shorts like these from Brickline need to cover a wide range of bases. The material must be durable and anti-shrink while also being breathable and quick-drying.
As well as having your back when it comes to these things, these shorts also incorporate antimicrobial technology and have mesh-lined pockets. Plus, they're tough enough for surfers ready to put them through their paces, swimmers who need activewear able to keep up with them in the pool, or triathletes training for their next challenge.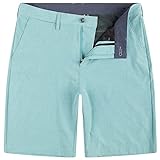 Brickline Hybrid Shorts for Mens, Chino Golf Stretch Board Shorts, Lightweight Stretch Gym Workout Shorts with Pockets, Regular Fit Quick Dry - 30
🩳 【Classic Fit Dual Function Short 】: On land or water this dual function short is the best of both worlds all in one walk short. Crafted from an ultra-soft quick dry fabric 90% polyester 8% spandex. We believe in high quality and will deliver great fit and performance. Classic straight fit tapered type golf shorts cutting not only offers more room for golf sports movement but also ensures a perfect elegant version.
🩳 【Premium Material & Pack Saving Mens short】: Our shorts for men are made from our blended fabric that is lightweight breathability stretch material. Made from durable long-lasting super soft fabric for comfort daily wear. These Men Golf Shorts come multi variation of packs to fit your budget. 4 Pack comes with Board short Khaki/Black/Grey/Navy & Sizes Scale (30-32-33-34-36-38-40-42-44). Golf shorts Dry Fit made of 4-way stretch fabric allowing for maximum comfort in all directions!
🩳 【Men's Performance Golf Shorts】: Hybrid shorts are used for being in the water or being worn as casual walk shorts bathing suits. Stretchy material is comfortable and quick dry fit amphibians for swimming. Designed with 2 Side Slit Pockets make it convenient for you to take necessities and Back Zipper Closure for carrying more items and all pockets include mesh lining. Our shorts for men will have you looking relaxed and put together with barely any effort!
🩳 【Closure Type & Lightweight Flat Front Submersible Short】: Men's dress shorts front pocket design to improve product fitness. Zipper fly & button closure are built for long-lasting durability. Flat front golf short features moisture-wicking & breathable properties pull moisture away from the body keeping you dry & feeling cool. Our swim trunks men short pair with your favorite Hawaiian button up shirt, solid oxford woven button down, printed t-shirt or muscle tee!
🩳 【Versatile Essentials Men Shorts 】: Made for all casual & athletic sports / outdoors occasions. Match your dress shorts with your favorite button-up shirt tops for friendly summer gatherings. Give you options from every day casual wear business casual lounge wear to playing golf, housewarming parties, Informal dinner outings, traveling, hiking, working out at gym tropical vacation, going to the beach and the perfect gift idea for any event birthdays, father's day, graduation & anniversary!
Best Swim Run Shorts For Women
Baleaf Swim Board Shorts
If you want your swimsuit to be versatile enough to wear while running, at the gym, or at the yoga studio, you should definitely check out this Amazon bestseller from Baleaf. The brand incorporated a mesh brief liner rather than a box liner, which is liable to bunching when swimming or running, and features a flattering high elasticated waistband for ultimate tummy control.
If you like swim shorts that give you a little extra coverage, then these board shorts fit the bill. The fabric is extra soft and stretchy, with a silky feel, and the generously sized pockets have been specifically designed to accommodate your phone.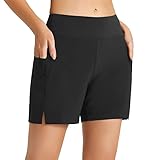 BALEAF Women's 5" Quick Dry High Waisted Swim Board Shorts UPF 50+ Swimsuit Bottom Trunks with Liner
5 Inches Inseam: Moderate coverage swim shorts allow you to move freely. Mesh briefs are not see-through.
High Waisted: 3" width waistband offers tummy control with high elasticity for a custom fit.
2 Side Pockets: The pockets provide generous room for your phone or other belongings.
UPF 50+ & Chlorine Resistant: The non-fading board shorts protect you from sunburns.
Versatile: These shorts are suitable for swimming or for just sitting by a pool, walking the beach, hanging out at the lake, and kayaking/boating.
Zoot Triathlon Shorts
These triathlon shorts may be relatively expensive, but they're a great investment. The non-chafing, Italian-designed shield fabric provides all-day comfort and will support you as you train for your next event – or simply relax poolside once you've crossed the finish line.
What sets this garment apart from other hybrid shorts on the market is the secure compression fit they provide, which, along with the wide, flat waistband, keeps them in place both on land and in the water. Plus, the inseam drawstring allows you to achieve the perfect fit.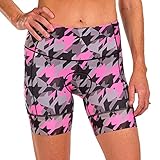 Zoot Women's LTD 6-Inch Tri Shorts – Triathlon Shorts, Swim, Run & Bike Shorts w/Primo Fabric & Pockets (NIUHI, X-Small)
WOMENS TRIATHLON SUIT SHORTS: Zoot Sports has created the ultimate triathlon race and training tri shorts women love that is universally perfect for swimming, biking, training, running, and racing. Train and perform in superior apparel with these Zoot tri shorts for women!
HIGH-QUALITY, VERSATILE FABRIC: Our Zoot triathlon shorts aren't just great run and swim shorts – with a sublimated Italian-designed shield fabric, they're quick-drying and breathable for all-day comfort and moisture management. With durable, stretchy fabric, these womens running shorts are made to last.
ULTIMATE COMFORT & SUPPORT: Our short inseam womens triathlon shorts are uniquely designed for the perfect combination of comfort and support. They offer breathable yet secure compression that keeps these womens workout shorts in place and have a wide, flat waistband with an inseam drawstring for achieving the perfect fit.
DUAL-POCKET TRI BIKING SHORTS W/ SUPERIOR DESIGN: Our Zoot triathlon women shorts feature two hip holster pockets, perfect for convenient carry and access with minimal interference. Seamlink stitch construction gives next-to-skin comfort and compression while minimizing chafing. They even offer UPF 50+ sun protection.
JOIN THE ZOOT OHANA: Zoot Sports was founded in Kona, Hawaii in 1983, and over the last 35 years, we've become the leading innovators in endurance sportswear. With a focus on superior performance, our product lines include apparel, wetsuits, footwear, and accessories that cater to elite athletes from start to finish.
My Kilometer Triathlon Shorts
Looking for hybrid shorts that feature a high-density foam chamois specifically designed to support and protect the female body without compromising on flexibility? These shorts incorporate an ultra-soft waistband created for optimal fit and comfort. They are also finished with a hydrophobic treatment.
Many wearers particularly appreciate the soft and wide elasticated leg openings, which provide a secure fit and help keep everything in place, as well as the breathability of the fabric. The shorts are highly moisture-wicking, too, taking sweat away from the skin's surface and allowing it to evaporate quickly for increased comfort.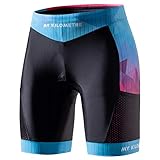 MY KILOMETRE Womens Triathlon Shorts 8" Inseam Tri Shorts with Side Pockets Adjustable Drawstring Blue
➊ 【Stretchskin Fabric】 New update fabric of printed strip with a hydrophobic treatment to stay dry at all times offers better aerodynamics and muscular compression
➋【MK TRI2.0 MULTI DENSITY CHAMOIS】 The high density foam gives more padding and protection for female when cycling and the central channeling in the perinea area is designed to offset pressure points. The high level of elasticity in the pad also maximizes freedom of movement when swimming and running
➌【Easily Accessible Storage Pockets on Sides】 Nutrition storage pockets on each side of the legs for easy access whilst on the bike or run.
➍【Specially Designed Waistline for Female】 Body-zone oriented panel-cut with extra soft front waistline specially designed for female optimal fit, and Flat locked stitching designed for maximum strength and minimum discomfort against the skin.
➎【Elastic Leg Ending with Silicone Print】: Wide, soft and elastic leg ending with silicone print create a more comfortable fit and do a fantastic job of preventing any movement during the cycle and run.
Best Swim Run Shorts For Older Children
Baleaf Boys' Athletic Jammer
These may look like a standard pair of long swim trunks, but they offer much more than just great comfort in the water. They're also perfect for your older child to run, train, or simply play on the beach. The adjustable waistband and the inner drawstring mean your kid can get the perfect fit to keep them comfortable and in place all day – without compression, which some children don't like.
The fabric is two-way stretch and enriched with spandex for extra flexibility, and it is quick-drying, too, with the flatlock seams protecting against chafing. You might be interested in learning why do yoga pants keep sliding down.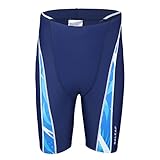 BALEAF Boys' Athletic Swim Jammer UPF 50+ Quick Dry Youth Training Swimming Short Taper Splice Swim Trunks Navy Blue S
SUN PROTECTION:Boys swim jammers with UPF 50+ features blocks sun's harmful rays.
ADJUSTABLE:The swim shorts has elastic waistband with interior adjustable drawstring for a secure fit.
Boys swim shorts,quick-drying,chlorine resistant,moisture-wicking material for a comfortable wear.
TECHNOLOGY:Youth jammers are lined with flatlock seams supply smooth and non-chafing.
Boys swim team trunks work great for swim team practice,swimming training,playing on the beach or summer club.
FitsT4 Kids Triathlon Shorts
Have you got a sports-loving child and a holiday on the horizon and would prefer not to take along a plethora of different shorts for various activities? If that's the case, these triathlon shorts can help keep your packing under control.
They're padded and breathable, making for comfortable cycling, and feature silicone leg grippers to keep them in place while running or in the water. They are quick-drying once your child has finished their swim.
The four-way stretch fabric incorporated spandex meaning the material will better move with the wearer. Further, the 3D high-density sponge pad minimizes vibration and shock on even the most adventurous of rides!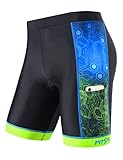 FitsT4 Kids Cycling Bike Shorts Boys Girls Printed Biking Shorts Padded Youth Triathlon Shorts with Pockets Blue Size M
Quick-Dry & Breathable for Comfort: Kids padded bike shorts are made from breathable and moisture-wicking fabric to evaporate the sweat quickly, these not only did not cause any pain on a long ride but also help to keep your skin dry and cool even in summer
Ergonomic 3D Pad for Comfort: Girls bike padded shorts.The lightweight and breathable 3D pad is made of high-density sponge providing great supports to effectively reduce vibration on long rides.
Biking shorts for Kids with Great Practical Design: These biking shorts for boys and girls are featured with two big side pockets for great convenience. Phone in one, keys in the other, the 2 Side pockets keep your things safe on rides.Meanwhile, the cute printed made your children a more active look.
Silicone Gripper Design: Silicone Gripper on leg keeps the youth riding shorts in position so there is no bunching towards the groin; The quick drying boy's biking shorts are designed to keep your children comfort while riding
Riding & Training Gear: This youth padded bike short is made for boys or girls between the ages of 6 and 14. Suitable for youth who like ride a bike or in a bike race such as junior triathlons.
Volcom Frickin Surf N' Turf Hybrid Shorts
Need track, workout, or basketball court shorts that can also be worn as swimwear? No problem!
Volcom began in 1991 and quickly made its mark as a purveyor of high-quality, street-styled hybrid athletic wear, fusing the cultures of skateboarding, snowboarding, and surfing. The company is still doing what it does best today: meaning that while this garment looks like your standard pair of running shorts, there's way more to them than that.
Designed to be fully amphibious, the Surf n' Turf Hybrid Shorts will take your kid from the street to the pool to the studio. As a parent, you'll also appreciate the fact that they're durable, super quick-drying, and don't come out of the washer all wrinkled.
Sale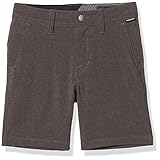 Testing Criteria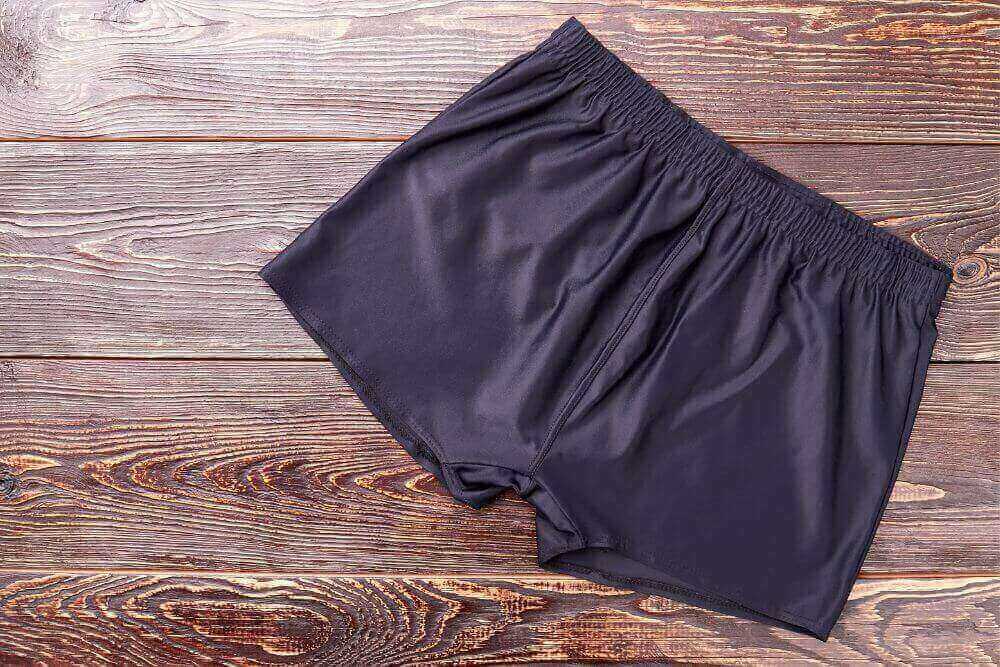 When it comes to choosing the best swim-run shorts for you or your family, a few considerations are crucial. It's exactly these factors that were used to decide which garments earned their way onto the list above. The criteria against which these swim-run shorts were judged included performance, durability, comfort, and style.
As the person largely in charge of the laundry in my household, I'm going to tell you that hybrid shorts that come out of the washer unwrinkled and ready to go scored extra points, too.
Why You Can Trust Me
Sifting through endless products and associated reviews online is a chore and one which many of us simply don't have time for. This is exactly why we end up with a pair of hybrid shorts that bunch up in the pool, aren't comfortable when we're out running, and – worst of all, don't wash well.
I haven't just written widely on fitness and wellness topics for years; I'm a mom. When it comes to garments that are going to fit well, be comfortable and come out of the washer with zero shrinkage, I've got your back.
Include 7-10 products. Please include options for men, women, and older children where available.