These top-rated running gloves will keep your hands warm in even the most extreme conditions.
If you do a lot of outdoor running, you know first-hand that weather conditions don't always work in your favor. This may be especially true if you live in a climate that sees harsh and frigid winters. However, with the right running gear and apparel, you can brave the cold and continue with your workouts.
If you don't already have a pair of reliable and, most importantly, warm running gloves, now is the time to invest in a quality pair.
Benefits of Wearing Running Gloves in Extreme Cold Weather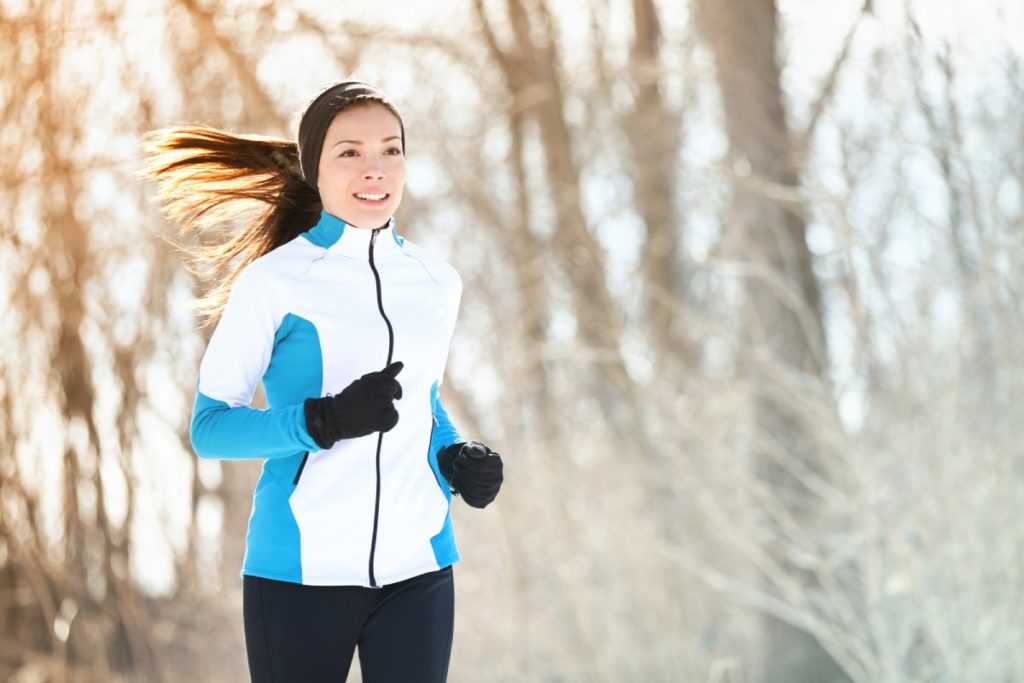 There are many reasons to wear gloves or mittens while running outside during the winter months. Perhaps the most important reason is to protect your body from the elements, but another reason, of course, is your general comfort.
When your body temperature begins to drop, your body responds by going into survival mode, sending blood and oxygen to the most vital organs. This is why your fingers and hands tend to get cold first — they may even begin to go numb after being exposed to the elements.
By wearing gloves, you can protect your fingers and hands from getting too cold. As a result, you'll be more comfortable during your runs, which may help improve your performance or even prolong the amount of time you're able to exercise outdoors.
Top 4 Running Gloves For Extreme Cold Weather
Ideally, you should be donning a pair of running gloves (or mittens) any time temperatures drop below freezing. If you're not sure where to begin, we've got you covered with some recommendations for running gloves in cold weather.
1. Trailheads Power Stretch Convertible Gloves/Mittens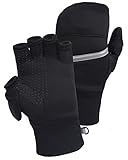 TrailHeads Men's Power Stretch Convertible Mittens | Fingerless Gloves - Small/Medium
TWO IN ONE VERSATILITY - Switch between fingerless gloves and cozy mittens. The mitten top can stow away in a pocket on the back of your hand - freeing your fingers for texting or taking photos.
SEPARATE THUMB TOPS W/ MAGNETS- Hidden magnets hold the thumb flaps in place when not in use. The separate thumb flaps ensure that these winter mittens have a snug, secure fit.
4-WAY STRETCH - Polartec Power Stretch Pro Fabric provides protection in cooler weather, making these feature packed men's mittens great for active use. Note: designed for aerobic activity, not suitable for standalone use in extreme cold weather. The Men's S/M are 3 ¾ inches in width, 8 ¼ -8 ¾ in length, the M/L are 4 ¼ in width and 8 ¾ - 9 ¼ in length.
BE SAFE, BE SEEN - reflective stripes across the back of each of these black mittens help the wearer be seen during the short, dark days of winter.
TRAIL TESTED GUARANTEE - If you're not happy with your purchase, let us know and we'll provide a replacement or refund - no fine print, no time limit. Nothing but our commitment to do what it takes to satisfy our customers.
One of the main selling points of these gloves, aside from their comfort, is their ability to be easily converted from fingerless gloves to fully protective mittens. This can come in handy if you need to respond to a text or pick the next song while you're out running.
Meanwhile, these gloves come with a four-way stretch material that conforms to hands for a comfortable and near-perfect fit. Each glove is also adorned with reflective strips along the back for increased visibility and safety — especially important if you're running at night.
2. New Balance Lightweight Running Gloves
Sale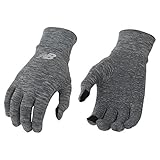 New Balance Lightweight Running Gloves, Cyclone Heather, Small
These New Balance lightweight running gloves are the brand new staple of your running outfit! Not only are they technologically innovative, they are extremely stylish.
Marathon Black and Marathon Heather have the names of each of the 5 New York City Burroughs on the fingers: Manhattan, Brooklyn, Queens, The Bronx, and Staten Island
Engineered with properties which help to prevent odor.
Touchscreen Compatible: New Balance running gloves all feature touch tip fingers, allowing your gloves to be as versatile as you are!
If you're looking for a pair of running gloves that won't weigh you down, this pair is a great option. These pull-on gloves are made from a combination of polyester and spandex for a precise fit. They're so thin and light, you might even forget you're wearing them!
These gloves are available in four different colors and compatible with touchscreens for easy access to your phone while you're out and about. They also feature convenient grippers on each palm to prevent you from accidentally dropping your water bottle or other accessories. Likewise, these gloves have antimicrobial properties, allowing them to fight off odors from even your sweatiest runs.
3. Nathan Convertible Reflective Glove/Mitten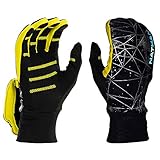 Nathan Mitts (Galaxy Black/Yellow, Men Small/Women Medium)
Thermal stretch fabric for extended warmth
Weather-resistant DWR finish
Tuck-away, thermal mitt shield for extended protection
Nose wipe chamois thumb for when the cold air gets your nose runny
Conductive TruTouch technology on "texting" finger with gloves on
Looking for another great convertible glove/mitten option? This set from offers two convenient ways to wear them — as a full mitten or glove. For added protection, convert from glove to mitten by simply pulling the mitt shield over each hand.
Meanwhile, conductive TruTouch technology makes it easy for you to text or otherwise use your smartphone without needing to remove your gloves in the process. Each glove is also enhanced with reflective graphic detailing to help you stay seen in nearly any condition.
4. Sharper Image Battery-Powered Heated Gloves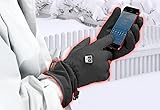 Sharper Image Battery Heated Gloves - Small
Our Battery Heated Gloves have a snug fit for improved grip and mobility. Ultra-thin heating panels extend from the backs of the palms down to each fingertip to warm your hands entirely for up to 5 hours. Features 3 heat settings and touchscreen-sensitive thumbs and index fingers. Unisex Black design. Available in XS, S, M, L and XL (Unisex size chart below).
For maximum warmth and comfort, don't pass up these innovative battery-powered gloves, which are made with ultra-thin heating panels that extend from the backs of the palms to each fingertip. As a result, you'll enjoy up to five hours of continuous warmth on your hands while you run. For added comfort and personalization, these gloves also offer three different heat settings and can be used with your smartphone.
These warming gloves are even available in five size options so you can find the perfect fit.
The Final Word on Running Gloves for Extreme Cold Weather
Don't let cold weather keep you from getting out and enjoying run after run this winter. With the right pair of running gloves/mittens, you'll be unstoppable.
As you shop for winter running gloves, pay close attention to the size so you can ensure a proper fit, especially if you plan to buy your gloves online. If you tend to use your phone while running, you'll also want to find a pair that will be compatible with touchscreens.
With these considerations in mind, you'll be well on your way to choosing the right pair of running gloves to help you power through the most extreme weather!