Yoga backpacks are a convenient option for carrying your mat and everything else you need for a yoga class. Backpacks are affordable and easy to carry, allowing you to fully commit to your yoga session no matter your plans before or after your class. In this article we look at some of the best yoga backpacks.
What Makes a Good Yoga Backpack?
It depends, but for most people, a good backpack is functional, stylish, sturdy, durable, and offers plenty of space. The good news is most yoga backpacks offer these features, so it's just a matter of figuring out the features you need and what style would suit you best.
It might help you to think about when you'll be using your yoga backpack and what goes on in your day before and after yoga. You might ask yourself:
All of these things are factors in which bag will suit you best.
What to Consider Pre-Purchase
Cost
Next, you'll want to consider price. Yoga backpacks are mostly affordable, but they come in a wide range of prices. You can get a backpack for as little as $25 or as much as $150 or more.
It's possible to get a quality backpack for a low price, but it might not offer as many features as a pricier pack. The cost of your yoga bag is important, but it should be the only factor when deciding. You need to buy what you can afford, but you don't need the cheapest or most expensive pack if it doesn't suit you otherwise.
Size
Perhaps the most important feature of your yoga mat backpack is size. You need to know you can fit everything into the pack that you'll need, but you don't want it to be so large that it overwhelms you.
You'll want a bag that fits the length of your mat if you have one, along with your towel, accessories, and clothes. Also consider whether you'll be traveling with it and whether the dimensions will be important when you travel.
Features
The features of your bag are very important, but it's impossible to say what features are better than others because it's all a matter of preference. Some bags have an adjustableshoulder strap, some are waterproof, and some are filled with pockets.
Think about what you need in a bag and consider whether or not there is a bag in your price range that offers all of these features.
The last thing you'll want to consider before finalizing your choice of backpacks is customer reviews.
Once you've narrowed down your choices to a few bags, take some time to peruse what other people had to say about the bags. This will give you an idea if other people who own the bag are happy with their choice and if they feel as if they got the bag that was advertised.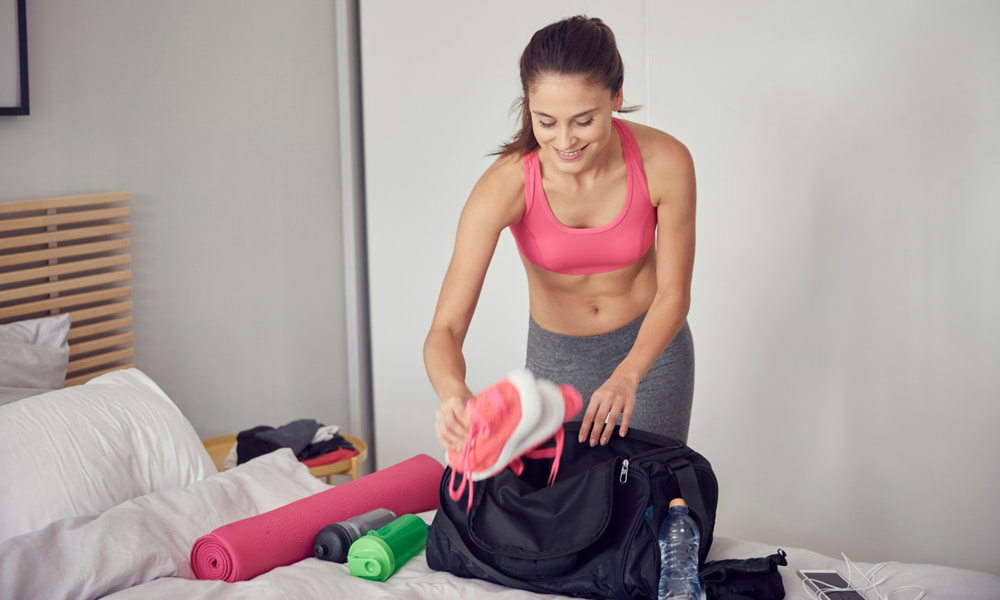 Seven of Our Favourite Yoga Backpacks
1. Kindfolk Yoga Mat Backpack
This is a high-quality backpack made from faux leather. There's a strap at the bottom for your mat and enough interior space in the main compartment for your towels, clothing, blocks, laptop, and phone.
You'll also be giving back with your purchase: $1 from each mat goes toward funding the end of slavery worldwide.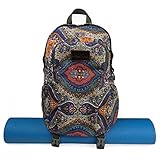 Kindfolk Yoga Mat Backpack Two Straps Patterned Canvas (Celestial)
HELP EMPOWER WOMEN WORLDWIDE - Kindfolk donates $1 for every unit sold to help empower girls and women around the globe. Kindfolk is partnered with A21, Girls Empowerment Network, and Nicole's Place. When you shop with Kindfolk, you help to change the world.
PLENTY OF STORAGE - This bag is 18" tall and 14" wide. There is one main storage compartment with a laptop sleeve and additional interior pockets for your other various accessories.
VEGAN & ENVIRONMENTALLY FRIENDLY - Kindfolk's bags use man-made leather, meaning it is animal-friendly and super stylish
EYE-CATCHING AND INCREDIBLY USEFUL - Yoga mat straps to the bottom so the interior can fit laptop, towels, blocks, keys, cell phone or other personal items
PERFECT GIFT IDEA - Quality canvas material makes these bags stand out from others on the market. perfect for daily use. Whether you want to buy this as a gift for a fellow yogi or as something special for yourself, you won't be disappointed
2. Aurorae Sling Yoga Backpack
This backpack comes in a variety of colors. It's lightweight, features two main compartments large enough for all of your yoga gear, like towels, clothing, and a yoga block, and also has an exterior phone and water bottle pockets.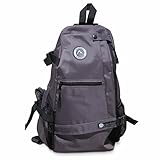 AURORAE Yoga Mat/Gym Cross-body Travel Sling Back Pack. Mat sold separately.
Mats Not Included sold separately.
Specialized Mat-Locker System securely holds Most Yoga Mats 5 pounds and under effectively, Mats should be no thicker than 1/4" and 72" long.
Wide, Easy Adjustable, Double Reinforced, shoulder strap with Lock Buckle and Built-in cell phone pocket comfortably fits over your Right shoulder. Durable Heavy-Duty Polyester;
Small front zippered pocket measuring 5.5 inches H x 6.5 inches Width; Securely holds Your Valuables; Large Individual Compartments measuring 19 inches H x 12 inches W x 7 inches D
Aurorae 2 Year GUARANTEE
3. Osprey Fairview 40 Backpack
This is a comfortable yoga mat carrier, despite it being on the heavier side at 3 lbs. It has special protective features in case of rough handling, which makes it the best travel yoga mat backpack on our list.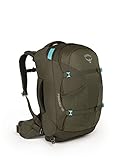 Osprey Fairview 40 Women's Travel Backpack, Misty Grey, Small/Medium
Large, lockable U-zip duffel-style access to main compartment - 40L total volume
Meets carry-on size restrictions for most airlines (Size Small/Medium: 21.3H X 13.8W X 9D inches)
Lockable zipper access to padded laptop and tablet sleeve (fits up to most 15" laptops)
Stowaway backpanel, shoulder straps and hipbelt with zippered rear flap for protection
Two front mesh waterbottle pocket
4. Masaya Yoga Mat Backpack
This is a stylish, affordable backpack with adjustable straps and a top-load drawstring. It comes with two mesh bags that let you separate dry and wet clothing and shoes.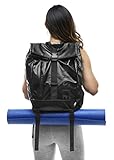 Masaya Yoga Mat Backpack with Shoe Bags- Lightweight, Multi-Purpose Backpack- Waterproof 25L Sport Gym Tote Bag for Travel, Hiking, School- Laptop Carrier- Carry Mat, 8 Pockets- Holds up to 30 lb
★ ALL THE STORAGE SPACE YOU NEED | CARRY YOUR YOGA MAT 2 WAYS - Adjustable bottom straps and top loading drawstring feature holds your yoga mat safely. Includes 4 zipper pockets to store keys, cash, ID, cards and phone. Extra 2 side pockets to hold water bottles and spray bottles. Main pocket can hold clothes, mat towels, shoes, yoga blocks and more. Secret laptop sleeve inside main bag's compartment. Reinforced drawstring to safely secure anything from falling out.
★ 2 BONUS SHOE BAGS INCLUDED - Comes bundled with 2 extra mesh bags to carry your shoes, wet and dry clothes to keep your items separated. Mesh bags can be used to hook outside backpack via carabiner to air dry your clothes after practice. Yoga Mat not included.
★ WATERPROOF, LIGHTWEIGHT, DURABLE AND MULTIPURPOSE- Weighs less than 2lbs and made from strong 900D polyester filmed waterproof material that is perfect for gym, work, school, travel and hiking outdoors. Easy to clean.
★ MEASURES AT 11W" x 3L" x 17H" | 25L CAPACITY | CAN CARRY UP TO 30 LBS - Hold all your school and work belongings during the day and carry all your yoga gear for yoga practice in the evening. Save time by carrying your entire day with you.
★ 1 YEAR WARRANTY | 100% SATISFACTION GUARANTEE - We stand by our products. Each yoga backpack comes with a 1 year warranty. Please contact us for any issues. If you are not satisfied with your purchase, we offer a money back guarantee. Buy with confidence!
5. Mantisyoga Guru Backpack
This backpack features a waterproof coating. It's top-loading and is great for traveling. There's enough room for a change of clothes, water bottle computer, and yoga accessories inside. It has several pockets for holding all of your yoga gear.
This backpack has the following features:
Good for travel
20" H x 10" W x 8" D
25L
2 lbs.
Safety features that make it safe for use after dark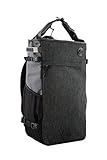 6. Kamo Sling Backpack
This is a cute and colorful backpack that's especially lightweight.
7. Luckaya Yoga Mat Bag
This is a convertible bag that works as a tote bag or a backpack for carrying your yoga accessories. It's made of waterproof, lightweight polyester and features non-fraying stitching, strong zippers, and reinforced.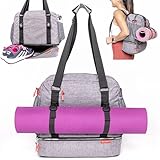 LUCKAYA Yoga Mat Tote bag/Backpack: Multi Purpose Carryall Bag For Office,Yoga,Travel and Gym! Carry Your Mat of any size,Laptop and Gear in One Bag! … (CHARCOAL GREY)
- NEW UPGRADED VERSION OF THE PREVIOUS LUCKAYA BAG!SIZE : 16''x16''x7'' CONVERTABLE TOTE BAG/BACKPACK with adjustable straps to hold your yoga mat of any size! PATENTED SPACIOUS DESIGN: The large Carryall Tote bag can hold all everyday essentials and still look perfectly organized and compact. the main compartment can open and close easily due to a high quality zipper and a puller!
- LOTS OF STORAGE & POCKETS: Features one large full zippered main compartment that easily stores yoga blocks, yoga towel, water bottles, etc. Two open side pockets for quick storage of keys, phone, wallet, stretch strap, yoga mat cleaner, etc.
- MULTIFUNCTIONAL: Two ways of carrying - it is not only functional as an office tote, but also converts into a backpack!
- ElASTIC MESH POCKETS on both sides for holding 2 water bottles.
- DURABLE DESIGN: Once you receive the bag, please make sure to unfold the bag fully and gently bring 2 bottom zippers towards each other , back and forth. Reinforced seam The exterior canvas is super easy to spot clean and the interior is a waterproof polyester. .
Multifunctional Tote bag that comfortably fits your essentials with a separate padded laptop compartment, phone/wallet/pen compartment . Yoga mat or towel attaches to outer adjustable straps.
The Final Word on Best Yoga Backpacks
Finding the right bag for your yoga class is going to be a personal choice dependant on your routine and circumstances. We hope that this article has given you all the guidance you need and provided some great options to help you choose the best yoga backpack for you!