Are you trying aerial yoga but are lost with where to start? Let's discover the best yoga trapeze choices for home use and in a professional yoga studio.
The pandemic saw more people than ever before taking up yoga from their living rooms. As a way to tone the body, relax the mind, and promote general wellness, it's hard to beat. Many of these new yogis have continued their practice, and branches of the traditional discipline, such as hot yoga and aerial yoga, have become extremely popular.
If, like me, you're a newbie to aerial yoga and are keen to let your acrobatic side loose or use the supported upside-down inversions to relieve back pain, then figuring out the type of yoga trapeze for your needs is your next mission.
What To Look For In A Yoga Trapeze
First and foremost: safety. It's crucial to ensure that the trapeze can be attached securely and offers you a safe way to practice aerial yoga. All of the components should be high-quality and durable, and the kit should include clear installation instructions.
After this, consider the extent of versatility you'd like. For example, would you prefer an option that can also be used as a hammock or is suitable for both indoor and outdoor use?
Finally, think about comfort and your personal preferences. Would you like rigid-type material or silky-feel, soft fabric? How about overall style and color, does the trapeze need to match the decor of your home or studio? Taking all of these things into account will help you pick the perfect yoga trapeze for your needs.
How To Pick The Best Yoga Trapeze
Although looks are important, when selecting the right yoga trapeze, stick to your budget. You get what you pay for, so skimping out could be disastrous, but you don't always need the most expensive option, either. Brand names aren't everything, but the big brands are tried and tested.
You will also factor in your limitations and lifestyle. You might not have the space and resources to go for a big, complex trapeze.
The best yoga trapeze for you must accommodate your height and weight. You might also be interested in our explainer on how to use yoga blocks.
Best Home Yoga Trapeze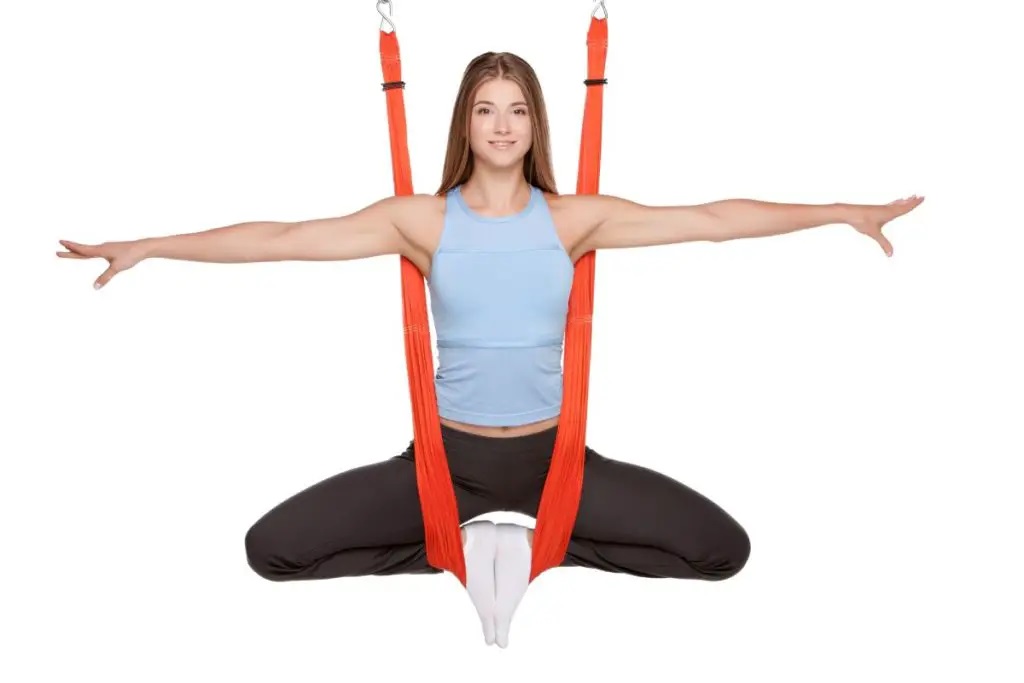 Yoga Body Yoga Trapeze Pro
Enjoy practicing aerial yoga at home with this easy-set-up yoga trapeze set. The trapeze can be hung in minutes from a suitably strong beam or chin-up bar. For yogis who love to practice their inversions in an outdoor setting, it can even be hung from a solid tree branch or outdoor swing set!
Weight-tested up to 600 lbs and made from the same durable fabric from which parachutes are constructed, you'll be secure and supported as you work your way through your asanas. The kit includes a set-up video and videos demonstrating aerial yoga poses to get you started. The material is machine washable, too, for extra convenience.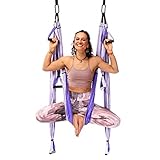 YOGABODY Yoga Trapeze Pro – Yoga Inversion Swing with Free Video Series and Pose Chart, Purple
Relieve Back Pain. Get instant traction and create more space between your vertebrae when you hang upside down.
Increase Strength, Balance, Flexibility. Posterior chain, grip, backbends, hamstrings, and hip openers.
Bonus Video Tutorials and Pose Chart. Online access to professional tutorials and pose charts for beginners.
Easy Setup. Hang in minutes from a chin-up bar, beam, or solid tree branch. Ceiling hooks and stand sold separately.
Safety-Tested to 600lbs. Rubber handle grips, adjustable straps, gym-grade carabiners, stylish carrying bag.
Wellsem Deluxe Yoga Hammock
This pretty hammock is great for practicing aerial yoga and pilates and comes with carabiners and reinforced nylon daisy chains. The fabric is 5.5 yards long and made of soft 40-denier nylon tricot elastic. Although the material is not pre-knotted, the kit includes a how-to guide to help you with this aspect of the setup.
As well as using it for exercise, you can relax in this trapeze as a hammock or cocoon yourself within its folds for a moment of deep peace. It can be used indoors or outside and hung from a suitably strong, stable ceiling, beam, pull-up beam, or tree branch. This option from Wellsem is a great addition to your mat-based yoga routine and may provide effective back pain relief and promote inner calmness.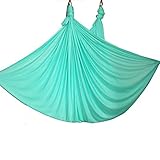 Wellsem Deluxe L:5.5 Yards W:3 Yard Pilates Yoga Flying Swing Aerial Yoga Hammock Silk Fabric for Yoga Bodybuilding(5mx2.8m) (Seafoma Green)
YOGA HAMMOCK SILK ONLY(Don't include hardware) Material: 100% nylon 40-Denie Tricot with stretch ,Size: 5.5 yards x 3 yards (5m x 2.8m),Loading Capacity: 2000 lbs (900kg),packing content: 1 hammock Silk only
40-Denier Nylon Tricot is a two-way stretch, so the fabric has a low to no stretch.when it is banded together like a swing, and when you cocoon inside the hammock the fabric gives just enough so that it feels comfortable for the body and skin
It Can be Fully Cocooned Or Laying Fully In .It is a stretchy fabric. not like the parachute type of material used often on other yoga style swings.
This premium fabric is used for Yoga Slings and Aerial Silks. It is long lasting and comfortable. The double point is great for relaxation, stretching, stress reduction, and back pain.
Aerial Yoga is magic and has the power to release every mental and body related tension. But more than that it makes you happy. Wellsem Aerial yoga at Imagination Place is where you can find balance, harmony and energy renewal amidst the hectic bustle of everyday pressures and deadlines. Relax & enjoy a personalized experience in our comfortable playful sanctuary.
Ovyuzhen Ultra Strong Yoga Trapeze
Ovyuzhen has created a studio-quality yoga trapeze for the home that is suitable for indoor and outdoor use. It's perfect for inversion therapy to aid spinal decompression, help build upper body strength, or take your postures to a new aerial level!
This trapeze has been professionally designed to the highest standards, focusing on aerial yoga's benefits. As well as those mentioned above, this type of yoga has also been associated with improving blood circulation and digestion, supporting the lymphatic system, aiding mental processes, and creating an overall sense of wellness and relaxation.
Aerial Yoga Swing Set,Ultra Strong Yoga Hammock Trapeze Extension,Antigravity Ceiling Hanging Yoga Sling Inversion Exercises
【PROFESSIONAL】Vibrantly colored and mild shimmer yoga studio quality aerial swing trapeze beautifully crafted from high strength parachute material fabric
【HEALTH BENEFITS】 Whether using it for inversion therapy for spinal decompression or upper body strength building such as using it as a dip stand, the versatile aerial yoga sling is sure to invigorate your health
【Wide installation option】This yoga swing is very convenient, it can be used indoors and outdoors, Just hang it on the door frame,or on the exposed beam (in the attic room, garage or terrace), hang it on the tree branch or even other fitness equipment.
【BONUS VALUE】2 Multi-loop climber strength daisy chains featuring an iron-clad load capacity of 200 lbs per hanging strap ensuring your safety on any of our aerial yoga hammocks
【100% SATISFACTION GUARANTEE】We stand by our quality products. Our hanging yoga swings are built with the highest quality materials to the highest quality standards you should expect. If in the remote possibility you are not completely satisfied with your new product, please contact us and we will gladly replace it with a brand new model.NOT INCLUDED: Mounting accessories NOT included. Must be purchased separately if required
Yoga4You Aerial Yoga Swing Set
Incorporating aerial silk nylon fabric, soft foam handles, and easy-to-install extension straps, this swing set from Yoga4You is a great addition to your home yoga practice. A session on a trapeze is a wonderful way to release stress, tension, and anxiety, relax the muscles, build coordination, and develop core and upper strength. The handy extension straps can be brought into play if you want more room to stretch!
This swing set can be set up indoors or attached to a sturdy tree branch or outside swing set. It comes with two carry cases, so you can take it with you to the park for some peaceful outside inversions and meditation.
Sale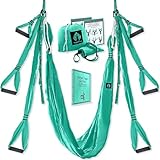 Aerial Yoga Swing Set - Yoga Hammock Aerial Swing - Aerial Sling Inversion Fly Kit - Flying Yoga Inversion Tool - Antigravity Ceiling Hanging Yoga Sling - Adult Kids Arial Door Yoga Swing (Green)
STRONG and DURABLE: Aerial yoga flying hammock swing is made of studio quality silk nylon fabric. Anti gravity yoga hanging kit is strong enough to hold up to 600 lbs
COMFORT: Large and wide antigravity yoga hammock swing (98"x59") has double material layer in the middle part. Fly air yoga swing set with foam handles makes your aerial inversions and exercises more pleasant
BROAD INSTALLATION OPTIONS: With the help of 2x50" hanging hammock straps, you can install aerial yoga swing set up to 11ft - indoor, outdoor, using door mount bar, exposed beam, tree branch, ceiling mount etc
BENEFITS: Few short sessions per week on anti-gravity inversion tool bring back pain relief. Aerial trapez swing develops your core muscles, improves stretching and is fun for kids. Great workout tool!
eBOOK: Digital guide in PDF provides basic ceiling mount and starter hanging instructions, aerial poses for Inversion trapeze beginners and professionals
Kikigoal Aerial Yoga Anti-Gravity Hammock
The non-twisting hammock straps are a great addition to this yoga trapeze from Kikigoal, allowing for fluid movement as you switch between postures and inversions. The slightly elasticated fabric gives the hammock just the right amount of flex for a flying yoga or aerial pilates session, and the trapeze is simple to set up and can be used both in and outdoors.
It can support body weights of up to 440 lbs. The kit comprises the hammock material itself, two O-rings, a pair of daisy chains for extending the trapeze as necessary, a rotation swivel, and a connecting ring.
Fans of this particular option love the nature of the silks, which provide a secure grip for wrapping and climbing, enabling users to extend their repertoire of aerial tricks and flicks. Parents frequently state how much enjoyment their kids get from the anti-gravity hammock, so it could be a great addition to the home for the entire family.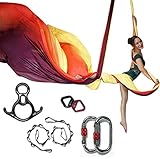 KIKIGOAL 10M Aerial Yoga Silk Equipment Yoga Pilates Swing Aerial Yoga Antigravity Hammock Trapeze for Yoga Strap Bodybuilding (Gradual C)
Materials: stretch nylon. Size: 10m * 2.8m(L*W)/32.8x9.2ft.
Bearing capacity: 500kg/440lb. Easy to assemble travel or indoors / outdoors.Ideal for your home or yoga studio.
Package included:1x Yoga Hammock(10*2.8m /L*W),2x O-Ring,2x daisy chains for extending(105cm*1.5cm),1 x 360°Rotation Swivel,1x Connecting Ring
Deluxe aerial yoga hammock for all enthusiasts and professionals.Non-twisting hammock straps and smoothness of movement.Improve core strength, flexibility, full body balance,all while having some fun.
This aerial silks Equipment Works Perfect For Acrobat yoga ,aerial performances,Acrobat performances ,Aerial Yoga, yoga swing ,yoga sling ,aerial dance, aerial fitness ,air yoga ,aerial hammock , Suspension Yoga, Gravity Yoga, Antigravity Yoga, Flying Yoga, Aerial Pilates, Pilates hammock
Toco Freido Yoga Stretch Strap
If you've never tried a yoga trapeze before, then you may wish to take the first step by using a yoga strap like this one from Toco Freido. It's designed to be hung from a door frame and is extremely easy to set up. The strap is a great tool for supporting yoga handstands, backbends, and stretches and can be used by adults and kids alike.
The set comprises the yoga strap itself and two-door anchors and can support body weights of up to 700 lbs. As well as yoga, it can also be used to practice gymnastics, ballet, dance, and strength training.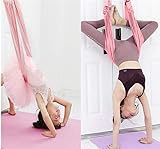 TOCO FREIDO Waist Back Leg Stretch Strap/Yoga Fitness Band, Leg Stretching Assist Trainer, Yoga Stretcher, Back Bend Split Inversion Strap for Fitness, Dance, Ballet, Gymnastics
1)IMPROVE YOUR HEALTH - Door Flexibility & Stretching Leg Strap increase your flexibility and stretch yourself easier and safer. The stretch strap easily to use and with soft cushions takes care of your waist, hands and feet, allows you to improve your stretching or yoga skills and makes you feel and look younger
2)UPGRADE DESIGN: Compared with traditional stretch strap which is just a very narrow and thin band, ours had made a great improvement on the design. In the middle part of it we used the same widened and soft fabric with the yoga swing, on both sides we used length-adjustable straps. The skin-friendly fabric material will give your body more support and protect your waist and back from hurt, the material is sturdy and it have a large load-bearing capacity.
3)MATERIAL & SIZE: This backbend stretcher is made of premium nylon fabric which is soft to touch and sturdy, the material is skin-friendly and hypoallergenic, and it's easy to clean; The adjustable strap length is 63", the size of the fabric is 67" x 60", gives you plenty room to play.
4)WIDE USERS: Anyone who want to exercise can use it, it has no age limitations, women, men, teens, girls, seniors, use it for postnatal recovery or fat burning and body shape. You can also send it to your friends or family members as a gift.
5)RELIEVE BACK PAIN: Get instant traction and create more space between your vertebrae when you hang upside down.
Best Yoga Trapeze For Your Yoga Studio
F.Life Aerial Silk Hardware Kit
If you'd like to incorporate an aerial yoga class into your sessions, then you need a hardwearing, durable, studio-quality kit, and that's exactly what's on offer with this set from F.Life. The trapeze kit incorporates climbing-rated, certified high-strength hardware rigging, steel screw-lock carabiners, and a mountaineering swivel. It comes with detailed colored set-up guides, meaning your students will be enjoying it in no time!
As well as looking graceful, an aerial yoga session is a great way to burn calories. As participants become more experienced, they can up the intensity of their workout. It's low impact, too, making it an accessible exercise for all.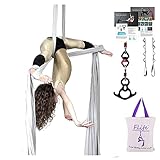 F.Life Aerial Silks for Aerial Yoga Hommock Or Aerial Acrobatics (10 Yards) with The Equipment,Guide (Sliver)
STUDIO QUALITY COMPLETE AERIAL SILKS EQUIPMENT - Everything you need to have your own aerial silk setup at home, outside or the studio. Our versatile design allows you to use these as Aerial Silks as well as Aerial Yoga Hammock!
PROFESSIONAL DESIGN FABRIC FOR ACROBATICS-40 Denier Tricot weave fabric. 100% Nylon.Length: 11yards (33ft) Width: 108in. Hanging height of 14.5ft on each side, Perfect for ceilings 8-13ft high..
CERTIFIED HIGH STRENGTH HARDWARE RIGGING. 2 Steel Screw-lock carabiners (5620 lbf), Rescue 8 / Descender (6744 lbf), Mountaineering Swivel (7194 lbf).VALUE GIFE: 2xNylon Daisy Chains(5170lbf), 3 ft Long,Carrying bag.
EASY to SET-UP with DETAILED COLOR GUIDES. instructions for both the classic silk as well as the aerial hammock set up.
BEGINNER or ADVANCED YOGIS - Perfect for any level yogi who wants to fly at home or the studio, Get your own Aerial Silk Set-up today and have peace of mind with our 100% Satisfaction Guarantee!
Yoga Swing Pro Anti-Gravity Flying Sling Set
Specially designed for indoor and outdoor inversion therapy, the nylon parachute fabric is studio-grade quality and engineered to offer comfort and support. This trapeze can support body weights of up to 500 lbs. The kit includes a yoga swing seat, two yoga sling arms incorporating six ergonomic padded handles, heavy-duty stainless steel locking carabiners, a pair of multiloop daisy chains, a travel bag, and an installation guide.
Go beyond traditional yoga, and use this trapeze to support perfectly performed backbends, which can be an effective way to help alleviate back and neck pain. Once you're finished your aerial session, relax, unwind, and enjoy meditating in the comfortable hammock.
Sale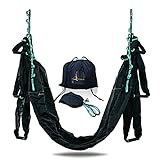 YOGA SWING PRO Premium Aerial Hammock Anti gravity Yoga Swing Kit - Acrobat Flying Sling Set for Indoor and Outdoor Inversion Therapy
STUDIO GRADE MATERIAL: Made from premium grade 210T nylon parachute fabric to give you a comfortable stretch for yoga inversion. Triple Stitching provides added safety and durability which supports weight up to 500+ lbs
IMPROVED STRENGTH & FLEXIBILITY. Aerial yoga inversion exercises helps improving the back pain, spinal decompression and pelvic floor issues. It also helps to improve the body's strength and gain natural flexibility to cope with anxiety, stress and as a result you get restful sleep
SIMPLE INSTALLTION: Our portable and adjustable aerial yoga swing kit also includes installation guide to help you with its quick setup feature. It can be installed anywhere, be it your home, gym, or on a branch of a tree for the perfect yoga workout. Use it as a hammock outsides or a swing as your kids are going to love it.
SPIRITUAL UPLIFTING & STRESS RELIEVING BLEND: Yoga hammock psychological effects triggers your inner optimistic aura, stables your mind & acts as a mood booster. Its ideal to use for stretching & relaxing as it acts as a mood booster and stress reliever so you can get both Improved physical and mental health
PACKAGE INCLUDES: Premium grade yoga hammock kit comes with a portable travel bag that includes 1 yoga swing seat, 2 yoga sling arms with 6 ergonomic foam padded handles, 4 heavy-duty stainless steel locking carabiners, pair of multi-loop daisy chains and an installation guide
Wellsem Professional Aerial Yoga Hammock Kit
This set boasts 5-meter silks and includes daisy chains and carabiners, all of which are made from certified high-quality materials. The daisy chains and carabiners have been manufactured to climbing standards, so you can have peace of mind that they won't let you down. The professionally designed 40-denier silks offer a low vertical stretch and a high level of horizontal stretch, which is especially useful when practicing poses.
For those who prefer a softer feel, the fabric used in this Wellsem professional trapeze has a silky feeling, differing from the parachute-type material of many other yoga swing sets. It can support body weights of up to 2,000 lbs, and the hang height can be easily adjusted, making it perfect for your yoga trapeze class.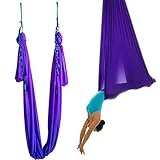 wellsem 5 Yards(5m/Set) Elastic Yoga Pilates Swing Aerial Yoga Hammock with Carabiner & Daisy Chain (Depp Purple)
1. CERTIFIED QUALITY --- WELLSEM Aerial Yoga Hammock is made from Certified Quality Material and Hardware : 1 Piece 5.5 yards 40-Denier Nylon Tricot Elastic aerial hammock , 2 Piece 23KN strong Carabiners , 2 piece 10ft 23KN Reinforced Nylon Daisy Chains, The Yoga Hammock Max rated for 2,000 pound dynamic load. Daisy Chains and Carabiners are all certified to Climbing Standards.
2. PROFESSIONAL DESIGN -- 100% nylon 40-Denier Tricot with stretch, the fabric has a low stretch on Vertical direction (Length), high Stretch on Horizontal direction (Width).Low Stretch design helpful for pose training : anti-gravity ,flying ,cocoon inside . the hammock fabric gives just enough so that it feels comfortable for the body and skin. Beside WELLSEM Yoga Hammock applicable for Professional and Beginners
3. ADVANTAGE --- 1. Our yoga hammock can be Fully Cocooned Or Laying Fully In with 3 yard width . not like the parachute type of material used often on other yoga style swings. 2. Double Point Hang more safe and comfortable, But not pre-knotted. Our aerial yoga hammock kit include Knot tying guide - step-by-step instructions on making set-up safe and easy to follow 3. Easy Setup : applicable for Ceiling height 2-3.5 meter .can be use daisy chain to adjust hang height and re-setup silk knot.
4. SPECIAL EFFECTS --- 1. Special aerial yoga exercises is very good effect of yoga on weight loss and anxiety disorder, insomnia and other symptoms of arthritis. great for relaxation, stretching, stress reduction, and back pain. 2. Conditioning Physiological Balance, 3. Elimination of inner calm tensions, 4. spiritual cultivation . 5. Helpful for Autistic Rehabilitation Training
5. WARNING: 1. his product is not fireproof fabric, please stay away from sources of ignition. 2. yoga hammock clean the surrounding ground smooth, avoiding choose gravel, twigs and other sharp hard object exists locations.
WWahuayuan 10m Premium Aerial Yoga Trapeze
If you're looking for a strong, professional-grade yoga trapeze to demonstrate aerial practice to your yogis, this option ticks all the boxes. It includes ten meters of fabric, titanium steel carabiners, daisy chains, and an aluminum alloy climbing swivel. It can support up to 5,600 lbs.
The trapeze is easy to set up and take down and is suitable for everyone from complete beginners to professional aerial yogis. All of the components are as strong and durable as you'd expect from a high-quality trapeze designed for use in the studio, and it's great for aerial dance and pilates, as well as yoga.
Thundesk Yoha Inversion Bench
If you'd like to help your students with inversions but can't install a trapeze in your studio, then an inversion bench could be the answer. It's designed for those who'd like to perform yoga head or handstands but would like some extra support or help getting started.
The bench can also assist yogis in achieving effective upward planks, bends, shoulder stands, the pigeon pose, or the extended triangle pose. The layered beech wood makes the bench strong yet flexible, while the cushioning is constructed from thick, high-density foam to offer maximum comfort.
Sale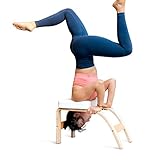 THUNDESK Yoga Inversion Bench,Yoga Headstand Prop,Upside Down Chair for Balance Training, Core Strength Building,Yoga,Pilates Chair (White)
MAKES INVERSION EASY-PEASY - Thundesk inversion bench is built for anyone doing the headstand extremely easy and fun. 100% upside down on your first kick up no matter your age or skill level. Enjoy going upside down without worrying about balance, slipping, or tipping over PLUS no pressure on your neck and spine
COUNTLESS BENEFITS - Improve circulation in the body, Increase core strength, relieve anxiety and stress, Promotes healthy skin and fights sickness, Realign the spine, Improve digestion and metabolism, Increases the production of sex hormones, Improves posture and strengthens the lungs and SO MANY MORE
VERSATILITY - Thundesk is not just an inversion tool, it's a source of inspiration of countless asanas like upward plank, forward and backward bends, shoulderstand, extended triangle pose, plank boat pose, pigeon pose, etc. Try Thundesk now and explore more yoga practice.
EASY, SAFE AND FUN - Thundesk frame is made from quality multi-layered beech wood, bent from one piece that makes it very stronger and flexible at the same time. The bolstering is make with faux leather and padded with thick and high density foam.
COMPACT AND MINIMALIST - Thundesk come along with the size of 25.6"* 14.5"*13" and max recommended bodyweight 300 bls. It takes you only few minutes to set it up with all included hardwares.
Testing Criteria
Aerial yoga is a fabulous way to extend your practice and adds a dynamic new twist to your yoga routine. Given the nature of aerial yoga, however, safety must be paramount when choosing a trapeze for your home or yoga studio.
To this end, safety, sturdiness, durability, and quality of components were the primary elements against which each trapeze was judged. After this, comfort, versatility, and the materials used were considered.
In short, when drawing up this list, I was keen only to include options that I was confident would offer you a comfortable way to achieve some upside-down poses without the need to worry about ending up in an undignified heap on the floor.
Why You Can Trust Me
I've been practicing yoga and writing about it for years. I love sharing information about yoga with others. If you liked this post, you might find our round-up of the best yoga storage ideas helpful.