Whether you're dipping your toes in for the first time or diving into competitive swimming, cool swimming quotes remind us of how powerful our mindset is.
Swimming has always been a popular sport and recreational activity, providing individuals with both physical and mental benefits. For many people, the lure of water goes beyond its cooling effect; swimming has a unique way of inspiring and challenging those who take the plunge. Consequently, a number of cool swimming quotes have emerged over the years that capture the essence of the sport while motivating and comforting swimmers.
These quotes range from motivational statements to witty catchphrases. Some of these quotes offer a lighthearted perspective on the challenges involved in swimming, while others convey the determination and focus required to succeed in the sport. Regardless of their tone, these cool swimming quotes resonate with swimmers and encourage them to appreciate the beauty and power of water, pushing them to dive deeper into their passion. You might also be interested in these family swimming quotes.
Famous Swimmer Quotes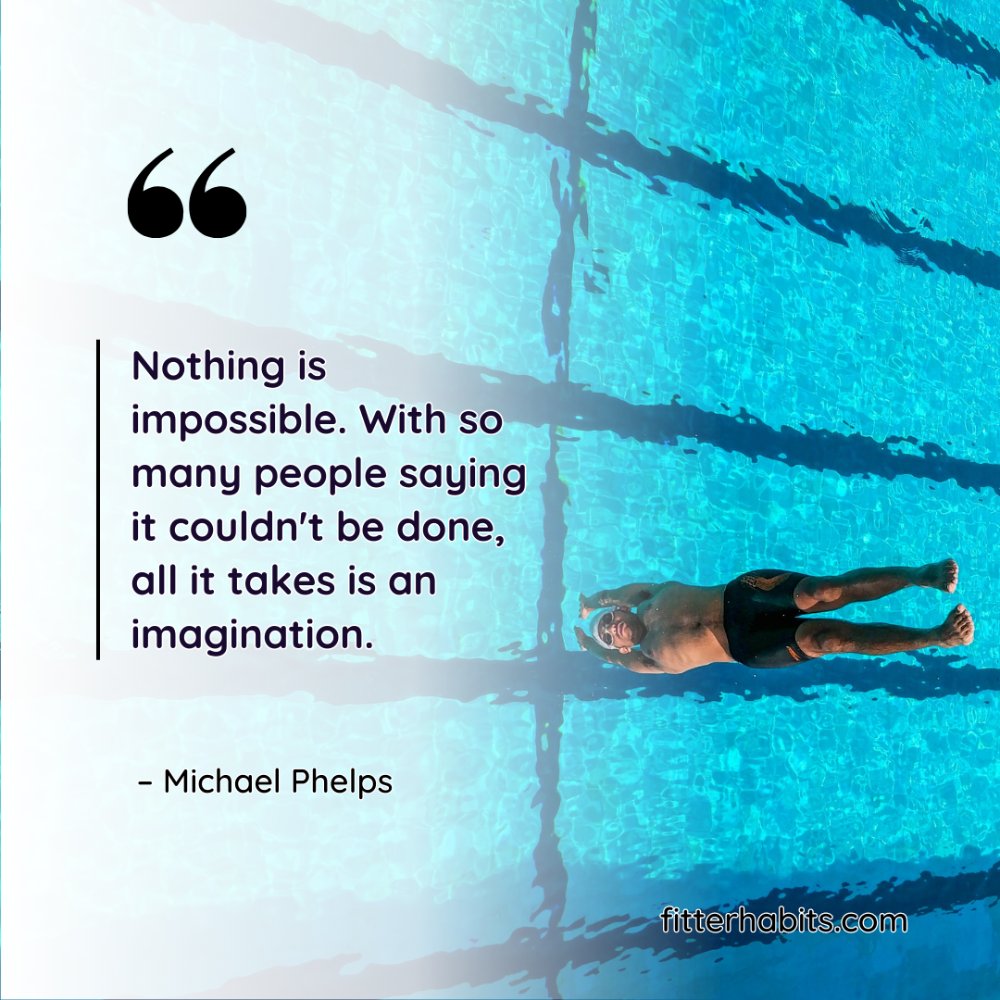 Michael Phelps
Michael Phelps, the most decorated Olympian of all time, has inspired many with his monumental accomplishments in the pool. He has shared numerous motivational quotes throughout his career, emphasizing the importance of hard work and perseverance. Here are a few of his memorable quotes:
"I want to test my maximum and see how much I can do. And I want to change the world of swimming."
"Nothing is impossible. With so many people saying it couldn't be done, all it takes is an imagination."
"Swimming is normal for me. I'm relaxed."
Katie Ledecky
Katie Ledecky, a multiple world record holder and Olympic champion, also has an impressive collection of motivational quotes. She is known to be humble yet ambitious, and her quotes reflect these traits:
"I'm a firm believer that you don't lose the hard work you put in, and you can only build off of it."
"I try to make the good days great and take something positive from the days I'm not feeling good—work on technique or something like that."
Ian Thorpe
Ian Thorpe, the Australian swimming legend, has not only garnered numerous awards and medals but also remained a source of inspiration for many. His quotes exhibit determination and dedication, essential components for success in any field:
"For myself, losing is not coming second. It's getting out of the water knowing you could have done better."
"I am not going to allow myself not to perform well just because I don't feel well. I am bulletproof to the extent that a lot of things can be thrown at me, but it's about how much I am prepared to let them affect me."
Motivational Swimming Quotes
Overcoming Challenges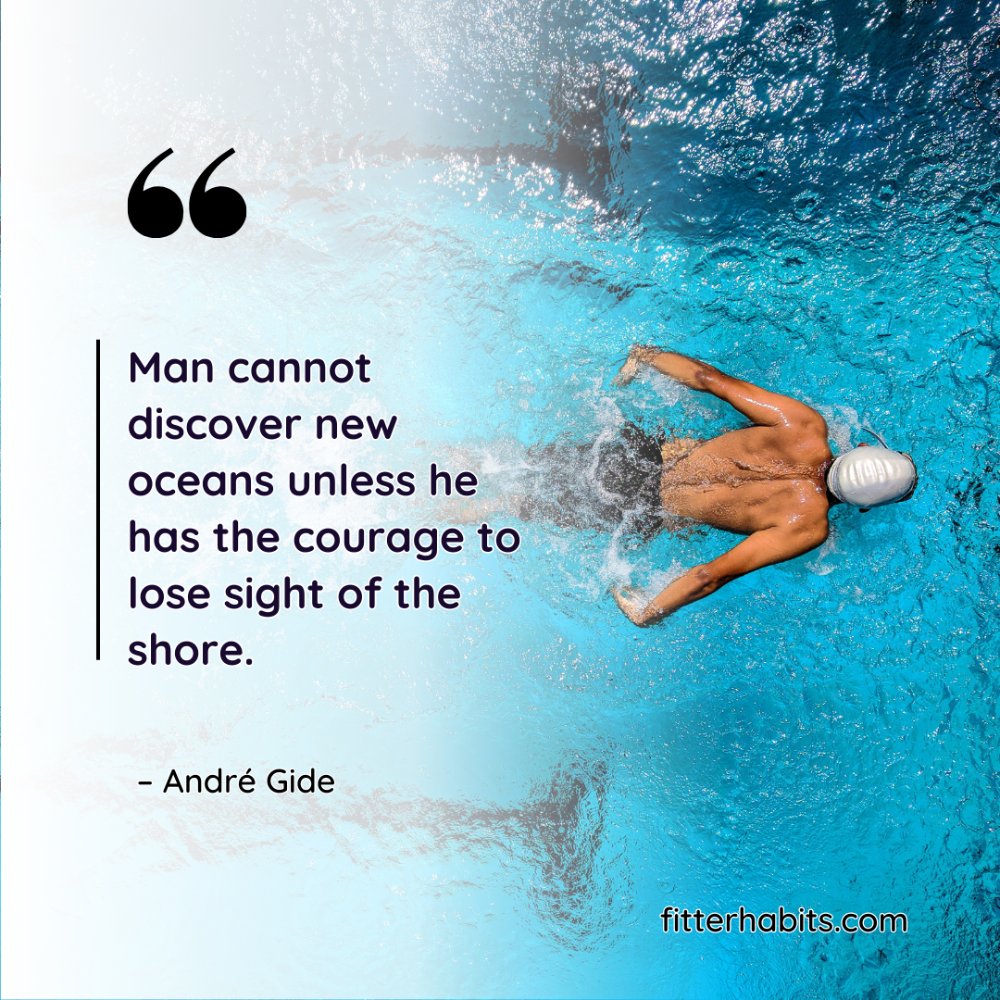 Swimming is a sport that demands perseverance and dedication. Swimmers face various challenges, both physical and mental. These motivational quotes capture the grit and determination needed to overcome obstacles in the pool:
"The water doesn't know how old you are." – Dara Torres
"You will fail. Not once, not twice, but many, many times. That's what life is about. So stop being so hard on yourself. Focus on learning the lessons of each failure, and the next one will take you one step closer to success." – Denzel Washington
"Man cannot discover new oceans unless he has the courage to lose sight of the shore." – André Gide
Achieving Goals
Setting and achieving goals are essential aspects of a swimmer's journey. The following quotes emphasize the importance of dreaming big and striving for success:
"I have been visualizing myself every night for the past four years standing on the podium having the gold placed around my neck." – Megan Quann
"What would you attempt to do if you knew you could not fail?" – Robert H. Schuller
"The world's greatest achievers have been those who have always stayed focused on their goals and have been consistent in their efforts." – Dr. Roopleen
Cool Quotes About Swimming Techniques
Swimming is a combination of physical and mental experiences that vary depending on the technique one uses. The following sections highlight some inspiring quotes relating to different swimming techniques.
Breaststroke
Breaststroke is an elegant swimming technique that is often considered one of the most relaxing styles:
"Breaststroke is a beautiful art, painting the water with strength and grace." – Unknown
Freestyle
Freestyle is often associated with speed, energy, and endurance. It is the go-to stroke for many competitive swimmers due to its high efficiency:
"In freestyle, you ride the water's waves, cutting through the pool with determination." – Unknown
Butterfly
The butterfly is an incredibly powerful and challenging swimming technique. It requires immense strength and determination:
"Butterfly is the most beautiful of all strokes – it's like a dance within the water, uniting rhythm and power." – Unknown
If you liked this post, you might be interested in these funny quotes on swimming. You can also check out our round-up of coffee and running quotes.
This article was researched with the help of OpenAI and fact-checked and edited by our human editor.