In the market for a new yoga top? Use our guide to discover the best lady's yoga tops and how they can support your practice.
It's estimated that around 300 million people worldwide practice yoga, with approximately 34.4 million of these in the US. Yoga has exploded in popularity in recent years, and it's no surprise why. As well as the ton of physical health benefits it delivers, yoga also promotes better mental health and can help improve sleep, memory, and even concentration.
What you wear while working through your asanas can have a significant impact on the effectiveness of the session and the enjoyment you get from it. This is why choosing the very best lady's yoga top for your needs and preferences is vital.
What To Look For In The Best Lady's Yoga Tops
While the aesthetic is important, the main thing to look for in a yoga top is that it is fit for purpose. If it's too stiff, you'll have an uncomfortable yoga session. A light, moisture-wicking fabric will keep you cool throughout your class.
How To Pick The Best Lady's Yoga Tops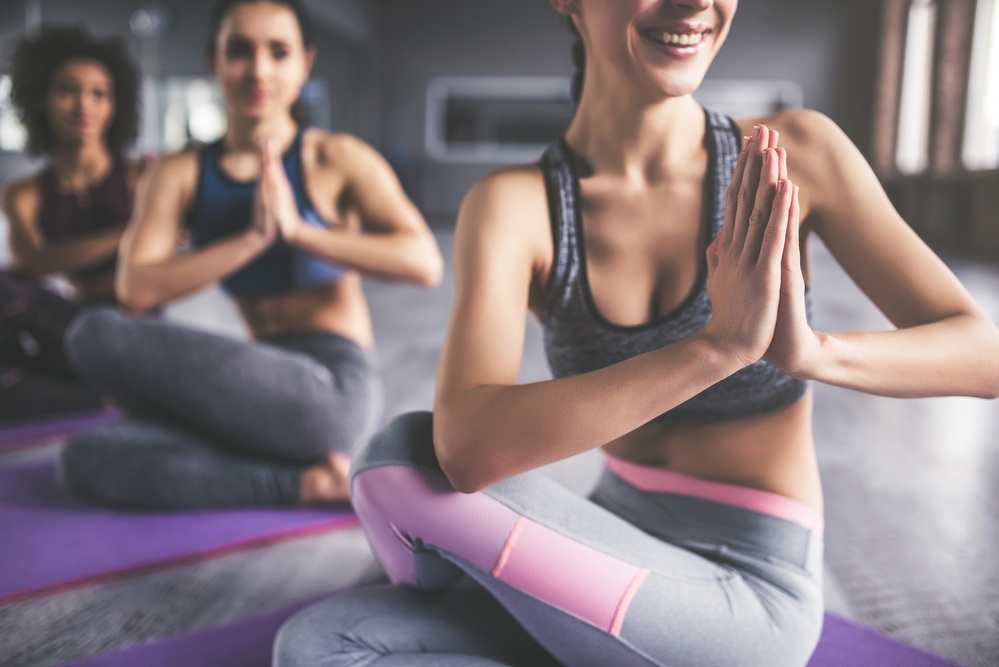 You need to consider your budget when selecting a yoga top. Although you usually get what you pay for, you don't always need to buy the most expensive one.
Consider customer reviews. A bad review or two could be bad luck, but if it's overwhelmingly negative, pay attention. You might also be interested in our round-up of the best yoga outfit ideas.
prAna Kathleen Top
This brand is my go-to for yoga clothing: prAna is all about helping you feel and look your best while working out, and many of its garments have been designed specifically for yoga practice. The Kathleen top is enriched with spandex to provide the sort of stretch that moves perfectly with your body, and it incorporates an in-built shelf bra for support.
It's quick-drying and moisture-wicking, too, meaning there's no need to dash straight home after your yoga class. This prAna top has a flattering V-neck and shirred front detail, so you might find it gets plenty of wear outside the studio, too!
Baleaf Wide Straps Cotton Tank Top
I love the lightweight, four-way stretch of the cotton material, which has incorporated spandex to support unrestricted movement. The fitted armholes are designed not to bag annoyingly, and the wide straps add both an element of comfort and effectively cover your bra straps.
This top from Baleaf is versatile. It's perfect as a general workout tank top and can easily take you from the studio to the gym or athletic track or simply relaxing around the house!
Joviren Yoga Crop Top
The racerback design on these great-value multi-pack crop tops from Joviren is great for promoting better airflow, allowing for freer movement, and – of course – for looking fabulous while performing your asanas! Best of all, they've been designed to prevent the fabric from riding up, so there's no need to worry about trying to hold onto your top while practicing a sun salutation.
The crop tops come in a pack of four and are soft, breathable, and tagless, so there's nothing to distract you from your session. You might be interested in learning why do yoga pants keep sliding down.
The Gym People Longline Sports Bra
An Amazon bestseller, this sports bra is a great choice if you prefer wire-free support while working out and a U-shaped back over a racerback style. Suitable for low to high-impact workouts, it's designed to stay in place, protect against shock, and is quick-drying and breathable.
It features padded cups, but these can be removed if desired. The longline design is great for those who prefer more coverage while they're on the yoga mat. One of the best things about this sports bra from The Gym People is that the built-in support doesn't dig in, so you won't find yourself shifting it about during your session, trying to get comfortable.
Ukaste Racerback Yoga Performance Top
Customize your yoga workout top by choosing this garment in waist or crop length and in cotton-feel or ultra-soft fabric. Designed to be buttery soft and lightweight, it's perfect for low to high-impact exercise. It fits close to the body to prevent material from falling around your shoulders or head whilst performing inversions.
I appreciate tops that are easy to care for. This one ticks all my boxes on this score. It washes well and retains its shape, and this, along with its flattering cut and all-around versatility, means it makes it onto this list!
Lululemon Free To Be Wild Strappy Sports Bra
If you're looking for a sports bra offering light support, an open neckline, and a strappy back to promote unimpeded movement, this option from Lululemon could be perfect! The beautifully soft Luxtreme material is lightweight, sweat-wicking, and incorporates four-way stretch.
Lululemon is well-known as a brand that delivers beautifully designed yoga clothing that looks great and performs consistently well. This sports bra can be worn alone to your class or as a base layer.
AoxJox Backless Yoga Tank Top
This super flattering backless top doesn't have a built-in bra, but the thick-cut material and design add light support that's perfect for a light yoga session. It's also stretchy, made with a blend that includes 25% spandex, and adjustable to achieve the most comfortable fit.
Reviewers frequently cite its cuteness and comfort. It looks great with yoga leggings, shorts, or even jeans.
ASIN: B0BFQRT9XL
Stelle Long-Sleeve Yoga Top With Thumbholes
Fed up of the sleeves on your long-sleeve yoga top riding up when you're performing an inversion or segueing from one pose to another? Thanks to the handy thumbholes, this won't be a problem with this slim-fitting top from Stelle. The mesh panels provide the breathability factor, and the four-way stretch offers the flexibility you need as you progress through your vinyasa.
This top really shines in how every element has been designed with smooth flow in mind, something especially important to yogis. From the minimal seams to reduce friction and chafing to the lightweight, moisture-wicking material, this option from Stelle should form part of your staple yoga workout wardrobe.
Chicho V-Neck Running And Yoga Shirt
For those preferring a looser fit and greater coverage over compression styles, this versatile T-shirt from Chicho could fit the bill. Slightly longline and with short sleeves, it also features a handy slimline pocket, just the right size for your phone!
The fabric is breathable, lightweight, stretchy, and snag-resistant – plus, it's quick drying. If you're looking for a basic piece of high-quality activewear that you can simply throw on and go, this yoga shirt is a great choice.
Hibelle Yoga Racerback Cami
I love this pretty cami, with its double spaghetti straps and built-in shelf bra that provides light support. The top features removable pads and can be worn over the top of a sports bra if more support is preferred, and the breathable lining promotes cooling airflow.
If you're looking for flowy fabric, more coverage than a crop top or sports bra, and quick-drying material, then this cami will do the trick.
Natural Feelings Yoga Tank Top
Prefer a high-neck yoga top? This top incorporates bust support and features removable padded cups; plus, the added spandex means it'll stretch into Downward Dog with you and out again into Lunge Pose with no problem. The elasticated hem and wide straps offer a secure fit without restricting movement.
This crop tank top forms part of Natural Feelings' Naked Feelings collection and is designed to feel so comfortable and soft that it's like a second skin.
CRZ Yoga Lightweight Yoga Tank Top
With a lovely hybrid flowy tank top and criss-cross-backed sports bra, CRZ yoga has designed a highly versatile top that offers an air-light feeling without compromising your support. The open-back design and wide armholes allow you to move freely, and the quick-drying, ultra-light fabric helps you stay comfortable no matter the intensity of your yoga class.
The built-in bra features removable cups, and the polyamide and spandex mix of the main material makes for super stretchiness!
Alo Yoga Scoop Neck Sweatshirt Bra
This brand is all about bringing the wonders of yoga to the world, one garment at a time! All of Alo Yoga's clothes are designed to support mindful movement and inspire general wellness – and to go beyond yoga by bringing the brand's sense of positive styling to the streets and the studio.
This unusual, pretty sweatshirt bra features a scoop neckline, racerback design, and covered elastic hem and is made from mid-weight light fleece. It's high-quality, built to last, and looks as great with yoga pants as it does with a pair of skinny jeans.
The Gym People Long-Sleeve Compression Yoga T-Shirt
All yogis have different preferences when it comes to their workout wardrobes. While some practitioners prefer loose and flowy, others opt for garments that fit close to the body, so there's no risk of material bunching up or getting in the way during a session.
If you're in the latter camp, then this compression t-shirt from The Gym People could be a winner. As well as fitting snugly, it incorporates thumbholes to keep the sleeves in place and is soft, breathable, and stretchy.
Mippo Yoga And Workout Shirt
This longline tank top offers the best of both worlds: it's fitted enough not to get in the way while performing your poses but is also so loose and lightweight that you'll barely notice it's there at all.
The cross-back design combined with the wide arm holes ensures you can enjoy a full range of movement while the longline cut offers more coverage. It's easy to care for, too, so you can simply wash and go!
Baleaf Long Sleeve Workout Shirt
Fancy hitting the yoga mat in something a little different? How about this long-sleeve boatneck workout shirt from Baleaf? It features a longer back hem for more coverage, and the wider neckline makes it super-easy to pull on and off.
The loose-fit sleeves incorporate thumb holes, meaning that the extra comfort doesn't come at the expense of the garments' arms staying in place. Plus, the breathable, lightweight fabric will help you stay at the right temperature from the warm-up to the final meditation.
Arrive Guide Sleeveless Yoga Crop Top
This cute women's yoga top is made from ultra-soft baby French terry – it's street-ready, too, with a cinched waistband and capped sleeves for coolness in every sense of the word! Fed up with see-through workout tops? No problem here: this option features fabric thick enough that everything stays covered up.
Wondering what to pair it with for the most flattering effect? I recommend high-waisted leggings for a look that'll take you to the yoga class and beyond.
Ktilg Compression Crop Top
Compression fit and thumbholes to keep everything in place? Tick. In-built bra? Tick. Seamless, soft-touch fabric that's breathable and kind to the skin? Tick and tick.
Ktilg's long-sleeve compression crop top allows you to stretch, bend effortlessly, and work out without worrying about what your top is doing or revealing. The fabric is non-see-through, breathable, and sweat-wicking and designed for durability and performance. Plus, this crop top looks fabulous with jeans!
Under Armour Tech Solid Tank Top
Under Armour is well known for its high-performance activewear, and this no-nonsense tank top upholds its reputation. The four-way stretch material is designed to feel natural and soft against the skin, and the fuller – yet fitted – cut offers maximum comfort.
The UA Tech Tank is moisture-wicking, super-fast drying, and highly versatile: it's suitable for a range of sports and athletic pursuits as well as your regular yoga class!
Testing Criteria
To earn a place on the above list of best lady's tops, each contender had to prove its worth in various ways. I wanted to narrow the shortlist down to only the garments that offer high performance and comfort and – ideally – were designed with the needs of yogis in mind. I also considered whether tops stay in place and are fashionable.
Why You Can Trust Me
I've been practicing yoga for more than two decades. As well as still enjoying my daily series of morning asanas, I've also written widely on the practice of yoga and why it's wonderful for several years.