Are you looking for the best yoga apps for beginners but not sure which one is worth downloading? Check out my best yoga for beginners app below.
Not everyone can find the time to hit the yoga class four times a week. Commuting time and constant rounds of deadlines and meetings may deter you from completing your healthy routine.
Even when you manage to end up at the class in person, keeping up with intermediate yogis who have been there months before you is another story to deal with. That is when yoga apps come into play. Even if you can only spare 20 minutes a day for yoga, all you need to do is put your mat down and practice with the help of a yoga app.
Here are the four best yoga apps for beginners I love the most.
What To Look For In The Best Yoga for Beginners App
Compatibility
Check if the app you're looking for is available on iOS, Android, or both. Some of the apps are available on both mobile systems but restricted in a few countries.
UX Design
A user-friendly UX design is a key factor besides program quality. If the design is too hard to navigate or clunky and messed up, I would rather delete it and start over again with another app.
Price
It's better to opt for one that offers a free version (even if it's only temporary) before committing to the paid version.
Program Diversity And Quality
As a beginner, it can be unclear which style is the best choice to follow. Therefore, the best yoga app for beginners should provide a variety of classes with clear instructions, good flow, and customization in terms of time, level, and strength.
How To Pick The Best Yoga Apps For Beginners?
Always start with the reviews. Dig into the negative reviews so you can expect what may happen along the way. Consider downloading multiple apps and trying out each for a better comparison.
4 Best Yoga Apps For Beginners
1. Simply Yoga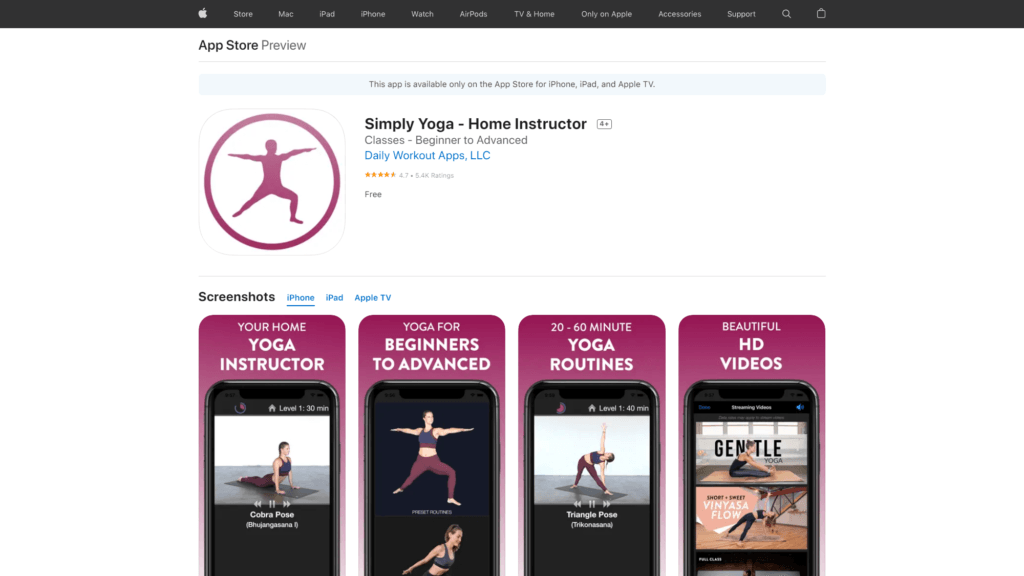 Those looking for a no-frills yoga app that works for beginners should not overlook Simply Yoga. Curated for newbies, Simply Yoga will dig into details on how to transition into different positions with a reminder of the breathing technique in each pose. The beginner-level sequences are offered for free and broken down into 20, 40, and 60-minute classes.
The slow-paced process is another highlight of the app that never makes me feel lost or left behind. All videos are voiced-over, and it reads out loud, so you don't have to glue your eyes to the screen.
Simply Yoga is not completely free, and you need to upgrade to a PRO membership for advanced sequences and customization.
You might also be interested in our round-up of the best interval running apps.
2. Yoga for Beginners | Mind & Body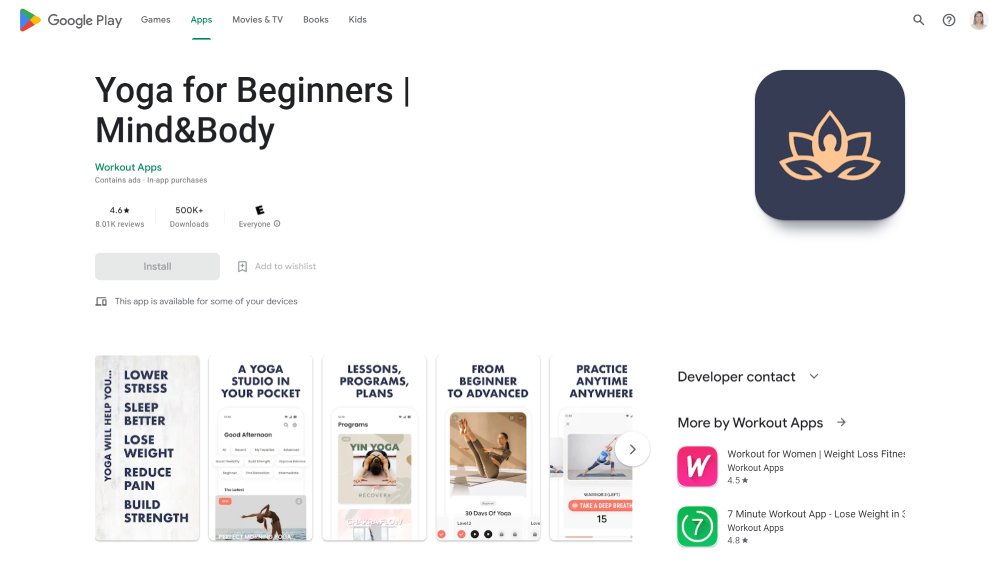 Now if you want to take your yoga skills up a notch, consider downloading Mind & Body. Browsing through different yoga programs is part of the fun. Each program walks you through a variety of sequences that do not seem overwhelming or intimidating.
Even if you want to reach out to a new style to up your yoga game, the huge diversity of programs and classes will spoil you with choices. Other than that, you can also adjust the number of times you go through each sequence with full control of how fast or slow you want to follow. At some challenging poses, the instructors will keep you informed of how much time is left so you can keep track of your progress.
3. Glo – Yoga and Meditation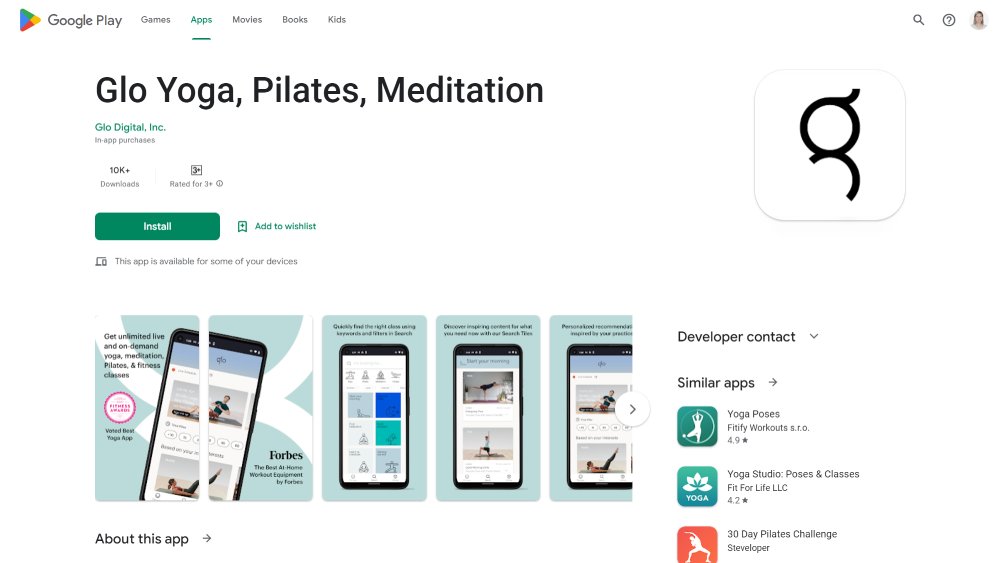 If you're not keen on the idea of virtual instructors, check out Glo. It even allows you to sign up for a live class schedule so you can feel better in mind and body in no time. The live classes are curated and instructed by other Glo members in real time.
The Glo app gets better every time I go back, and the user interface is so interesting to look at. If you're unsure of which class to take as a beginner, Glo will go ahead with suggestions tailor-made for your level.
4. Yoga | Down Dog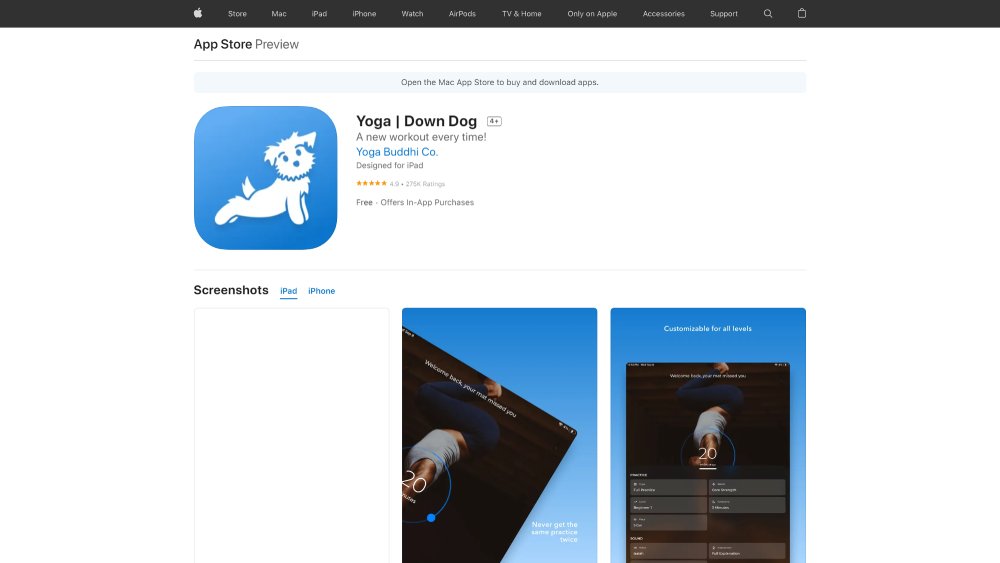 Do you love a customized yoga program just for you? Well, that's the best thing a yoga beginner asks for. The best thing about Down Dog is the personalized feeling you receive from each one-on-one yoga session.
Right at the home screen, it will let you select your time, level, focus, voice, and music.
The database is stocked up with 60,000 different configurations that give you a maximum level of fun even if you practice every day.
Testing Criteria
I downloaded and deleted a good dozen of yoga apps for the past four years.
I looked at apps that offer both free and paid versions. Plus, my favorite ones should be available on both iOS and Android.
Why You Can Trust Me
Date back to four years ago, when I first started my yoga routine at home, it was insanely hard to get my hands on something, and it left me wondering which ones actually worked. The apps I recommend above have been with me for years, and I never doubt renewing my subscriptions.
The Glo app is a perfect fit if you're willing to pay more for a real instructor in a real-time class at home. Meanwhile, Simply Yoga is the best fit for those who don't have a lot of time for a long session or those who want to practice yoga with their kids.
If you liked this post, you might be interested in our explainer on can I do hot yoga at home.