Yoga is a trifecta of physical, spiritual, and mental disciplines. For thousands of years, people across the globe have been engaging in yoga sessions with certified yogis. The rise in popularity of yoga in the U.S and around the world has led to a clothing revolution. 
Yoga pants are a lucrative business. Beginning in the 1990s activewear was welcomed into wardrobes everywhere. 
Today, more than 48 billion dollars is spent in the U.S every year on yoga pants and activewear. There are over 11,000 kinds of yoga pants on the market today and no signs of declining sales. 
The popularity of yoga pants directly links to their marketability. People are looking for specific attributes in their activewear. This popularity leads us to ask, what are yoga pants made of? 
The Rise of the Yoga Pant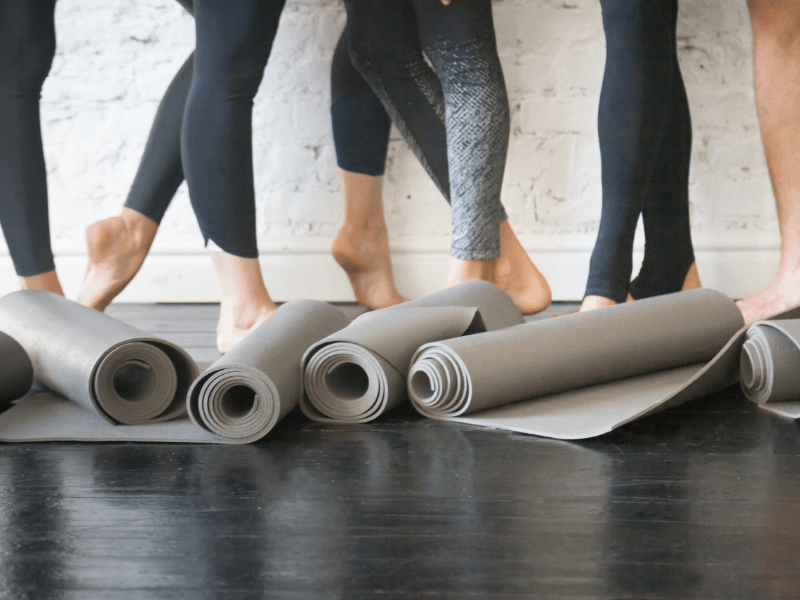 Yoga pants had their debut in 1998 when Lululemon came on the scene. This company began manufacturing and selling yoga pants made of luon. Developers created this fabric from a high proportion of nylon microfiber. Along the way, Lululemon has developed other types of fabrics for their popular activewear lines. 
The popularity of Lululemon led companies like Nike to offer items other than a jogger or sweatpants. Amazon saw a surge of people buying yoga leggings and yoga capris along with their yoga mats. 
People were also enjoying pants made from a stretch fabric, rather than denim, and began wearing them to places other than the gym. Because of this, the development of athleisure clothing happened. 
Athleisure is a hybrid garment you can wear in an athletic event or at work. People continue to enjoy the comfy nature of athleisure clothing at home or in the office. 
The best yoga pants and workout clothes derive from a blend of fabrics. You can find combinations of cotton, spandex, nylon, and polyester in almost all workout clothes. Some pants have a high waistband for better tummy control, and all are using a flatlock seam to prevent chafing while you're at the yoga studio. 
A pair of yoga pants is now an essential garment in one's wardrobe. 
You might also be interested in our round-up of the best yoga backpacks.
Materials Used in the Making of Yoga Pants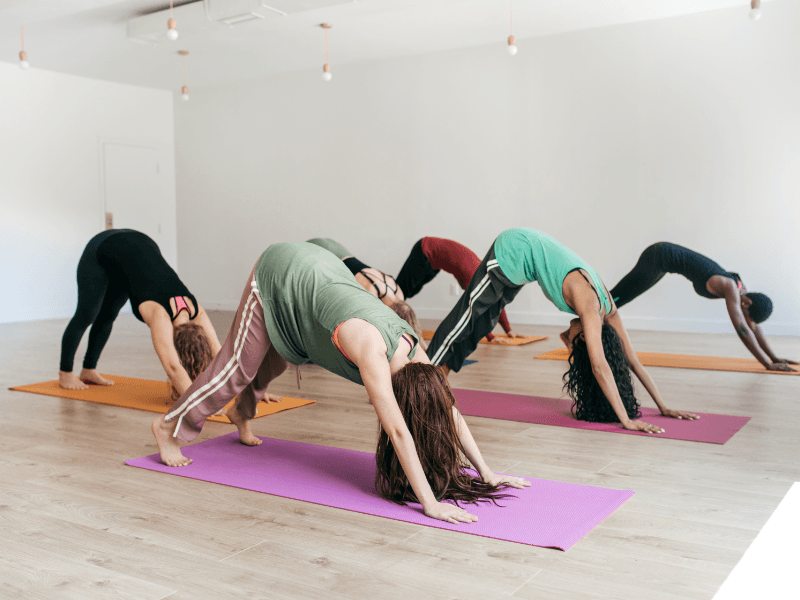 Consumers are always looking for the best fabrics in their activewear. In the case of yoga pants, this is no different. Certain fabrics equal better comfort. 
Let's take a closer look at the fabrics used in the making of yoga pants. 
Cotton
A lot of people like a 100% cotton fabric. It is light and breathable, but for a workout, it may not be the best choice. As your body cools itself, you sweat. 
The fabric absorbs your sweat into it, and cotton doesn't dry very quickly. 
While it is a breathable fabric, it is not moisture-wicking and tends to feel heavy as your workout continues. 
Spandex
Spandex is a synthetic fabric used in many types of garments such as underwear and socks. You can find spandex listed as lycra or elastane on garment tags. Clothing designers like this material because of its elasticity and breathability.
You will find spandex in a blend of fabrics such as cotton or wool. Rarely is a garment 100% spandex. 
The popularity of spandex connects directly with the fact that it can stretch five to eight times its original size. For a yoga instructor or student, this quality allows them to transition through a sequence of yoga poses comfortably.
Polyester
Polyester is a top product in the making of activewear. This fabric is durable, breathable, and lightweight. The moisture-wicking nature of polyester will never leave you wet and sticky after your yoga class.
It is also a good insulator, so you can continue a yoga class or personal routine outdoors as temperatures get colder. 
You might also be interested in our explainer on why yoga clothes are so expensive.
Nylon
This fabric is mostly used in pantyhose but is an excellent fabric for yoga pants. Nylon is best known for its super stretchy quality and moisture-wicking capabilities. 
Sweat evaporates rather quickly from nylon because it can quickly get from the skin to the material's surface. 
Nylon is a soft material that yoga students find comfortable to wear and feels good on the skin. It also has a mold and mildew resistant quality. 
Our Top Recommendations For Yoga Pants
Men and women need quality yoga pants, and with a little research, we found a few pairs we would recommend.
Men 
1. Yoga Addict
Yoga Addict has designed this pair with the help of yogis and yoga students. They are super stretchy made from a combination of cotton and spandex. A wide elastic, waistband and drawstring keep them in place no matter what form of yoga you enjoy.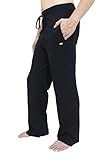 YogaAddict Men's Cotton Yoga Pilates Pants, Open Bottom with Pockets, Sweatpants, Loose Fit, Athletic, Martial Arts, Meditation, Black - Size M
SUPREMELY COMFORTABLE: Allows stretching with your every move yet with a stylist fit and it comes with 2 outside pockets with solid drawstring/elastic waistband to hold you in. Perfect for Yoga, Pilates, outdoor exercise, martial arts pants, dance, Ballroom dancing, Tai Chi, Gym, Capoeira, travel, lounge pants, casual wear and nice enough to wear anywhere.
ALLOW YOU TO FOCUS ON YOUR PRACTICE: These pants has a wider elastic waistband that stays in place regardless of extent of movement with wide draw strings for extra support. It is also just loose enough to give plenty of movement range for hips but does not hang down.
INSPIRED BY MEN YOGA PRACTITIONERS / ATHLETES FOR MEN: These are a a great balance between loose and tight, soft to feel good against the skin, and elastic enough to make any movement comfortable with an open bottom.
QUALITY FABRIC: Made with the finest and quality fabric - Body: 94% Cotton, 6% Spandex. Material are extremely comfortable, well made and have plenty of room for movement. It is also 4 way stretchable. Feedback from customer: "I really enjoy the look and feel of these pants. I almost don't want to work out in them, but just relax around the house."
SIZE REFERENCE: S:29-31" waist, M:32-33" waist, L: 34-35" waist, XL:36-38" waist, XXL:39-40" waist.
2. Baleaf
These yoga pants are designed like a legging and made from a combination of nylon and spandex. They are moisture-wicking, stretchy, and breathable. You can carry your mobile phone in the wide pockets of these fantastic yoga leggings.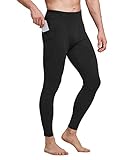 BALEAF Men's Yoga Leggings Running Tights with Pockets Athletic Sports Compression Pants for Workout Dance Cycling Black S
Baleaf men's Yoga leggings are made from quick-drying, moisture wicking, stretchy, breathable material, keep you dry and comfortable
Big side pockets are available for 4",4.7",5",5.5" Mobile Phone
These low rise compression running leggings for male with elastic waistband provides a smooth, secure fit
Multi-use for daily gym, running, hiking, cycling, soccer, yoga, dance, basketball or baseball. A perfect gift for boyfriend or father
All BALEAF yoga pants are sold with a 30-day, Full-Money-Back Warranty and can be returned with No Arguments
Women
1. Heathyoga 
Women will love these high-waisted, boot-cut, full-length yoga pants. They are made from a combination of polyester and spandex which makes them stretchy and moisture-wicking. Pockets are also included in the design to carry your phone or keys. 
Sale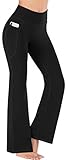 Heathyoga Women Bootcut High Waist Yoga Pants with Pockets, Black, Large
EXCELLENT FABRICS WITH LATEST TECHNOLOGY: Heathyoga bootcut yoga pants for women are made from High-Quality Materials with 80% Polyester and 20% Spandex. The Fabric is Sweat-Wicking, Non-See-Through, and Ultra-Soft with a 4-Way Stretch Technology like a Second-Layer Skin on your body. Our yoga pants are designed with High Rise, Tummy Control, and Streamlined Hips Cutting that would highlight your figure gorgeously.
FUNCTIONAL SIDE POCKETS: These high waisted yoga pants have 2 LARGE DURABLE SIDE POCKETS which are ideal for keeping your Cash, Credit Cards, and your Phone while you are working out at any place. Unlike the front pockets, our workout pants with pockets can let you move, bend, squat, and stretch easily or do any poses you want while doing your exercises.
UNIQUE DIY PANTS: Heathyoga yoga pants with pockets for women allow you to move without restriction, furthermore with an innovative design at the cuffs of the pants to create a Streamlined Silhouette and a Slender Look. If the original size does not fit your body, you can just simply CUT OFF THE EXTRA PARTS of the pants to fit your body perfectly, and after that, there is no need to hem the edges. It can all be done by DO IT YOURSELF!
TIME-SAVING DESIGN: Our bootcut workout pants for women would be your Best Choice either for work or casual wear, these bootleg yoga pants for women can be matched with a variety of clothing and shoes at all kinds of different workplaces, and you can quickly switch to Exercise Mode after your work Without Spending Lots Of Time to change your clothing so that both your work and exercise can be connected seamlessly.
WORLD-CLASS SERVICE: Heathyoga yoga pants with pockets are of top-notch quality. Please check for your size carefully from our size chart and no need to hesitate for all these outstanding products.
2. Ewedoos
Ewedoos yoga pants with pockets are in the style of leggings. These yoga leggings are high-waisted and come in a plethora of colors. Made from a combination of polyester and spandex, they are ultra-soft and not see-through.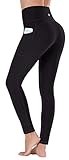 Ewedoos Fleece Lined Leggings with Pockets for Women - Thermal Warm Workout Winter Leggings for Women Yoga Pants for Women
❄FLEECE LINING INTERIOR - With buttery soft fleece interior, Our Heat-tech warm leggings with pockets for women will fit you like a second layer of skin and offer you both Comfort & Warmth when temperature drops. Whether you are hitting the gym or lounging at home, these are the great fleece leggings for women that make great Christmas Gifts & Holiday Presents.
❄SQUAT PROOF STRETCHY FABRIC - To ensure maximum comfort and long lasting warmth in winter, Ewedoos thermal leggings for women are designed with a High tech 4-Way Stretchy Material. The Moisture-management fabric will wick your sweat away while retaining heat inside. Whether you're stretching, bending or squatting, our thermal yoga pants will always stay put and provide all the support you need.
❄FUNCTIONAL SIDE POCKETS - Say goodbye to bulky backpack and say hello to our innovative & stylish yoga pants. Our Ewedoos thermal workout leggings for women come with 2 Side Pockets to offer you maximum convenience. Whether you need pockets to keep your phone, house keys or cash, these will be the performance fleece lined leggings for you.
❄HIGH WAIST & TUMMY CONTROL - Ewedoos winter leggings for women have an elastic High rise Waistband & Tummy Control that contour your curves and streamline your silhouette. Designed to offer Compression, Comfort & Style in one, These thermal pants is A must-have for your cold gear collection.
❄SPECIALIZED ATHLEISURE BRAND - At Ewedoos, we strive to redefine workout clothes with functional, comfortable and stylish designs. We listen to our customers' voices because that was the origin where we started with. We fine tune every detail of our products, hoping to make each item to be in higher quality, better durability and greater comfort but with an affordable price.
The Final Word: What are Yoga Pants Made Of?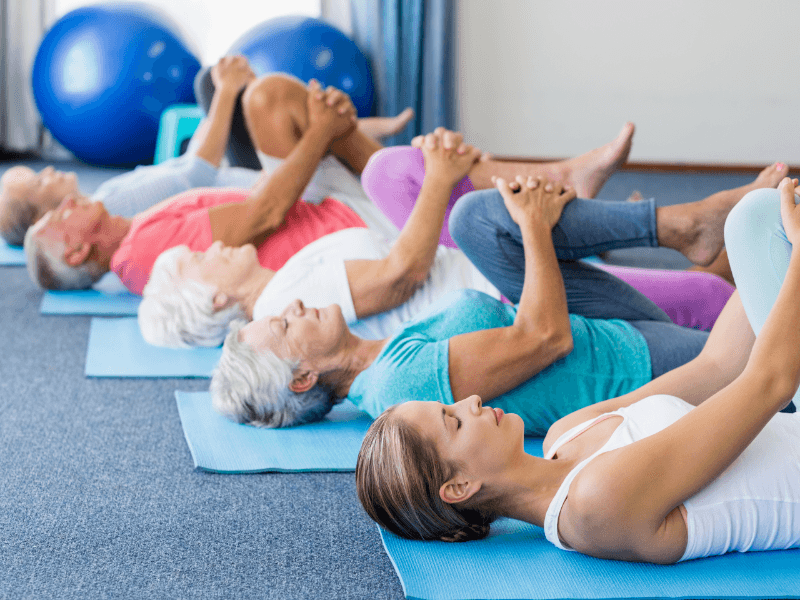 There is a need for clothing in any yoga practice that allows you to stretch and go through the poses comfortably. So, what are yoga pants made of? Yoga pants have evolved over the decades. Blends of high-quality fabric like spandex, cotton, nylon, and polyester are what companies traditionally use. 
Today we are learning new methods to create workout clothes and yoga pants. These sustainable methods can create boot cut yoga pants or casual wear made from corn or bamboo. 
The best yoga pants consist of a blend of fabrics. Our advice is to begin shopping and try a few different fabrics on for size, and remember, there is something out there for everybody.